| | |
| --- | --- |
| Bowl news and notes: A different energy surrounds Clemson's offense | |
---
| | |
| --- | --- |
| Saturday, December 13, 2014 3:59 PM | |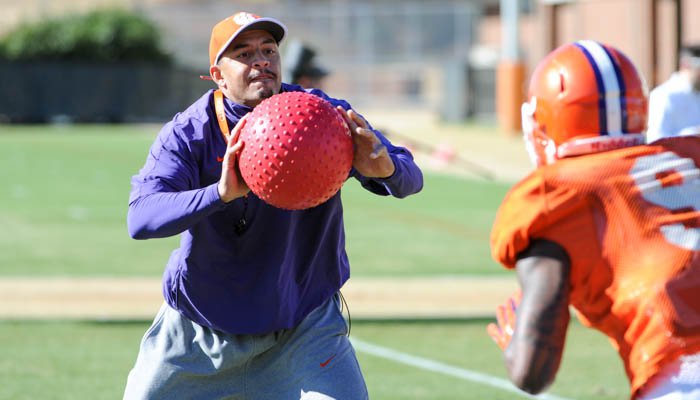 CLEMSON – Chad Morris

Chad Morris
Offensive Coordinator / QBs
View Full Profile ' unparalleled Red Bull energy may be missing from Clemson, but there's a different kind of excitement surrounding the Tigers offensive unit.
With Morris gone to SMU and the offense now in the hands of play caller Tony Elliott

Tony Elliott
Assistant Coach / Running Backs
View Full Profile and co-offensive coordinator Jeff Scott

Jeff Scott
Asst. Coach (WR) / Recruiting Coord.
View Full Profile , there is an excitement amongst the players about what lies ahead and what could be in store for the bowl game.
Redshirt freshman running back Wayne Gallman

Wayne Gallman
RS Fr. Running Back
#9 6-1, 209
Loganville, GA
View Full Profile told the media following Clemson's second bowl practice Saturday afternoon that there's a little bit of spring in everyone's step in the offensive huddle.
"With Coach Elliott, it's been pretty exciting and everyone has been pretty fired up," Gallman said Saturday outside of the indoor practice facility. "Everybody has come into the huddle with a smile on their face. I think we have a pretty exciting future."
For senior guard Kalon Davis

Kalon Davis
RS Sr. Offensive Guard
#67 6-5, 340
Chester, SC
View Full Profile , the only difference in the offense is who is yelling at the players. And there is a significant void of the familiar Texas twang.
"It's kind of different because you have a different voice calling you," Davis said. "But we are still running the same offense. We have gotten back to the roots of some of the things that Coach Morris did when he first got here. But honestly, now you have Coach Scott yelling at you instead of Coach Morris. They are both out there - usually Coach Scott will be on the sidelines with the quarterbacks giving the signals because we still practice like it would be a game. So we have our signal callers and stuff and someone has to relay the signals to him. Coach Elliott is on the field but he is right behind the line of scrimmage."
Mike Williams

Mike Williams
So. Wide Receiver
#7 6-5, 208
Vance, SC
View Full Profile said he hasn't seen a whole lot of change through the first two practices, nor does he expect to see any.
"I don't feel like anything has changed," Williams said. "We still run a fast offense and we will try and be the most explosive offense in the country. I have been on the sidelines and I have seen Coach Scott call some big plays in some big games. They both know the offense and they are both smart coaches. Coach Scott knows how to read defense, and Coach Elliott came in each week and explained the other team's blitzes to us. He knows defenses. It's good, because the coaches that are here you have a great bond with them and you don't have to build that bond with a new coach."
Starting quarterback Cole Stoudt

Cole Stoudt
Sr. Quarterback
#18 6-4, 231
Dublin, OH
View Full Profile lost his offensive coordinator and quarterback coach when Morris departed, but he said that Brandon Streeter – Clemson's new quarterbacks coach – has done a great job so far.
"It's weird. But we know how to prepare," Stoudt said. "There hasn't been a drop off and they have done a great job of getting together a great game plan. And Coach Streeter is a great guy and he is trying to get the best out of us. It's a change but it isn't a reset button. We are the same team and it's the same offense."
Other notes
Davis said that getting back into game shape is the most difficult part of bowl practice.
"It's the first real day back for bowl practice and we had a little conditioning. And by a little I mean a lot. It's nothing new. We do it every year. The first week or so is hard but by the time we get back to the game it's like we are back in the regular season."
Williams and the rest of the offense are confident in Cole Stout's ability
"Cole has been looking good. We had skills and drills last week and he was making some big plays with the deep ball. We are just looking to get better. Cole is the guy and we have to prepare every day like the game is the next day. His confidence is pretty high, and right now I am trying to get him to give me the ball in every 1-on-1 situation. Hopefully he can get that confidence back."
A healthy Stoudt is ready to end his Clemson career with a win over Oklahoma
Stoudt's season has been plagued by a shoulder injury that has affected him at times in games but he said that a couple of weeks rest has made a difference.
"It's not really that big of a problem," he said. "Having rest the past couple of weeks has been big. It's not really sore right now, but that's the name of the game and you just have to play through it."
With a healthy shoulder, the only thing standing in Stoudt's way is getting his confidence back, something he said he has to do in order to get into the flow of a game.
"It's just something where you try and get into a rhythm and a play doesn't go right," he said. "You have to have a feel for it. Sometimes it's there and sometimes it isn't."
Hopefully that rhythm will be there for Stoudt on December 29th so that the senior signal caller can lead Clemson to its third bowl victory in three years.
"It would be big," he said. "I am just trying to finish up these last days here in Clemson and go down and get a win."