| | |
| --- | --- |
| Boulware's pestering of Venables turns into career day | |
---
| | |
| --- | --- |
| Wednesday, October 15, 2014 9:01 PM | |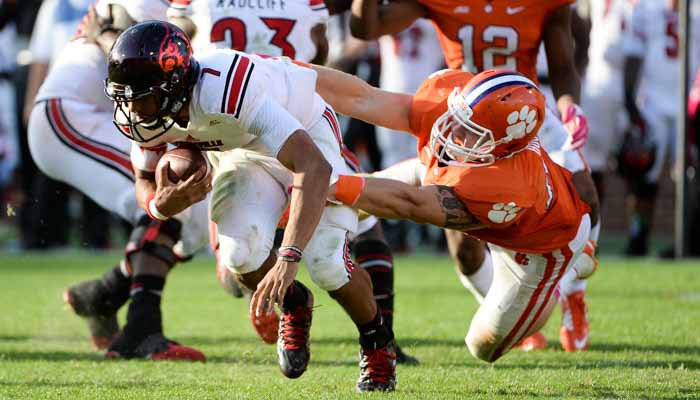 CLEMSON – Ben Boulware

Ben Boulware
So. Outside Linebacker
#10 5-11, 235
Anderson, SC
View Full Profile was all over the field last Saturday, throwing his body around with abandon and making tackle after tackle for a Clemson defense involved in a dogfight with Louisville.
Boulware started at the weakside linebacker spot in place of senior Tony Steward

Tony Steward
Sr. Linebacker
#7 6-1, 236
Hastings, FL
View Full Profile , who is battling a hamstring injury. Boulware's performance earned praise from both head coach Dabo Swinney

Dabo Swinney
Head Coach
View Full Profile and defensive coordinator Brent Venables

Brent Venables
Def. Coordinator / Linebackers
View Full Profile , and Boulware told the media he was glad that Venables was pleased with his performance.
Why? Because Boulware pestered Venables all of previous week, asking question after question after question in preparing for the start.
"He's a very intimidating person," Boulware told the media in the WestZone Monday. "He's a very scary guy. I've been scared to ask him questions sometimes. I don't want to sound stupid."
The questions apparently worked as Boulware wound up with a team-high 12 tackles, but he said that he made enough mistakes that the questions will begin anew this week and continues to learn how to prepare.
"I think I played decent for how well I prepared," Boulware said. "I made a couple of mistakes that are very correctible. I put in a lot of work last year, but I didn't know how to study film or to study my gameplan or my playbook. A lot of times last year, I was just playing ball, just running around making tackles."
Venables said it was a teaching moment for the sophomore from Anderson's T.L. Hanna High School, and also said he didn't mind all of the questions.
"You love that Ben Boulware played at such a level that he did. He was successful. It's also a great teaching moment in that he's seizing an opportunity when the window opens," Venables said Tuesday. "You don't have time to get ready. You have to be ready. He's a guy who's been tugging on my shirt … 'Hey, I'm ready to go in.' I love that and I want guys who show me that they care.
"All coaches do. If your body language shows it doesn't mean a whole lot, you say to yourself as a coach, 'Maybe we'll get to that guy in spring ball.' When you have a guy who's always knocking on your shoulder, it's like, 'OK, hold on. I know you want to go in.' It's definitely what you want. You'll find an opportunity for him to get in. He did his job and did it with great energy and emotion and intensity. He was physically tough and played super fast and was a big difference in that game. Some guys don't want to fight for something. They have their lips stuck out, so that was a great teachable moment."
Boulware said that while he gratefully accepts the praise from his coordinator and position coach, he doesn't want Venables change his coaching approach.
"He's not one to give a lot of praise, and I don't want him to give me praise," Boulware said. "I want him to continue to push me every day so I can go out there and work my butt off."
Venables said he doesn't expect any dropoff from his sophomore playmaker..
"He's always kind of been that way. That's the guy we saw on tape," Venables said. "I remember watching him against Easley the very first time on video. It wasn't a highlight tape. He made like 20 tackles. He made almost every play. He got off blocks and got to the football and he got there with bad intentions. You could see that he played with a little bit of an edge and was mad at the world. Whatever deficiencies he may have, whether it's in stature or what have you, he makes up for it in attitude and love for the game with passion, intensity and toughness. Obviously he likes contact. He needs to work on some of his motions he's displaying out there, his dance moves or whatever they are. That's when he's in his element, so as a coach you don't want to take that away from him."