| | |
| --- | --- |
| Boulware ready for the next challenge | |
---
| | |
| --- | --- |
| Wednesday, January 6, 2016 10:15 PM | |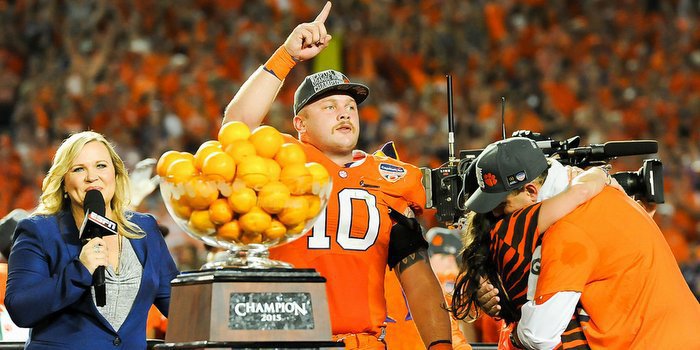 CLEMSON – The Clemson defense passed one test in the College Football Playoff semifinals.
Another one awaits in the national championship game.
Clemson shut down Oklahoma's powerful running game and held the Sooners scoreless in the second half in a 37-17 win. Up next is Alabama's powerful running game and Heisman Trophy winner Derrick Henry in the national title game.
"It just comes with us gang tackling and having 11 guys to the ball each snap," Clemson linebacker Ben Boulware said of Henry. "We faced a lot of running backs that have been physical this year; obviously, no one as big as him. He can handle a lot more of a workload than anybody else, but I think we'll have a good game plan and just get as many guys to the ball as possible because one-on-one it's hard to tackle him. So if we have 11 hats to the ball each snap, hopefully, we'll be able to shut him down."
Boulware has 132 tackles, including eight tackles for loss and three sacks. The junior had eight tackles, one interception and one sack against the Sooners.
Henry has rushed for 2,061 yards and 25 touchdowns while averaging 5.7 yards per carry. Getting a chance to face Henry and the Crimson Tide is an opportunity Boulware is looking forward to.
"I know if we beat them, we can't really be doubted anymore," Boulware said. "I know people will still find a way to doubt us, and if we win, (say) 'Alabama played a bad game or so and so did this or so and so did that.' We'll still be doubted, so I'm not really worried about it. I'm just focused on doing my job and focused on beating them. We'll let the media and everybody else say what they have to say."
If Clemson wins, it will become the first team in FBS history to finish 15-0.
"It's a cool opportunity, and it's going to be a cool experience. To have the opportunity to be the only team to go 15-0 in college football history, it's going to be really cool. But we've got to focus on us and focus on our game plan. If we don't win the game, then that's completely out the window. So we'll worry about that after the game, and we'll worry about that if we get the win. We've still got to play, and we've got to play our best game because this is the best team we'll face. It's definitely going to be cool because we're facing what everybody else says is the best team in college football, so if we beat them, then no one can really doubt us anymore because we've beaten everybody. We've beaten Notre Dame, Oklahoma, Florida State."
To beat Alabama, the Clemson defense can't just focus on Henry. Crimson Tide quarterback Jacob Coker has thrown for 2,775 yards and 19 touchdowns this season.
In Alabama's 38-0 semfiinals win over Michigan State, in which Henry rushed for 75 yards on 20 carries, Coker completed 25-of-30 passes for 286 yards and two touchdowns.
"He's obviously a great passer, and if he has to, he can scramble and make some throws," Boulware said. "We know and understand if we stop Henry, we have to deal with Coker and their receivers, so it's definitely going to be difficult because they're not a one-dimensional team at all. We definitely have a difficult task at hand, but I think we have a good game plan.
"It just complements each other because if they can't do one, they can just go to the other. I think that's why we've been so successful, too. If someone shuts down our running game, Deshaun (Watson) will throw for 350. I think we're very similar offensively just because we're both not one-dimensional teams at all. Both of our types of offenses complement each other. If someone shuts one down, they can do the other. It really applies to both teams."
*Daniel Shirley is the sports editor of The Telegraph in Macon, Ga., and co-host of The Morning Show on FoxSports 1670 AM. Follow him on Twitter at @DM_Shirley and read his blog at macon.com/peachsports.