| | |
| --- | --- |
| Boulware not concerned about defense as Seminoles loom | |
---
| | |
| --- | --- |
| Tuesday, November 3, 2015 8:01 AM | |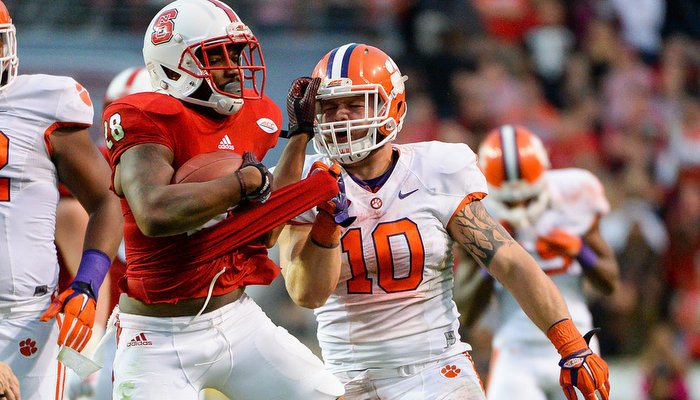 Clemson's defense was dominant through the team's first seven games and looked a lot like last year's top-ranked unit.
The Tigers allowed 100 points in their 7-0 start with Georgia Tech scoring 24 as the high mark. And Clemson recorded a shutout of Miami the week before heading to Raleigh, North Carolina, to face the N.C. State Wolfpack.
Then the Wolfpack came up with a dynamic game plan to score 41 points (including a kickoff return for a score) to shake up the Clemson defense a bit.
But linebacker Ben Boulware doesn't sound too concerned.
"There was actually some pretty good energy after the game because we knew from the get-go it was going to be a difficult task facing their offense because it's pretty similar to BC, them just doing some taboo-type formations," Boulware said Monday. "Obviously, we gave up a lot more points than we thought we should. But we were just happy to get the W at the end of the day.
"We knew from the beginning of the week that they were going to do different stuff. We prepared for that, and then during the game, they would do different stuff that we didn't even prepare for. Multiple times, they would have formations that we didn't look at all, run plays that we didn't see at all. A couple of times they gashed us, and they exposed us a little bit. It is what it is. It is definitely a learning experience, and we will grow from it and correct it, but we won, and that's all we can really ask for."
The defense will try to bounce back against No. 17 Florida State on Saturday. The Seminoles have won four of the past five meetings, and the last time they played at Memorial Stadium, they scored 51 points – the most points ever scored by an opponent at the stadium.
"We were going to be focused on Florida State regardless, and we were just going to have a narrow focus on them because they're Florida State, and we know they're a great team," Boulware said. "So regardless of how we played last week, it wouldn't really determine how we were going to prepare for this week."
Seminoles quarterback Everett Golson and star running back Dalvin Cook returned to practice Monday after missing the team's win over Syracuse.
Sean Maguire started for Golson against the Syracuse and threw for 348 yards and three touchdowns (with no interceptions). He started in the Seminoles' win over Clemson last year, as well.
"They like to spread it out some. I'm pretty sure (Golson) will be back, and no doubt Dalvin Cook will be back," Boulware said. "Even if they play (Maguire) they would be fine. He's obviously a good player. He beat us last year. They're pretty even with what they do, they run the ball, they pass the ball, they like to spread it out some. And they like to use (Golson) in some run plays because he's obviously athletic, very elusive.
"They're just even. They don't really do one thing over the other. They just like to keep you guessing what they're going to do. They have a lot of skill guys, a lot of skilled receivers, athletic quarterback, great running back, a good line. So they're going to be pretty even run- and pass-wise."
And Boulware is expecting yet another tough test from the Seminoles and believes they will try to confuse the Tigers' defense with new looks.
"We expect it every week just because we know that teams are going to game plan against us differently than they are other teams because they know how good we are," Boulware said. "So we expect it, but it's a lot easier said than done. It's hard to go out there and to defend it. We know it's going to happen, but it's still surprising while we're out there and when they're doing it. But we'll get it corrected, and we've just got to do a better job of just diagnosing the formations and see them quicker along with those tempo-type offenses."
Boulware acknowledged the Tigers have an emotional group on defense, but he doesn't expect that to hurt the team in Saturday's showdown. Clemson is 8-0 overall and 5-0 in ACC play and can clinch the Atlantic Division title with a win. Florida State is 7-1 overall and 5-1 in conference play.
The Tigers last won the division title and the ACC championship in 2011, while the Seminoles have won both the division and conference championships the past three years.
"We play with emotion, but I think a lot of defenses play with emotion," Boulware said. "We might play with a little more emotion. We might talk a little more crap, but I don't think it affects how we play or hurts us or helps us in anyway. We're just an emotional defense, and I think you need that extra emotion to play at a high level."
The first College Football Playoff committee rankings will be released Tuesday, and most projections have the Tigers in the top four. Some even have Clemson ranked No. 1. Boulware said the team isn't focusing on that.
"I hope we're getting respect," he said. "We should have had respect from the get-go. We've proven ourselves all season. It's about time. It's taken everybody else too long to kind of catch on to that train. It's kind of annoying that it's taken this long in the season for people to realize how good we are."
*Daniel Shirley is the sports editor of The Telegraph in Macon, Ga., and co-host of The Morning Show on FoxSports 1670 AM. Follow him on Twitter at @DM_Shirley and read his blog at macon.com/peachsports.