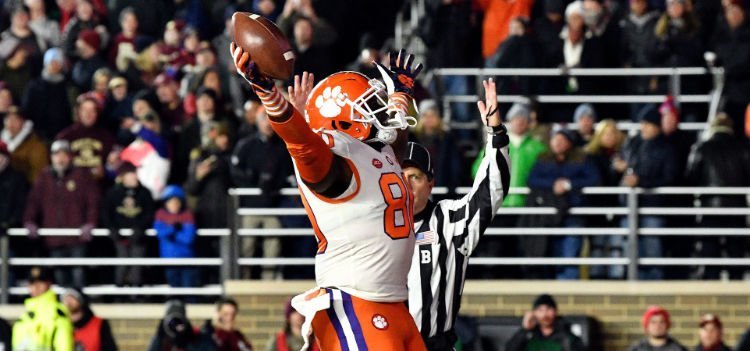 | | |
| --- | --- |
| Boston "D" Party: Clemson defense smothers BC to clinch ACC Atlantic | |
---
CHESTNUT HILL, MA – It wasn't easy, but the Tigers have another division title and it was the defense that led the way in a dominating effort.
No. 2 Clemson dominated most of the contest against No. 17 Boston College and walks out with a 27-7 victory in front of 44,500 fans at Alumni Stadium. The win pushes Clemson to 10-0 overall and 7-0 in the ACC, while Boston College falls to 7-3 and 4-2.
The win gives Clemson its fourth consecutive ACC Atlantic Division title and is the 50th by the Clemson senior class since 2015, which would tie school and ACC records for wins by a senior class.
Clemson won its eighth consecutive game against Boston College, dating back to 2011.
Clemson opened a season 10-0 for the fourth time in program history, joining 10-0 starts in 1948, 1981 and 2015. Including ties, it would be Clemson's fifth undefeated start through 10 games including a 9-0-1 season in 1950. The Tigers have won the first 10 games of a season for the second time under head coach Dabo Swinney (2015).
Clemson has now won 10 games for an eighth consecutive year, adding to its current school-record streak. In pushing the streak of 10-win seasons to eight, Clemson ties Miami (1985-92) and Virginia Tech (2004-11) for the fourth-longest streak of 10-win seasons in FBS history.
"Just tough hard-fought game. Knew it would be coming up here," head coach Dabo Swinney said. "BC has got a heck of a football team. Really hate that their quarterback got hurt. I hope he's okay. I told Coach that after the game. Man, they're a huge challenge. Just really proud of our guys, the preparation that we had. Had a really good opening drive, and they did a good job on us in the red zone. We had to kick a couple field goals. Wish we could have converted those for touchdowns. But I like how we started as far as offensively and defensively.
"The big play in the first half for them was obviously the punt return. We just kind of relaxed. Had two guys there to make a tackle, and I think it hit one of our guys, and I think they just kind of relaxed. But that was disappointing, and then we missed a couple of plays -- we had two or three plays with some guys open on some deep balls, but hey, a cold, windy night, not quite as precise on a couple of things as we would have liked to have been, but man, they're a stout defense."
The Eagles won the toss and elected to defer, allowing the Tigers to take the opening drive for a score. A 41-yard completion to Amari Rodgers set up a 30-yard field goal by Greg Huegel, and Clemson led 3-0 just over two minutes into the game. With his first carry, Travis Etienne crosses the 1000-yard mark on just his 117th carry of the season.
The Tigers forced a punt on the Eagles' first offensive possession, but quarterback Anthony Brown left the game with an injured right arm. Brown was forced from the pocket on third down and threw the ball away, but Christian Wilkins landed on him shortly after the ball was released. Brown didn't return.
BC head coach Steve Addazio said the loss of Brown almost doomed the Eagle effort.
"You had to be able to really get the ball down the field. And we did try at times to do that. That's where the practice reps come into play, you know, and it's hard to get two people ready to play in a game," Addazio said "So the bulk of your reps are going to your starting player. And where that shows up sometimes the most is in the throwing game, and having said that, I thought EJ made some great throws in that game. Confident, ripped it a few times in there good. You could see the strength of his arm. But in fairness, they're playing some two-trap coverage and he does not have a lot of reps against that kind of coverage. You know, it was a factor, and we were trying to be judicious with it, but towards the end it was just getting too hard to do that because it was essentially creating nine-man fronts for us.
"They're good enough, never mind with the one or two extra hats down there. That's why the run game was struggling to get going. We needed to challenge that back end more. You're caught between that and having a young guy in there and you're playing good on defense, you're trying to manage that thing and be careful not to lose the confidence of the young quarterback in there on top of everything else. So it gets to be a management issue, and you know, that's where it was.
Clemson's second series was ineffective, and the punt resembled the series. Will Spiers attempted a rugby-style kick but held onto the ball a second too long and the Eagles were able to build a wall, setting up a 74-yard punt return for a touchdown. With 6:32 remaining in the first quarter, Boston College led 7-3.
The Tigers answered with a nine-play scoring drive that featured a 35-yard pass to Tee Higgins that put Clemson deep in Eagle territory. Facing a 4th-and-goal at the two, the Tigers brought in the Fridge Package of Dexter Lawrence and Christian Wilkins. Lawrence faked a handoff to Wilkins and threw over the top of the defense to Milan Richard for the touchdown, and Clemson led 10-7 with 1:28 remaining in the first quarter.
A 32-yard pass to Derion Kendrick set up Clemson's third score, a 23-yard field goal by Huegel that put the Tigers up 13-7 with 11:46 to play in the half. The teams traded mistakes and punts the rest of the half and the Tigers held the 13-7 lead at intermission despite outgaining BC 260-24.
The defense forced a 3-and-out on the first drive of the second half and offense made the Eagles pay. Etienne broke off a 25-yard run to start the series and 33-yard pass from Lawrence to Renfrow set the Tigers up at the BC six. One play later, Lawrence faked the handoff to Etienne and waltzed untouched around the left side and into the end zone for a score and a 20-7 Clemson lead.
The teams continued to bog down offensively, but following yet another Clemson stop the Tigers' special teams made the Eagles pay. Amari Rodgers gathered in the ball at the Clemson 48, dodged two defenders in the middle of the field and outraced the rest of the coverage to the left boundary. He then raced almost untouched down the left sideline for a 52-yard touchdown, giving the Tigers a 27-7 lead with 11:39 to play.
Clemson returns to action next week, closing out the regular season portion of the ACC schedule with a home game against Duke on Military Appreciation Day.

Upgrade Your Account
Unlock premium boards and exclusive features (e.g. ad-free) by upgrading your account today.
Upgrade Now