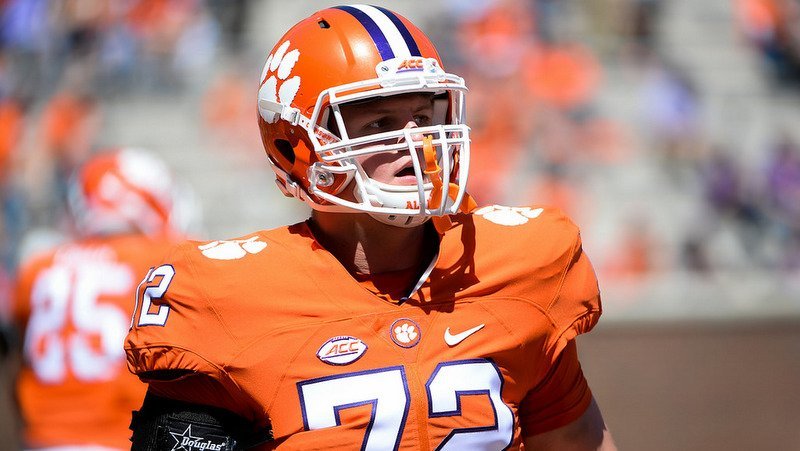 | | |
| --- | --- |
| Blake Vinson: Finally healthy, he's ready to show the coaches he can play | |
---
| | | |
| --- | --- | --- |
| Tuesday, February 5, 2019, 2:55 PM | | |
Finally healthy, Blake Vinson is ready to earn the trust of his coaches and more playing time on the field.
Vinson – the redshirt freshman offensive tackle – battled a torn labrum suffered in high school and then suffered a sprained ankle during fall camp that kept him sidelined for most of August and limited his playing time in 2018.
Despite playing through injuries and being limited at times, Vinson has made the most of his young career at Clemson.
"It's been a great experience so far. I redshirted my first year and this is really the first year I could play," Vinson told TigerNet at the national championship media day in San Jose. "This year was pretty tough because I had an ankle injury during fall camp so I missed pretty much all of fall camp. It's been a process of getting back healthy again and showing the coaches that I can play."
Vinson played 79 snaps over 11 games, including 20 in the blowout win over Louisville, and he said he was thrilled with his first on-field experiences.
"It's been awesome. Last year, I redshirted so you were in Death Valley and ran down the hill but you weren't really playing," Vinson said. "The experience is second to none. We got to play in a lot of really cool stadiums this year so it's been a blast."
The Ocala (FL) native said he played most of the 2018 season at less than 100-percent, but he's close to being back to where he wants to be.
"I'm pretty close to 100-percent healthy right now. The first half of the season, I was really kind of 50-percent. It was tough but as the season has gone on it's been able to heal up a little bit more," he said.
Vinson has now been on Clemson's campus for two years, so where has he improved the most?
"I've improved in a lot of areas but I would say number one is my body has changed a lot. My body composition and athleticism, strength and overall," he said.
With the loss of Mitch Hyatt to the NFL opening a spot at left tackle, Vinson said hopes to continue the progress he made in 2018.
"It's going to be continuing to get bigger and stronger, gain a little bit more weight," he said. "I had the opportunity this season to prove my worth to the coaches and stuff and then I missed all of fall camp, so it was kind of like shooting myself in the foot because that's when you really gain their trust. I started during the spring game and was doing pretty well until I got hurt."