| | |
| --- | --- |
| Big offensive tackle to visit again this weekend | |
---
| | |
| --- | --- |
| Thursday, June 11, 2015 8:08 AM | |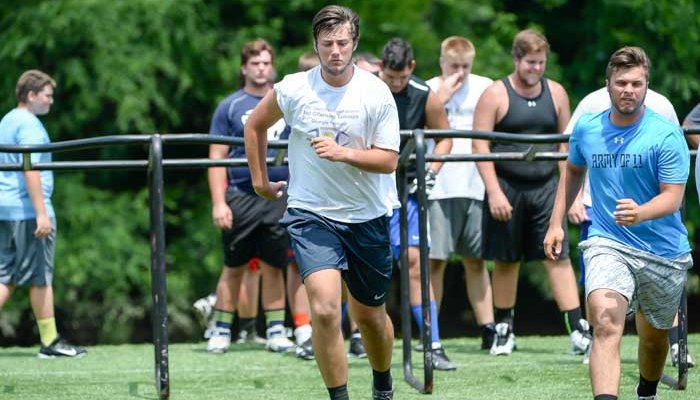 The Clemson coaching staff might have found a steal in Chandler Reeves

Chandler Reeves
Offensive Tackle
6-6, 255
McDonough, GA
View Full Profile .
The 6-6, 255-pound 2016 offensive tackle prospect out of McDonough (GA) Eagles Landing Christian went into the week with 13 offers, with Georgia Tech the most well-known program to extend an offer. That changed Wednesday when Clemson's coaches – fresh off of seeing Reeves work out this week at Dabo Swinney

Dabo Swinney
Head Coach
View Full Profile 's high school camp – made the decision to offer as well.
"I went into camp yesterday and did the morning and afternoon sessions," Reeves told TigerNet Wednesday evening. "I already knew Coach (Marion) Hobby because I've been talking to him for a while. I got to know the o-line coach ( Robbie Caldwell

Robbie Caldwell
Assistant Coach / Offensive Line
View Full Profile ) and worked with him. He [Caldwell] basically told me what he wanted to look at while I was at camp - am I actually 6-6 and am I coachable. He said that he liked what he saw. I am 6-6 and I was coachable to him, so he liked those two things and that's what he came out of the day saying.
"He said he was really excited about me and that it was all in Coach Swinney's hands, but when they went in to evaluate me that he was going to tell Coach Swinney that he wants to coach me and he wants to offer me. I got the same vibe from Coach Hobby as well. He said that he would be gunning for me. They said that they would give me a call today with the news and Coach Swinney agreed."
Reeves said it was nice to get an offer so close to home after receiving offers from schools like Maryland, Syracuse and Indiana.
"Actually, it's really nice. A lot of my offers so far have been fairly far away from home," he said. "There's something about getting an offer from a big time school that's only two hours away. It's really a feeling of relief, especially for someone who would like to stay closer to home. It just kind of gives you a different vibe and I like it a lot."
What stood out about the visit?
"Obviously, Clemson has top of the line facilities, but the biggest thing is that I love all of the coaches," Reeves said. "I haven't really gotten a chance to talk with Coach Dabo Swinney yet but as far as my position coach goes and I got to talk to the offensive coordinator and my recruiting coach - Coach Hobby - and they are all great guys. I can just tell that it's really a faith-based program, which is a big deal to me and my family. There's just a positive attitude from everyone there and a lot of energy. I know I'm going to be coached hard and I know I'm going to be coached well and that's kind of what I want out of a program."
Reeves said that he hopes to bring his family back in for a visit this weekend now that the Tigers are a major player in his recruitment.
"I'll actually be coming back up this weekend, because Coach Hobby said that after camps are over all of the coaches will be gone on vacation for a week or so," Reeves said. "I'm going to shoot up there this weekend so my parents can get on the same page I am as far as Clemson goes. I want them to meet the coaches and see what I see from Clemson and that way we can all be on the same page heading into their off week and the cookout."