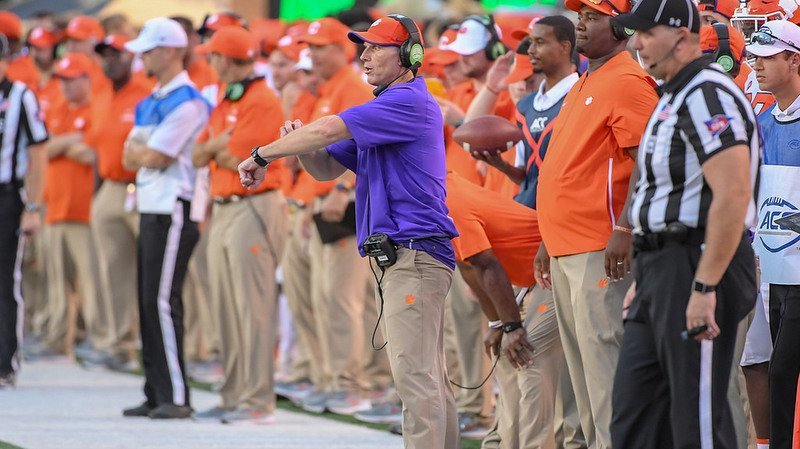 | | |
| --- | --- |
| Big game? Venables isn't worried; his players are used to big moments | |
---
CLEMSON – Brent Venables doesn't worry when games are labeled as "big." He's been in plenty of them and so have his players.
No. 3 Clemson takes on No. 16 NC State this weekend in Death Valley in a battle of undefeated teams. On the line is supremacy in the ACC's Atlantic Division, but Venables knows that many of his players have competed in College Football Playoff games, ACC Championship games, and National Championship games.
"I think that's a big part of it - handling the moment. I take nothing for granted, by any stretch, but we've had great experience in a lot of big games where there's a lot of stakes," Venables said. "I think the bigger the stakes, the better our guys play - I really do. I think when our guys are challenged, they've responded more often than not. Take nothing for granted - there's a process in how you play well on Saturday and it's not just being excited to play. You've got to execute, you've got to be precise with what you're doing, you've got to be violent with what you're doing.
"You've got to do it and handle the highs and lows of every game. We talked about it before the Wake Forest game. They're not just gonna show up and lay down and let the offense go up and down the field, and you just smoke 'em and three-and-out every snap. You're gonna have to fight - they're gonna fight back, they're gonna punch back."
The key, according to Venables, is to not panic.
"They're gonna have plays, they're gonna have answers to what you're doing," he said. "Don't panic - just handle the moment and handle the adversity. You have to compliment each other on both sides of the ball. Don't worry about what they're doing, just worry about how they respond to what's in front of you - so that when you get to those moments, and it's not coming quite as easily as maybe everyone promised you that it would, that you can handle those moments. I think that's a big part of the psyche of coaching and developing a team to play week in and week out - is to learn how to play within the game and the flow of the game. Sometimes it's easy when you've been a part of winning so much."
As a coach, it's hard to keep the players away from all of the outside noise that accompanies a big game.
"I know it's been talked about with the percentages on making the playoffs, or the percentages to win the game - there's betting lines out there - those have zero to do with the game itself," Venables said. "To me, you're naive as a coach if you believe that your players are not exposed to that. You can't tell them every week that you're playing the Pittsburgh Steelers, but at the same time I think you can try to teach and coach and lead them with the poise, emotion, and understanding that if you want to win, you have to fight for your success. When you show them, you give them video evidence in your presentation."

Upgrade Your Account
Unlock premium boards and exclusive features (e.g. ad-free) by upgrading your account today.
Upgrade Now