| | |
| --- | --- |
| Big crowds, top prospects highlight Saturday morning session of Swinney camp | |
---
| | |
| --- | --- |
| Saturday, June 13, 2015 12:02 PM | |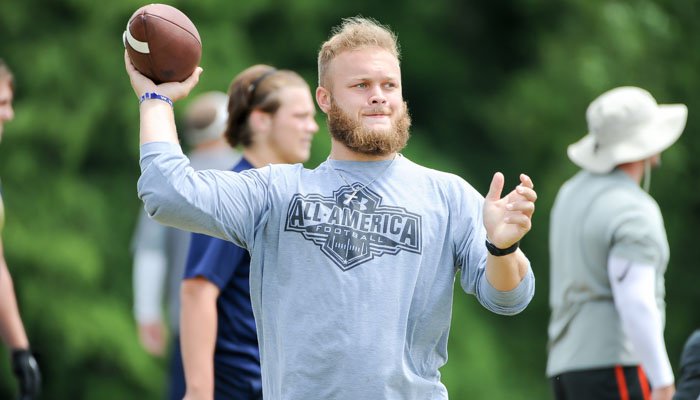 CLEMSON – Find a parking space under a tree and bring a chair because today's sessions of Dabo Swinney

Dabo Swinney
Head Coach
View Full Profile 's high school camp are gonna be crowded and hot.
Over a thousand campers are expected by the time the afternoon session rolls around at 2:45, but even the morning session saw campers warming up in the indoor practice facility, both practice fields and the grass lot outside of Doug Kingsmore Stadium. Add in coaches and family members and space was at a premium.
We are going to get into the big-name prospects in the second edition of today's camp wrap, so I wanted to pass along some other nuggets and some camper notes before hydrating and heading out for the second session.
*Someone asked me how much the players are paid for working the camps – they receive a stipend of $300 for two days of work. Sign me up!!
*Quarterback Deshaun Watson looks fantastic. He has been working some of the younger quarterbacks – called the B and C groups at camp – and when they change drill stations he sprints from one end of the facility to the other. I have no doubts he will be ready by September.
*Charone Peake looks a lot different than at any time in his college career – he just looks stronger and is moving the best I've seen him in two years. A healthy Peake along with Mike Williams and Artavis Scott is a scary prospect for opposing defenses.
*Linebacker Ben Boulware has been a force with the linebacker prospects, but I've been most impressed with his beard, which looks like something a mountain man would have. He said he wasn't going to shave until December, so I can't imagine what it will look like by November. I kidded with him and told him it was gonna get caught in his chinstrap, and he got a big old grin and said if it pulled a few hairs and caused him to bleed, it would look scary as you know what out on the field. He's a keeper.
*Coach Jim Phillips is a familiar sight at all of the Swinney camps, and for those that don't know he is from Alabama and was one of Dabo's first coaches. Phillips wears a bright yellow shirt that says "Trainer" and he is always around to lend aid when needed. He has a ton of good Dabo stories, but he's also one of the nicest guys I've ever met.
Next week, Coach Phillips is going Hollywood. A new movie scheduled for release in 2016 is called USS Indianapolis: Men of Courage and stars Nicholas Cage and Tom Sizemore and Thomas Jane, and filming will take place in Mobile over the next few weeks. Coach Phillips will be working with the Fire and EMS crews and helping out with several scenes that involve burns and explosions. However, he told me this morning he doesn't know if he can handle being in a raft if they need him out on the ocean – his only trip on the high seas was a cruise ship.
Campers
*2017 tight end prospect Nick Muse was working with Danny Pearman

Danny Pearman
Assist. Head / ST / TE
View Full Profile 's group. Muse is the younger brother of 2015 Clemson commit Tanner Muse.
*Another tight end we will be watching today is 2017 prospect Jeremiah Hall out of Charlotte (NC) Vance. Hall was working with Pearman's A group this morning.
*Running backs coach and offensive coordinator Tony Elliott

Tony Elliott
Co-OC / Running Backs
View Full Profile doesn't necessarily call campers by their given names – he likes to call them by the school or city they are from. For example you will hear, "Come on Decatur you can do better than that" or "Greenville, you gotta move your feet quicker" or "Fort Myers, you gotta carry that ball higher."
However, he calls 5-star running back prospect Anthony Davis "A.J." and was hard on Davis during drills. For the record, Davis has looked fantastic during the drills we've seen. I wish we could stay and watch the 1-on-1's and see him in the open field and run more than a few yards in a cone drill.
*For those who live in Greenville County, 2017 running back prospect Josh Samuel out of Greenville (SC) J.L. Mann worked out with the backs this morning, and I loved what I saw. He missed most of last season, but he already bench presses 325 pounds and packs a solid 210 pounds on his 6-foot frame. He had quick feet during the drills. Keep an eye on him.
*Another bowling ball back was 2017 prospect Emon Reeves out of Augusta (GA) Augusta Christian. At 5-8 and 205 pounds he is an absolute load, and he rushed for 900 yards in just eight games a year ago.
* Loganville (GA) Grayson 2017 4-star quarterback Chase Brice was on hand for the morning session. I watched several of the drills and came away impressed with his accuracy. With Clemson commit Zerrick Cooper

Zerrick Cooper
Quarterback
6-4, 200
Jonesboro, GA
ESPN:


View Full Profile coming in this afternoon and 2017 San Antonio (TX) Reagan 3-star prospect Kellen Mond already on campus, the afternoon session should be fun to watch.
Brice was the most accurate quarterback in the morning session, and I liked what I saw on the routes where he had to anticipate a receiver and the timing routes. He had some pretty nice targets in Clemson commit Cornell Powell

Cornell Powell
Wide Receiver
6-1, 200
Greenville, NC
ESPN:


View Full Profile , Clemson lean Diondre Overton

Diondre Overton
Wide Receiver
6-5, 195
Greensboro, NC
View Full Profile and 2017 prospect James Robinson

James Robinson
Wide Receiver
6-3, 190
Lakeland, FL
View Full Profile . Heck, even I might look good throwing to that group.
*Finally - despite the big crowds the camp is running smoothly. I talked to one head coach from the lower part of the state who brought in a large group of players. He said he was at South Carolina's camp yesterday and that there was no comparison, saying that Clemson's camp was smooth and everybody knew where they were going and what they were doing.