| | |
| --- | --- |
| Big Mac learns of starting chance through Twitter, wants to take advantage | |
---
| | |
| --- | --- |
| Sunday, March 16, 2014 8:41 AM | |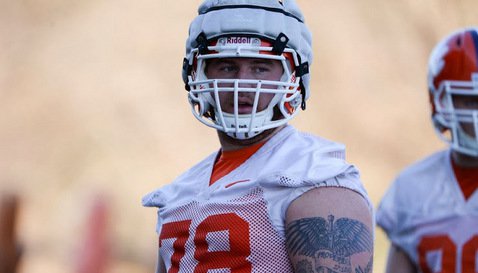 CLEMSON - Prior to the start of spring practice, Eric Mac Lain

Eric Mac Lain
RS Jr. Offensive Line
#78 6-3, 260
Hope Mills, NC
View Full Profile was scrolling through social media when a very familiar name popped up on his timeline – his own.
Clemson head coach Dabo Swinney

Dabo Swinney
Head Coach
View Full Profile was in the middle of his pre-spring press conference, and he told the assembled writers that Mac Lain would start the spring as the starter at left guard, prompting a long string of tweets from those in attendance.
The announcement was news to Mac Lain, who came to Clemson as a tight end before moving to the offensive line during the 2012 season. Mac Lain quickly queried the media about where on the field he would be starting, and then he threw out a challenge to quarterbacks Chad Kelly
Chad Kelly
RS So. Quarterback
#11 6-2, 210
Buffalo, NY
View Full Profile and Cole Stoudt

Cole Stoudt
Sr. Quarterback
#18 6-4, 205
Dublin, OH
View Full Profile .
Uhm I guess I'm starting now! Lmao anyone want to tell me what position??

— Eric Mac Lain (@mr_clemson) March 4, 2014
In today's society, a lot of players learn they have been released, traded or cut through the impersonal world of social media, but for Mac Lain, he got the good news he has been waiting for – he would get a chance as a starter.
Knowing Mac Lain's nature, I asked him when he had really first heard the news, and he admitted that the tweets were the first he knew of the move.
"When I was reading all of your tweets, and he told me I was playing left guard I was pretty excited," he told the media last week.
The former four-star recruit, who was ranked No. 6 nationally among tight ends in 2011, has now bulked up to 305 pounds on his 6-foot-4 1/2 frame. During the 2012 season, he got snaps in all 13 games, but saw just 38 snaps. During the 2013 season, he logged 140 snaps over 12 games, mostly at right tackle.
Now, he faces the challenge of playing a different position on the other side of the line, but he said he doesn't see much difference and practiced at every position but center last fall.
"Really, the only thing you have to deal with is going from Vic (Beasley), who is going to beat with you with speed, to Grady (jarrett), who is just going to run you over," he said. "You really have to just keep working on your footwork and just use your tools.
"All last season, I played left and right guard. Both ways. The only place I really didn't play was center. So it wasn't really a hard transition going into it. It was easy working with Isaiah (Battle) and Ryan (Norton). And then when Ryan tells me the different things to do, it just makes it easier. "
He then said that he doesn't care what position he plays as long as he plays.
"I just want to get on the field. Last year, I just wanted to play as much as I could," he said. "Going into the offseason, they just told me to know the offensive line. The more you know, the more utilized you can be. If they put me at right tackle, I am ready, and if they put me at left tackle I am ready. But with them telling me to be ready for anything, nothing would surprise me. "
Mac Lain said that working against players like Beasley and Jarrett – both will play in the NFL – on a daily basis will just make him better.
"It's an amazing thing when you have one of the best defensive lines to go up against every day," he said. "It's just great going up against that defense every day."
Mac Lain said one thing the coaches won't accuse him of is not working hard, a lesson he from his father Michael, who is in the United States Air Force.
"My whole life my dad has just told me to work, work, work," he said. "The hardest thing when you're not playing is knowing that there's a reason you're not playing. You've got to get better. And I have."
However, knowing that he finally has a chance to get on the field will make the practices a little more intense, even if he isn't going to win the job at quarterback.
"It's always good when you can practice with a purpose," he said. "Just know the offense. Know what you're doing. Once you know what you're doing, once you know where the guy beside you is going, it helps your footwork immensely. Hey, they tell us every day that iron sharpens iron. So we're all just out here trying to get better."
Secrets out I'm the starting QB sorry chad and cole

— Eric Mac Lain (@mr_clemson) March 4, 2014