| | |
| --- | --- |
| Better late than never for Boyd | |
---
| | |
| --- | --- |
| Saturday, May 10, 2014 11:24 PM | |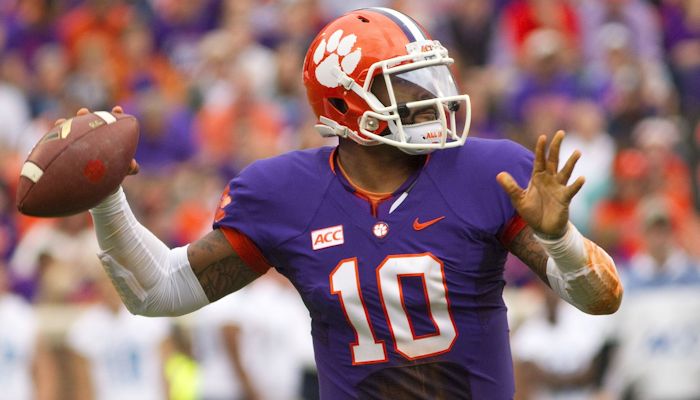 Tajh Boyd

Tajh Boyd
Quarterback (2009 - 2013)
#10 6-1, 225
Hampton, VA
View Full Profile , who decided to escape the stress of a lot of family and watching the NFL Draft and listen to a little music.

As each pick in Saturday's draft went by the board and Boyd still hadn't heard his name called, the pressure built and he decided late in the afternoon retreat to the quiet of his car for a little relaxation. That was when everything changed.

"I was actually sitting in my car about to go to sleep. I had a little old school country going, a little sad and a little somber," Boyd said late Saturday. "Then I got a call from a New York number, and I was like, 'Hello' and the voice said, 'Would you like to be a Jet? This is Rex Ryan calling.' I was like, 'Hell yeah I want to be a Jet.' I was obviously very excited and there was a lot of emotion."

Boyd, once considered a potential high draft choice, was chosen by the Jets on Saturday with the 37th pick of the sixth round, 213th overall. It was the Jets' second-to-last pick of the draft, and fourth of the sixth round. Their final three picks of the round were compensatory selections and could not be traded, and Ryan had told Boyd that if the former Tiger was still available the Jets would take him.

Last season, he threw for 3,851 yards, 34 touchdowns and 11 interceptions. The previous year, those numbers were 3,896, 36 and 13. With the Jets, Boyd joins a quarterback group headed by second-year pro Geno Smith, who struggled last season as the Jets' starter, and veteran Michael Vick, signed this offseason in free agency to challenge Smith. Boyd will likely compete with Matt Simms, son of Giants legend Phil Simms, for the third spot on the depth chart.

"I feel like it's always been the same situation for me," Boyd said. "Whether it was middle school, high school or even coming into college. The situation has always been similar and I feel like God has always had a plan for me. I have always had to compete at all times. I am looking forward to competing with those guys."

Clemson head coach Dabo Swinney

Dabo Swinney
Head Coach
View Full Profile said he was surprised Boyd dropped as far as he did.
"I was disappointed in that a lot of teams passed on Tajh until the sixth round," Swinney said. "He is a great player and I think the Jets got a steal getting him in the sixth round. I told Andre Ellington

Andre Ellington
Running Back (2008 - 2012)
#23 5-10, 195
Moncks Corner, SC
View Full Profile last year when he was taken in the sixth round by the Cardinals that same thing. Last year he led the NFL in yards per carry and is going to be their starting running back this coming year. Like Sammy going to Buffalo, this is a great situation for Tajh. Rex Ryan knows what he can do and how hard a worker he is. Tajh will be reunited with Dalton Freeman

Dalton Freeman
Center (2008 - 2012)
#55 6-5, 265
Pelion, SC
View Full Profile and will have Jacoby Ford

Jacoby Ford
Wide Receiver (2006 - 2009)
#6 5-9, 175
Royal Palm Beach, FL
View Full Profile to throw to."
Boyd said he was just glad to finally know where home will be next season.
"For Rex Ryan and those guys to draft me is pretty exciting," he said. "I honestly thought I was going to go a little bit earlier, but I can't wait to get to New York and see how everything is."
He then said that while the draft didn't turn out like he had hoped, he felt like he learned valuable lessons throughout the process.
"It had its ups and downs. I got a chance to do a lot of different things that a lot of other players don't get a chance to partake in," he said. "I enjoyed it. You obviously meet a lot of other players along the way, and a lot of influential people. You get a chance to talk to a lot of people throughout the process, and for those people to be so supportive of me has meant a lot to me."
Ryan's son Seth is a backup wide receiver for the Tigers, so Boyd had already spent time with the Jets head coach.
"I had a chance to meet Rex when his son Seth came up for a visit. Honestly, I think Rex Ryan fell in love with Clemson," Boyd said. "He wore so much orange that I thought he went to school here himself. It was ultimately a good relationship with him. Being around his son, he's a great dude. He made some ridiculous catches in practice and Sammy would tell you the same thing.
"It was just a good deal getting to know him. For Rex, I think him getting to be so close to the situation and being so close to me, he got to see what I am all about. I think I'm a tremendous football player, but I think I'm great person as well. For Rex to get an up close and personal look at that was pretty exceptional. Getting a chance to see him at Pro Day, I was able to build a rapport with him."
He also said that he won't be satisfied with being a backup.
"Whatever the role is, I'm going to make the best of it. I don't pride myself on being the backup for anybody," he said. "I'm going to go out there and compete and be the best player I can possibly be, but you have to be a good teammate and take whatever the hand is and make do with it. If it is to go out there and compete and just learn, then cool. If it is to go out there and compete to be the starting quarterback, I'm going to try to make that happen too.
"I'm excited to be a part of the organization. I feel like they are one of the more vocal and supportive fan bases out there. For me to be a part of this organization is going to be fun. I'm looking forward to it. Ultimately, they are getting a hardworking player, a great person, and I'm going to go out there and leave it all out on the field. I don't think they should expect anything less than that and I'm looking forward to proving myself."
Ryan said his familiarity with Boyd made the decision an easy one.
"We had more of an insight into probably his character with my son being there," Ryan said during the Jets post-draft press conference. "My son talked about his leadership and said he was the leader of that program. He said if Tajh had called a meeting at 2 a.m. the entire football team would have been there. We are excited to bring Tajh here and let him compete."
Gang Green see you Monday! #JetLife

— Tajh Boyd (@TajhB10) May 11, 2014