| | |
| --- | --- |
| Best player in the stadium? Absolutely. In the country? Just maybe | |
---
| | |
| --- | --- |
| Tuesday, November 5, 2013 10:33 AM | |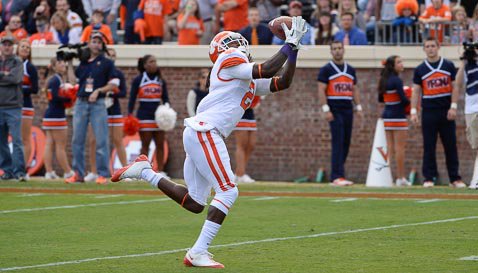 During the early part of the second quarter in Saturday's 59-10 Clemson win at Virginia, the NFL scout sitting next to me in the press box threw up his hands in exaggerated exasperation at a play by Clemson quarterback Tajh Boyd, looked at me, and said, "How can you not see or even look at the best player in the stadium?"
That best player just happens to be wide receiver Sammy Watkins, who is putting together a stellar junior season, a season that will more than likely be his last at Clemson. And he is doing it despite drawing consistent double teams and bracket coverage as teams force Boyd to look elsewhere on certain plays.
I turned and looked at the scout after his comment, raised my eyebrows, and asked, "Only the best player in this stadium?" The scout looked at me and smiled and said, "I hate to compare players, but yeah, he might be the best player in the country."
He then said, "And if we (meaning his NFL club) keep playing like we have been, he will be right in our wheelhouse on draft day."
The message was clear – enjoy him while you can Clemson fans; you have just four more games to watch him play with that signature paw on his helmet. I tried to get people to understand with C.J. Spiller and even Nuk Hopkins that greatness like this doesn't come around as much as we would like, and you have to enjoy every second they are at Clemson.
We all know the numbers that Hopkins – a first round draft choice of the Houston Texans last spring – put up during his Clemson career, and the season that Hopkins put together last season when he turned himself into that first round draft pick.
In 2012, Hopkins caught 82 passes for 1,405 yards and 18 touchdowns, with the latter two setting Clemson single season records. For his career, Hopkins had 206 receptions (second all-time at Clemson) for 3020 yards (first all-time) and 27 touchdowns (first all-time).
When the Tigers host Georgia Tech next Thursday, Watkins will have a chance to leap into second place all-time in Clemson history in receptions – he has 205 (third all-time, one behind Hopkins) receptions for 2,909 yards (111 behind Hopkins) and 22 touchdowns (five behind Hopkins).
Watkins needs 423 yards to tie Hopkins's single-season record and 16 receptions to tie the 82 that Nuk set last season. However, he would need 22 receptions to tie the Clemson single-season record of 88 set by Aaron Kelly, and he would need 27 receptions to tie the all-time Clemson record of 232 receptions set by Kelly.
Watkins also set the Clemson career record for 100-yard receiving games last week, notching the 13th of his career, breaking the record he shared with Hopkins.
The Tigers have a lot to play for over the next three weeks and the bowl game, and all of it will be fun to watch. But it will also be fun to watch Watkins as he continues to make his mark in the Clemson record book. Can he set them? Yes. Will it be difficult? Yes, especially considering that one of those games is against The Citadel, and he might not play the entire contest, and the other is against a South Carolina defense that has managed to limit his play-making ability.
However, it doesn't matter if he breaks the records or not, it's just been fun watching the best player in the stadium. Ah, who are we kidding…he might be the best player in the country right now, and right in the wheelhouse of some NFL team.