| | |
| --- | --- |
| Best defense wins: Venables pleased with win over Eagles | |
---
| | |
| --- | --- |
| Sunday, October 18, 2015 2:33 PM | |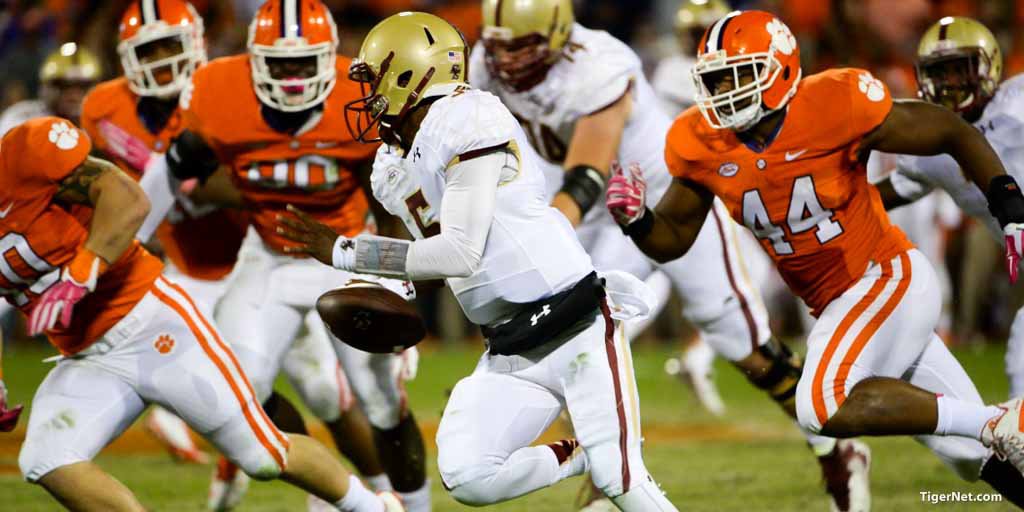 CLEMSON – Defensive coordinator Brent Venables

Brent Venables
Def. Coordinator / Linebackers
View Full Profile told the media last week that he thought the team with the best defense would win Saturday's Homecoming contest against Boston College. It was never easy for Clemson's defense, but they got the win.
Boston College entered the game with the nation's top-ranked defense but gave up over 500 yards of total offense to the Tigers. Two Clemson turnovers led to 10 Boston College points, but the Tigers also gave up 159 rushing yards in a physical affair.
"I'm proud of our guys. Thought it was a big win," Venables said. "It really played out how we thought it would. They gave us a whole bunch of stuff, and we got worked, and our guys really adjusted to it really well. It was exactly what we thought it would be — a real tough, competitive, back-and-forth game. They weren't going to give us anything. We were going to have to earn the W, and I didn't think we were quite as sharp on third down as we have been, but it was a tough, hard-fought win."
Boston College brought some new wrinkles to their offensive game plan.
"They stress you in a lot of different ways, and a lot of stuff they had done in the play-action game that we really worked a lot of, we didn't get to see it," Venables said. "They tried a few deception plays — they had a reverse-pass, then a couple of wheel routes and a screen-and-go, and we really defended all those in an excellent way. They give you a ton of formations and just a lot of deception pre-snap, and a lot of it was on our guys all night, so really, again, pleased with the positioning and the end result."
Venables said he was pleased – for the most part – with his team's discipline.
"Pretty good," he said. "Got a little aggressive on the long run earlier in the second half when the safety missed a fit, and then the late check-down to the back in the flat, just turned him loose in man coverage there, but otherwise, it was really pretty pleasing."
He then said the game shoudn't have been as close it was.
"Didn't have to be that close. It was a very physical game," he said. "That's just the mentality of their coach. I love Steve Addazio. He epitomizes toughness and discipline and does a terrific job. Very well coached team that just keeps coming after you. They don't go away, they're very physical and they know what they're doing over there, so for our guys to compete with them and come up with a win and play pretty good, it's saying something because we knew we were going to have to earn it. They weren't going to give us anything."
It was announced earlier that senior defensive tackle D.J. Reader

D.J. Reader
Defensive Tackle (2012 - 2015)
#48 6-2, 321
Greensboro, NC
View Full Profile – who took a leave of absence from the team late in fall camp for personal reasons – would be back with the team Monday. Venables acted surprised at the news and said Reader will have to earn his way back into the rotation.
"Is he really? I don't know. We'll see how he comes back," he said. "I think he's been working hard, so we'll see, but we're 6-0 without him, but he's a guy that's played a lot of good football here. Hopefully he's ready, but we have a good group of guys who've played their butts off and gotten us to 6-0. We've played pretty good in his absence, so one more live, active body in the herd."