| | |
| --- | --- |
| Ben Boulware is no fan of South Carolina, the SEC or media bias | |
---
| | |
| --- | --- |
| Tuesday, November 24, 2015 7:18 AM | |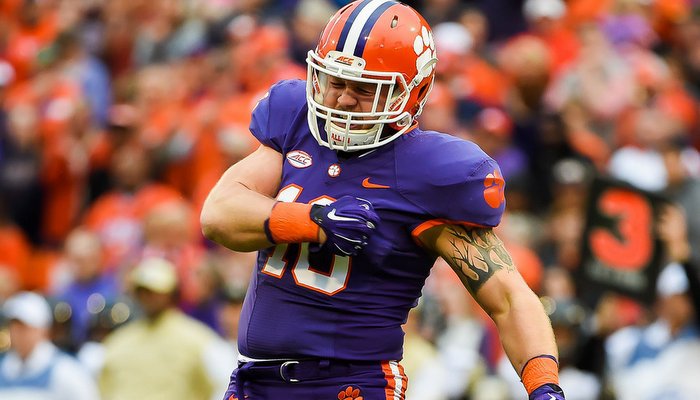 CLEMSON – Ben Boulware isn't a fan of South Carolina, as you might imagine. Or a fan of the SEC. Or the media bias for that same conference. He just hates it all.
Clemson's talented and passionate junior linebacker met with the media Monday to discuss this weekend's rivalry game against South Carolina, and it didn't take long for Boulware's feelings to shine through. The Anderson (SC) T.L. Hanna product grew up in the area and knows the importance of the rivalry.
However, his brother Garrett played catcher for Clemson's baseball team, and Boulware said Garrett's experiences with the Gamecocks fuels his distaste for all things Gamecock as his conversations with Garrett can attest.
"We definitely talked about it. It definitely made him mad," Boulware said Monday. "He despises South Carolina. When he was catching, he just experienced their fans and just their players. He never really had any good experiences when he played them. Not because they won or lost, just the environment, just the fans and it wasn't really a good time when they played. Stuff always happened. So he does not like South Carolina at all.
"So I never really heard good things about them coming from his mouth. I'm glad I haven't ever got to experience that really. My freshman year when we played there it was pretty wild. It was a pretty crazy environment. Not because they were doing anything wrong. It was just loud. When we played there my freshman year that was probably one of the loudest game day experiences I have been a part of."
Growing up in the area means he knows that passions run deep between Clemson and South Carolina.
"It's definitely a cool perspective. Just because I experienced it as a fan coming to the games and growing up a Clemson fan, wishing my whole life I could be a part of that," he said. "Now that I am actually here it's definitely cool getting to see both sides of it. It was annoying growing up all the buzz about it because about half of Anderson is split with USC fans and Clemson fans."
The Tigers defeated South Carolina last season in Death Valley, and Boulware says he is glad the rivalry might be turning in Clemson's favor. However, he made it a point to note that it is just the next game in Clemson's quest for a larger prize.
"It's definitely a lot more exciting game, just because besides last year when we finally got them back the past five or six years they have owned us. They have owned this rivalry the past five years," he said. "I think we are definitely starting to turn things around, but at the end of the day it is still another game. At the end of the day if we win or lose it will be a W or L in the win or loss column.
"Like Notre Dame or Florida State this game obviously has more excitement because it is a rivalry game, but we are not going to prepare or do anything differently just because it is South Carolina. We are going to prepare this week and put in a good game plan. If we play to the Clemson standard, we will win the game. It's just another game, honestly. Really it is just another opponent who happens to be South Carolina who happens to be our rival. But at the end of the day it is just another game."
The Gamecocks sit at 3-8 overall and have no chance for a bowl game, and Boulware said he expects South Carolina to give it everything they've got.
"We know that teams are going to prepare against us differently than any other opponent just because we are the best team in the country," he said. "So they are going to have to throw the kitchen sink at us and just do things differently. But we prepare for that. We know they are going to deviate a little bit from their game plan. At the end of the day, they are going to do what they do. They are going to do their DNA and what the coaches have taught them to do. But we are prepared for anything they throw at us."
What happens if the Gamecocks throw the proverbial kitchen sink at Clemson's defense?
"They're going to have to, and even if they do we'll have a game plan to stop it," Boulware said. "We'll be prepared for anything. We've been preparing for that every week. We know teams have to put a new game plan in for our team because they know how good we are. We're prepared for anything they do."
South Carolina lost 23-22 to The Citadel last weekend, something that Boulware learned prior to the kickoff against Wake Forest.
"We found out before we went out of the locker room to stretch. I just laughed really. The Citadel has had a good year," Boulware said. "They're a good team. I guess they looked forward to this week and didn't prepare well The Citadel. I think we've done a good job all year preparing for each team like it's a national championship game. The way we prepared for Wofford is the same way we prepared for Wake Forest. I think we've done a good job of that, and I think our coaches have instilled in us that we can't take any team lightly, so I guess they took The Citadel a little too lightly."
The junior then threw a salvo at the national media that salivates over the Southeastern Conference and said he tries to limit his college football intake because of the bias.
"I'll go home and watch some games, but that's about all it is. Everybody loves the SEC and thinks they rule the college football world, and it's not true," Boulware said. "There's definitely good teams in the SEC, but I think the ACC is in the conversation at least. I definitely would root for an ACC team over the SEC any day of the week."
Other notes
On Pharoh Cooper
"We know he can do a lot of different things, but we're going to put in a game plan to stop it. We don't care if he can throw really well. He's not going to play quarterback the whole game. You never know. They might end up playing him at quarterback the whole game. They are going to keep doing what they do. He runs the ball, throws the ball. They do that wildcat stuff. They are going to keep doing their DNA. They incorporate him into their offense every single way the can. So we are ready for anything they do. We know he is a good athlete. We know he can do a lot of different things."
On his injury
"I feel fine. My shoulder is a little banged up, but that comes with the territory. You are going to be banged up every game. I got hit pretty good. I should be fine by Saturday."
On the defense playing better Saturday
"That Monday after the Syracuse game was pretty tough. It was definitely a reality check. We prepared for some of the things they did, but it was pretty different than what we prepared for all week. We have to adjust and get it corrected in the game. We didn't do a good job of that. The coaches lit into us pretty good on Monday. So that was definitely a reality check and definitely got us back on track. I think we showed that on Saturday."
Perry Orth
"I've watched them, and Orth has been playing pretty well. Obviously their results haven't turned out the way they wanted to, but he's been playing well, though. We're definitely expecting Orth, and then Cooper will probably come in and do some crazy things. We're expecting anything."
On preparing for the game
"You just watch a lot of film. You go back to where their coaches have played at and just see their past teams and what they've done. Whatever we've done bad this season, we'll look at that and get it corrected. When we were playing Wake Forest, we did a lot of zone read option and triple option type stuff because we expected Wake Forest to do it a good bit because we didn't play well against it at Syracuse. Wake Forest hadn't really done it that much, so we put that in for them. Anything Coach V can think of he'll put it in the game plan just so we're ready for it."