| | |
| --- | --- |
| Ben Boulware: Clemson's heat-seeking missile | |
---
| | |
| --- | --- |
| Sunday, September 20, 2015 8:01 AM | |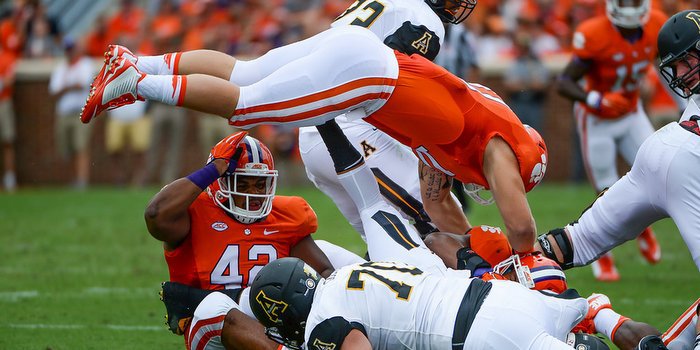 LOUISVILLE, KY – Brent Venables

Brent Venables
Def. Coordinator / Linebackers
View Full Profile has turned Ben Boulware

Ben Boulware
Jr. Outside Linebacker
#10 6-0, 241
Anderson, SC
View Full Profile loose on the competition.
Clemson's weakside linebacker has been a force through the season's first three games, and last Thursday at Louisville was no exception. Boulware introduced himself to Louisville's signal callers and met them in the backfield often, continuing a trend that started when he had an interception and several quarterback pressures against Appalachian St. the prior week.
Ben Boulware – heat-seeking missile.
Boulware had six tackles in the Tigers' 20-17 win over Louisville, and it was Boulware and the Tigers defense that made the final stop to seal the victory.
"We knew we were going to have to win the game, and the way we set up our scheme to beat them and it paid off," Boulware said. "As loud and as huge of an atmosphere as this stadium was, it didn't really get to us which is surprising because we have so many new guys that haven't really been in that situation. We did our job tonight. We shut them down. We had to come and execute. We prepared well and it paid off.
"As a linebacker and as a competitor, you crave that. That's one of the biggest points of the game and you want to make those plays and shut them down. As a defense you want to shut them down every single play, and that's how Coach Venables coaches. Anytime they get more than three or four yards, we're getting yelled at. As a competitor, you want to win every down, and in those big game atmospheres when it's the end of the fourth quarter and they're down by three in the two-minute drill, you crave that."
Boulware has been a blitzing machine through the season's first three weeks, and his pressure on Louisville's Kyle Bolin was evident most of the night despite the fact that Boulware still doesn't have a sack.
"That was Coach Venables' plan. I love to blitz," he said. "I wish I could turn these pressures into sacks. I can't believe my dadgum feet. It's pissing me off. Coach Venables is an aggressive coach and he likes sending pressure, and I'm glad I'm that guy. Hopefully, it changed the game a little bit."
Boulware was on the field when Jadar Johnson

Jadar Johnson
Jr. Defensive Back
#18 6-0, 203
Orangeburg, SC
View Full Profile intercepted Bolin's last-gasp pass, and following the game said he couldn't remember too much about the play.
"I honestly don't even remember. I was so zoned out. He tipped the ball," Boulware said. "I was trying to figure out who intercepted the pass because I couldn't tell who was in for our DBs. I was 30 yards away, and I was just trying to tackle him and give him a hug because I was so excited. It was a fun game."
The Tigers got the win on the road, and now have time to prepare for unbeaten Notre Dame on October 3rd.
"It's big. We've got a lot of momentum now," he said. "We've got an extra week to prepare for Notre Dame, and that's going to be a great opponent and great game in two weeks. It just gives us a lot of momentum and confidence to be able to come into a hectic, crazy atmosphere and get a W."
Clemson's defense is once again proving to be one of the nation's best, and Boulware has been a big part of the early-season success.
"It just happens for us because we're proving everybody wrong. Everybody thinks we lost all of those guys, who were obviously great players and great leaders, but it just proves that we have that next man up mentality," he said. "We lost a lot of seniors and senior leadership on this team and we've got a lot of new guys, and they stepped up tonight. We wanted to play and perform our job to a T. We're just shutting everybody up.
"I think we proved that there's no drop-off. As ESPN said, we played two cupcakes in App. State and Wofford. They were really good teams, but we just prepared so well and that's why we beat them so bad. Louisville is a good 0-3 team. We're just proving everybody wrong. We're stepping up. We lost all of those guys, but there's no drop off. We're continuing to strive to be the best defense in the nation, and that's going to be our goal every year."