| | |
| --- | --- |
| Beasley wants to wear new leather helmet against FSU | |
---
| | |
| --- | --- |
| Saturday, October 12, 2013 9:13 PM | |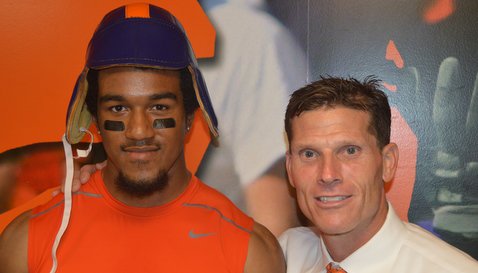 CLEMSON – Vic Beasley stood outside of Clemson's locker following the Tigers' 24-14 win over Boston College wearing a leather helmet, and he didn't want to take it off.
In fact, he told the media that he would like to wear the helmet – a replica of the leather helmet that Clemson great Banks McFadden wore in the 1940 Cotton Bowl – next week when the Tigers take on Florida St. in a showdown for early supremacy in the ACC's Atlantic Division.
With the win, Clemson continues to hold the O'Rourke-McFadden Trophy, an award that was created in 2008 by the Boston College Gridiron Club in order to honor the tradition at Clemson and Boston College to honor the legacy of Charlie O'Rourke and McFadden, who played during the leather helmet era.
In addition, the Boston College Gridiron Club presents a replica leather helmet to the MVP of the winning school. The helmet will reflect the colors of the winning team.
Saturday, that MVP was Clemson's junior defensive end, who had a sack, five tackles, two tackles for loss and a pass broken up in Clemson' dominant defensive effort. He also scored a touchdown – the first of his career – early in the fourth quarter after Boston College quarterback Chase Rettig was sacked by Tony Steward, who forced a Rettig fumble.
Beasley, who now has nine sacks on the season, scooped up the loose ball and rumbled 11 yards for the touchdown, just part of the reason he was voted the game's MVP by the media.
Proudly wearing the helmet after the game, Beasley told the media that the touchdown was a moment he has wanted to happen for his entire career.
"I was like, "Man, yes!" I've been waiting on that moment my whole career. I was talking to my teammate Corey Crawford about the fact that he got one last year. It was my turn, I guess," Beasley said. "I scored a couple [of touchdowns] in high school, but it's a lot more difficult on this level.
"It's really nervousness when you go over and pick of the ball, but I knew I had to pick it up. I was thinking that I had to get my first touchdown and I did it. We were up by three and that put us up by 10 so that gave us a lot of momentum going back out on defense. We had the crowd on our side and were able to flow with it."
He also wanted to celebrate the touchdown, but feared the wrath of Clemson head coach Dabo Swinney.
"This time I wanted to celebrate, but I didn't want to penalize the team," he said with a smile.
Beasley limped noticeably during the second half, but said he wanted to play through the pain and be there for his teammates.
"I had injured my toe and I think I broke my finger, but I had to play through it in the second half," he said. "At first though, it was mainly my foot."
Defensive tackle DeShawn Williams said earlier this week that whenever the defense needs a big play, they ask Beasley to be the guy that makes it happen. Against the Eagles, they didn't have to ask.
"They didn't really say anything to me this game," he said. "I was just like, "Man, I really want to be the strength of the team." I want my team to be great and I want my defense to be the strength of the team. I just took it upon myself."
Beasley was asked if the Tigers were looking ahead to Florida St. and if that contributed to the struggles on Saturday, and he said no.
"One game at a time, that's how we look at it," he said. "We know Florida State is next, but we were just focusing on Boston College. We are looking forward to this week and trying to get another win."
Before he walked away, however, he did say he had special plans for his uniform against the Seminoles, and pointed to the leather helmet.
"I plan on wearing this against Florida State," he said before heading off to celebrate with his teammates.