---
| | |
| --- | --- |
| Tuesday, October 7, 2014 5:04 PM | |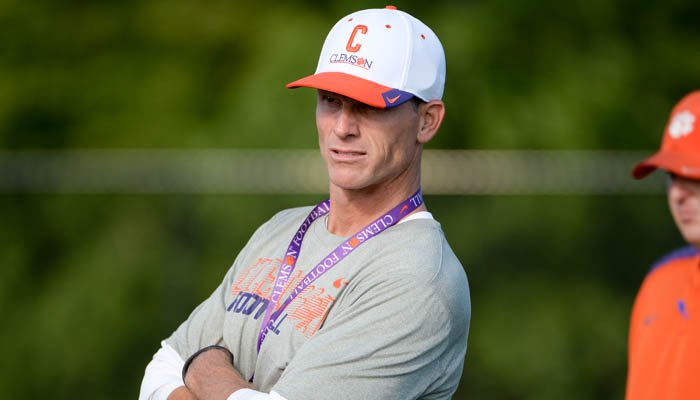 CLEMSON – Clemson's defense will face a baptism by fire Saturday afternoon when it faces a Louisville offense that runs a scheme the Tigers' defense hasn't seen a lot of.
Defensive coordinator Brent Venables

Brent Venables
Def. Coordinator / Linebackers
View Full Profile – speaking to the media Tuesday during his weekly press conference in the WestZone – said the Cardinals use a variety of personnel groups and schemes .
"They are tough and physical, multiple. They've got excellent wideouts, two or three backs that are strong, physical and explosive, good tight ends," Venables said. "They're multiple in their formations in the things they do in the run and play action. It'll be a little bit like last week in terms of a variety of personnel groups. They do a good job of using those personnel groups the right way. They try to put themselves in favorable matchups. We haven't had experience in defending their scheme. We're kind of getting baptized this week in that regard."
Louisville head coach Bobby Petrino was at Western Kentucky last season, and Venables said the Tigers have even looked at that game film.
"You're going back to look at some Western Kentucky film, the bread and butter and things that show up consistently on film," he said."Coach Petrino won eight games last year at WKU. That doesn't happen by accident. They're confident. Their O-line plays very aggressive. Coach Strong did a great job of recruiting. Their success against top teams is well known. They won't come into Death Valley in awe, I don't believe. I think the mantra of that team is about being tough and having an edge to them and competing at a very high, emotional level. They have a lot of guys who wear it on their sleeves. I like that. I've got respect for that."
Last week, Clemson shut out N.C. State and held the Wolfpack to just 156 total yards, leaving them ranked 10th nationally in total defense. Venables called the effort "very clean."
"Obviously we played a very clean game," he said. "Very few mistakes. If you want me to talk about mistakes, I have a small list of them - letting the quarterback scramble around, some misses in the run game - but yeah, our guys played a clean, disciplined game. That was the most pleasing part of the game. Sometimes stats are misleading, but we know our guys played for four quarters and executed at a high level."
He then said it makes it easier when the defense gains confidence.
"It looked like they had a lot of confidence. They were very focused for the entire game and I really felt that they enjoyed playing because they knew what was coming," he said. "They were playing disciplined. Just overall, the game is so much simpler when you play with discipline when you're reading your keys, reacting to your keys, trusting your keys and you're working fast and physical. There were no weak links. All three levels played well. You saw guys enjoying the game. And that doesn't happen a whole lot.
"Sometimes you get in a groove and you catch a team when it's off and you're on, you overwhelm them. As a team we complemented each other really well. So it's not just about playing well. It's also about catching them on a bad day. Sometimes it's not as much you. It's you and them not executing for whatever reason. That being said, long story short, I can see why they were having fun out there."
Other notes
What he first noticed about Vic Beasley

Vic Beasley
RS Sr. Defensive End
#3 6-2, 236
Adairsville, GA
View Full Profile
"I thought he was a linebacker. He's long, obviously he's a ball of muscle. He's got good length. He was quick and explosive and had a great change of direction."
On Bobby Petrino
"Oh his track record speaks for itself with what they're able to do on offense. He has had incredible success, very consistent success and more than most. He doesn't need me to rate him. He's done well for himself. Wherever he goes, those teams play at a high level. He knows how to put players in a position to be successful. His players are precise, tough, and competitive and they execute. I appreciate that. His receivers block on the perimeter and just the confidence they play with as a unit, that's always followed him. They move the ball and they score points and they're multiple in how they do it. Mike Leach has the air raid and does an awesome job as well. They put up prolific numbers as well. Petrino understands how to utilize his personnel. He's an excellent coach."
Tony Steward

Tony Steward
Sr. Linebacker
#7 6-1, 236
Hastings, FL
View Full Profile
"He's playing very confident, having fun and enjoying himself. He's in a leadership role and that's very natural for him. He has graded out really well overall this season. He is kind of hitting his stride right now. It's a great time for him to do that with him being in his senior year and going through the things he has had to overcome. As a coach you always enjoy seeing your players have that kind of success, especially as hard a worker as he is."