| | |
| --- | --- |
| Band of Brothers: Offensive line has Watson's back | |
---
| | |
| --- | --- |
| Sunday, December 13, 2015 5:23 PM | |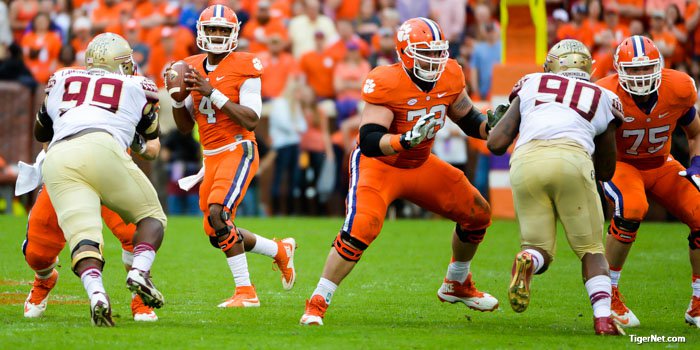 CLEMSON – If Clemson is to beat Oklahoma in the Orange Bowl later this month and advance to the National Championship game in Glendale, quarterback Deshaun Watson will have to avoid the Sooners' pass rush and stay upright.
The Band of Brothers has his back.
Watson finished third in the 2015 Heisman Memorial Trophy balloting, but the fact that he was in even in the conversation for college football's most prestigious award is tied directly to the success of the Tigers' offensive line this season.
The offensive line was a question mark heading into the season – there were four new starters and one of them was a true freshman left tackle in Mitch Hyatt. Starting center Ryan Norton battled injuries throughout fall camp and eventually missed a chunk of the season. Stepping into the breach was Jay Guillermo, who missed the spring semester – and spring practice – after battling personal issues.
The line responded in a big way. Watson was sacked just 14 times this season, and all five of the linemen – including Guillermo – were somewhere on of the three All-ACC teams released late last month.
"So many people said we were the weak link at the beginning of the season," first-team All-ACC selection Eric Mac Lain told TigerNet. "To do what we've done, week in and out, 200-plus rushing yards and 300-plus passing yards and over 500 yards of total offense for eight straight weeks with no sacks in six or seven consecutive games means we are balling right now. "
Mac Lain said the offensive line's success has been remarkable considering that Hyatt and fellow freshman right tackle Jake Fruhmorgen and sophomore Tyrone Crowder have seen so much playing time.
"It's great to see our guys grow up. We've had so many guys plug and play, and the youth on this team is phenomenal. They are going to be scary next year," he said. "Once they have a year under their belt – and Coach (Robbie) Caldwell does a great job of preparing them. There hasn't been a blitz or a stunt we've seen this year that we haven't gone over multiple times in practice. At the end of the year whatever we achieve will be well-deserved."
It was then that Mac Lain evoked the St. Crispin's Day speech from William Shakespeare's Henry V which says:
But we in it shall be remembered-
We few, we happy few, we band of brothers;
For he to-day that sheds his blood with me
Shall be my brother;
"It's true. We are a band of brothers," he said. "We are five guys that love and care for each other personally on and off the football field. Wherever we are. To develop the relationship that we have is what we need to be successful. We've done a great job of that so far."