---
| | |
| --- | --- |
| Sunday, October 20, 2013 2:37 AM | |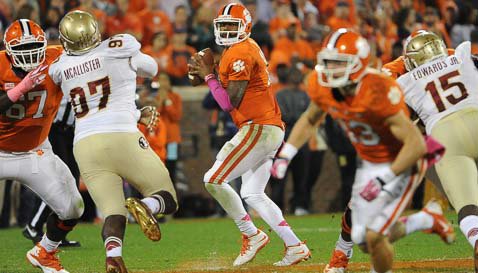 CLEMSON – Tajh Boyd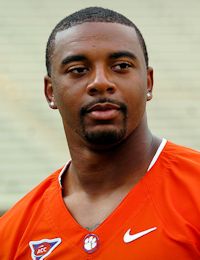 Tajh Boyd
RS Sr. Quarterback
#10 6-1, 225
Hampton, VA
View Full Profile characterized Saturday's 51-14 blowout loss to No. 5 FSU as a bad day at the office.
That's an understatement.
Third-ranked Clemson looked about as bad as a team can look in the 51-14 loss, and Boyd was front-and-center of the discussion after his 17-for-37 performance, a total that included two interceptions and one costly fumble that put Clemson in an early 17-0 hole.
"That is just a bad day at the office," Boyd said after the game, his left foot in a walking boot after suffering a sprained ankle on the first drive of the third quarter. "They were a really good team and they came out and executed at a high level, but we didn't play at a caliber we are capable of playing at. That was the most disappointing part about it."
Boyd threw the two costly interceptions, but also appeared to struggle with his accuracy and timing throughout much of the game, and he admitted that he didn't perform at an acceptable level.
"I just didn't perform the way I was capable of performing. It's my job to be a leader and perform and compete at the highest level, and I didn't do that," he said. "There were some things early on I wish I could have back, but that comes with it, and I just have to keep working."
He was then asked if there was one or two things he could identify as leading to the struggles, and he said no.
"Not one thing at all. Felt good before the game. We felt good before the game, but things just didn't swing the way we wanted them to," he said. "Obviously, it was a slippery slope effect almost. We came back at halftime and talked about some things and thought we could respond. They came down and got a score and we didn't respond."
The Tigers trailed 10-0 early, but the Tigers penetrated Florida St. territory midway through the first quarter after Boyd hit wide receiver Sammy Watkins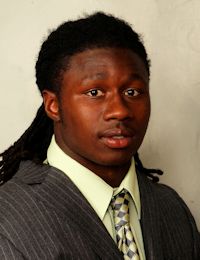 Sammy Watkins
Jr. Wide Receiver
#2 6-1, 205
Fort Myers, FL
View Full Profile on an 18-yard gain to the Florida St. 45-yard line.
On the ensuing play, Seminole defensive back Lamarcus Joyner sacked Boyd and caused a fumble that was scooped up by Mario Edwards and returned 37 yards for a touchdown that put the Tigers in a 17-0 hole they would never climb out of.
Boyd said that the play was entirely his fault.
"It was a miscommunication. Everybody went the right way, and I went the wrong way and tried to throw the ball away and it just slipped out of my hand," he said. "We had opportunities and we had field position and we just didn't capitalize on it. That was disappointing. We had a couple of times where we should have gotten field goals out of it, and we didn't. You can't do that against a team of this caliber. You can do that against some other teams but not those guys. "
Clemson head coach Dabo Swinney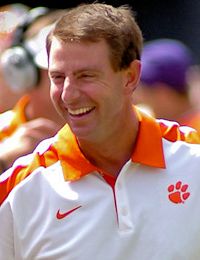 Dabo Swinney
Head Coach
View Full Profile said Saturday's performance won't change his perception of Boyd.
"He didn't have one of his better games, but I wouldn't trade Tajh Boyd for anybody," Swinney said. "None of us coached very good either. It's all on me. It's not on Tajh Boyd. Tajh Boyd has won a heck of a lot of games here. He's disappointed. He missed a few opportunities. He had the big turnover there that was a bust. I wouldn't trade No. 10 for anybody. I'm not going to let one night like tonight change that. I know when we get back to work on Monday that he will do what Tajh does and that's respond."
Boyd said that as a team leader, he has to go back to work on Sunday and show his teammates that the season isn't over.
"We still have a lot of things to play for. We have everything laid out on the table for us still. As disappointing as this, you just have to let it go," he said. "You can't let this beat you twice. We've all seen that before, and we won't let that happen again. I don't think it will be hard to re-focus. It might actually put things in perspective for us. We understand that we have to step out on that field and be consistent and perform."
With a date at Maryland looming next Saturday, Boyd said the best thing to do is to put the loss squarely in the history books.
"It's over. It's a wrap. I am done with this game," he said. "We will get back to Maryland and we will be fine. The plan is to go 12-1 now. "