| | |
| --- | --- |
| Bad Intentions: Gallman sits in no one's shadow | |
---
| | |
| --- | --- |
| Thursday, January 7, 2016 3:20 PM | |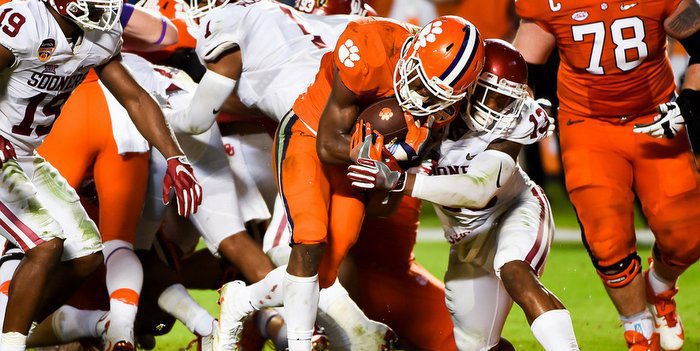 CLEMSON - Wayne Gallman doesn't exactly think he runs angry or with bad intentions.
But Clemson teammate Ben Boulware might disagree.
"It sucks," Boulware said when asked what it's like to try to tackle Gallman at practice.
Opposing defenders likely would side with Boulware.
Gallman has rushed 1,482 yards and 21 touchdowns on 269 carries for an average of 5.5 yards per carry. The sophomore has averaged 114 yards per game.
"On the field, I don't really think I'm running with bad intentions," Gallman said. "I'm running to score and not trying to go down."
He hasn't gone down easily very much this season.
Gallman really has stepped up his game this season, rushing for at least 100 yards a program-record nine times, including highs in carries (31) and yards (172) against N.C. State.
He has rushed for at least 100 yards three straight games and had heavy workloads in the second half of the ACC championship game against North Carolina and the College Football Playoff semifinals against Oklahoma. Against the Tar Heels, Gallman rushed 28 times for 187 yards and one touchdown. He added 26 carries, 150 yards and two touchdowns against the Sooners.
"I think he's as good as anybody in the country," said Boulware, who will have to try to slow down Alabama running back Derrick Henry in the national title game. "You've just gotta watch the film, and you see how he plays every snap. I think he's as good as anybody. Obviously, he's not near as big as Henry or some of those guys and maybe a little bit different type of runner, but I think Wayne is as good as anybody in the country.
"They're both really explosive runners. He's very powerful. He's not a small dude, but you wouldn't think him being 6-foot, 6-1, 210 (pounds) … for him to run as powerful as he can and then be as quick as he is from side to side. I think all-around Wayne's as good as anybody in the country."
Gallman, however, doesn't get the same kind of attention as Henry, who has rushed for 2,061 yards and 25 touchdowns while averaging 5.7 yards per carry. And Gallman is just fine with that.
He is used to be overshadowed. That happened in high school at Grayson in Georgia with high-profile teammate Robert Nkemdiche and continues with Clemson quarterback Deshaun Watson.
"It doesn't matter," Gallman said. "At the end of the day, the right people see what I can do, and they see what's been happening at the end of each and every game, who's closing it out, so I don't mind it.
"I've always been in the shadow, with Robert, and I stepped out and separated myself, and now it's Deshaun, and I'm still separating myself. I'm OK with it. It only makes me that much better and makes me work that much harder."
Gallman understands how hard he is going to have to work against a tough Alabama defense that pitched a shutout against Michigan State in the semifinals.
"I'd say they're as good as our defense," Gallman said. "Our defense is fast, strong, big, and they've got the whole look to them. Their defense has the same exact thing. When you watch them on film, they're dominant, so it's going to be a challenge."
*Daniel Shirley is the sports editor of The Telegraph in Macon, Ga., and co-host of The Morning Show on FoxSports 1670 AM. Follow him on Twitter at @DM_Shirley and read his blog at macon.com/peachsports.