| | |
| --- | --- |
| Backyard game leads to Clemson commitment | |
---
| | |
| --- | --- |
| Saturday, January 31, 2015 8:14 PM | |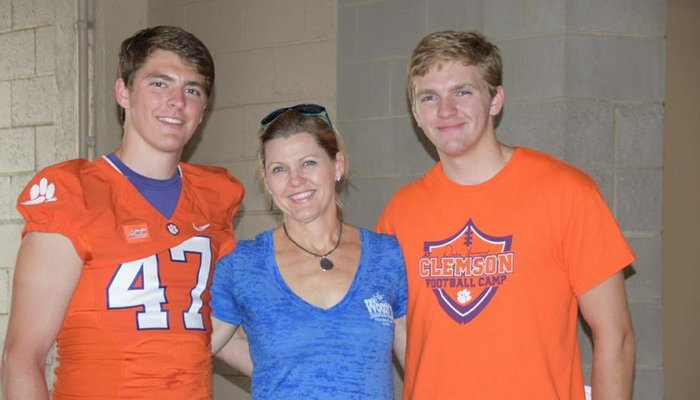 Something that started out as a brother trying to help his older brother perfect his craft turned into an opportunity to compete for a spot on the Clemson football team.
Austin Spence

Austin Spence
Long Snapper
6-2, 185
Florence, SC
View Full Profile - the younger brother of Clemson redshirt freshman kicker/punter Alex Spence - accepted a walk-on offer as a long snapper Friday afternoon.
The younger Spence told TigerNet Friday afternoon that his career as one of the most important special teams players on the field began when he would help Alex in the backyard with his field goal kicking drills.
"His freshman year in high school, he was the JV kicker behind the Boston College kicker Alex Howell," Austin Spence said. "He was working in the yard working on drills. We had set up a PVC pipe field goal in the backyard. I told him that I could help him out and I started out throwing him snaps and eventually I was just goofing off and tried to snap it throuhg my legs. When I entered high school, I thought that I wanted to play football. It looks like a lot of fun and I want to be out there just like my brother so I thought that I could be a long snapper. I'm pretty athletic but I didn't think I could make the team but my brother said that I could be the long snapper"
While Spence can snap for both field goals and punts, he said that prefers the more difficult of the two.
"There's not much to field goal snaps because you just flip it back there," Spence said. "If anything, I try to work on getting the laces right. There's really no room for error there. As far as punts go, that's what I primarily do. I did both in high school because I was the only long snapper. I do like to do punt snaps."
The 6-2, 193-pounder Florence (SC) West Florence prospect said that he caught the attention of the Clemson coaches when he accompanied Alex to head coach Dabo Swinney

Dabo Swinney
Head Coach
View Full Profile 's high school camp two years ago.
"I went to the summer football camp two summers ago - the camp when my brother got the offer," he said. "They said for long snappers to go help with the punting prospects. It was me and a friend of mine and they had us snap to the punters non-stop - snap and they'd punt and then snap to the next guy. While I was out there, they weren't really watching the punters at that point because of Bradley [Pinion] and they just kept saying, 'Wow, good snap.' When I went to Dabo's office with my brother about his offer, he said, 'We want you up here next year.' And I told him that I'd love to. They've kept up with me ever since then."
Spence knows that his path to playing time will be long and difficult but he said he's looking forward to the competition.
"As far as I know, I think Jim Brown will take over and then they have a couple of walk-ons, but I'm prepared to compete as soon as I get up there," he said. "If they want to redshirt me or not, I'm ready for whatever they want. I would like to put on a couple of more pounds, so if they do redshirt me that won't be a problem and I'll be ready to compete the next year."
No matter what happens in his collegiate career, though, Spence said excited about reuniting with his brother when he enrolls at Clemson in June.
"I'm looking forward to that so much. Growing up, he's always been a good teammate," he said. "We always played together as kids. We played hockey together in the driveway. Anything we did, we'd always compete but he's always win because he's the older brother. It was a lot of fun in high school. We worked together. We could work together at home on drills. I'm just ready to get up there and pick up where we left off."