| | |
| --- | --- |
| Back to Work: Monday Practice Observations of the "Win" Drill | |
---
| | |
| --- | --- |
| Monday, April 6, 2015 5:44 PM | |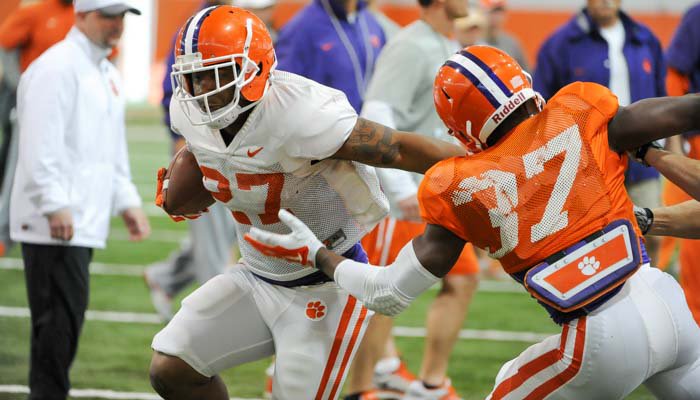 CLEMSON – The Clemson football team practiced for the first time since last Wednesday, undergoing a physical session under cloudy skies and in front of a bevy of visitors Monday afternoon.
The Clemson media contingent was allowed to watch the first six sessions, and we have a lot of observations to pass your way before we head back out for post-practice interviews.
The session started with what head coach Dabo Swinney

Dabo Swinney
Head Coach
View Full Profile calls the "win" drill. In this drill, the running back lines up behind an offensive lineman, a tight and a wide receiver. Those three blockers line up against a defensive lineman, a linebacker and a defensive back and there was plenty of pad popping in today's session.
My first observation was that freshman running back C.J. Fuller

C.J. Fuller
RS Fr. Running Back
#27 5-9, 215
Easley, SC
View Full Profile looks outstanding – he has a nice burst when he needs it and he isn't afraid to lower his shoulder and run over people. After one of the first runs, one of the visitors whistled and said, "Who the heck is that? Adrian Peterson?" Fuller obviously isn't close to the level of an Adrian Peterson, but he looks aggressive and fast. The more I see of Fuller, the more I wonder how the coaches are going to keep him off the field in the fall.
It was at this point that the drill took on an edge. There are a lot of ways I could describe defensive back Mackensie Alexander

Mackensie Alexander
RS So. Cornerback
#2 5-10, 190
Immokalee, FL
View Full Profile – swag, cocky, confident, self-assured. Choose your adjective and modify it with an adverb, because it just doesn't matter. Alexander has the IT factor.
Alexander moved one defensive back out of the way during the drill, said "I got this" and faced off against wide receiver Artavis Scott

Artavis Scott
So. Wide Receiver
#3 5-10, 190
Oldsmar, FL
View Full Profile . The ball was snapped and Alexander did a quick swim move to get by Scott, ducked under the linebacker and wrapped up Wayne Gallman

Wayne Gallman
RS So. Running Back
#9 6-1, 205
Loganville, GA
View Full Profile with a leg tackle. As Alexander walked off, he pointed at me and said, "If this was a meat market, I would be the ticket you would want to buy."
I watched Alexander a few more times during the session, and he doesn't do anything halfway.
Another highlight of the session was seeing Gallman run – he has a violent nature when he runs and it's apparent he is stronger than last season. He ran through several tackles and bowled more than a few people over.
At one point during the drill, wide receiver Mike Williams

Mike Williams
Jr. Wide Receiver
#7 6-4, 210
Vance, SC
View Full Profile lined up against safety Jayron Kearse

Jayron Kearse
Jr. Safety
#20 6-4, 210
Fort Myers, FL
View Full Profile . Both players are so tall it looked like two basketball players trying to post each other up.
*During a special teams session, walk-on receiver/punter Hunter Renfrow

Hunter Renfrow
RS Fr. Wide Receiver
#35 5-10, 170
Myrtle Beach, SC
View Full Profile boomed a punt but Swinney wanted to see Renfrow punt with his football on the end line of the end zone. Swinney told Renfrow, "you have a hitch in your giddy-up." Renfrow took the snap and stepped on the end line, and Swinney and special teams coach Danny Pearman

Danny Pearman
Assist. Head / ST / TE
View Full Profile both started screaming, "Safety!!!" Swinney then took Renfrow aside and worked 1-on-1 with him. Andy Teasdall

Andy Teasdall
RS Jr. Punter
#95 5-11, 185
Winston-Salem, NC
View Full Profile also looked better today.
*Running back Adam Choice

Adam Choice
So. Running Back
#26 5-9, 215
Thomasville, GA
View Full Profile was in a yellow jersey but took part in a few drills. Swinney jokingly asked, "Who is that?" He then ran over and welcomed Choice back to practice.
*Return game
One of the first practice periods is always special teams and Monday Artavis Scott and Germone Hopper

Germone Hopper
RS Jr. Wide Receiver
#5 5-11, 175
Charlotte, NC
View Full Profile worked at punt returner. Both looked like they are capable of getting the job done but Scott looked to be the most natural at the position.
Scott, Hopper and Wayne Gallman all worked at kick returner. Again, it was Scott that looked the most natural, but Hopper looked like the position suited his skill set, as he was able to show his burst and quickness after the catch. I'm sure the coaches might not want to risk getting Scott hurt on returns, but he would be an explosive option for what has been an average return game.
*Fundamentals and technique
The first few practice periods were spent teaching the fundamentals. One of the stations that the defensive players went through was learning how to properly get off a cut block. Defensive backs coach Mike Reed

Mike Reed
Assist. Coach / Defensive Backs
View Full Profile was the instructor and he barked at his pupils, "This is Georgia Tech right here."
Some of the younger linebackers had trouble maneuvering the cut blocks, but veteran Ben Boulware

Ben Boulware
Jr. Outside Linebacker
#10 6-0, 235
Anderson, SC
View Full Profile was quick to offer help and tips.
Visitors
There was group from Liberty County High School (GA) taking in practice. There were several players as well as coaches in attendance, including 2017 4-star cornerback Richard LeCounte, who currently boasts a Clemson offer. Teammates Jacari Roberts and Jacquez Williams were also taking in practice.
LeCounte drew attention from Jeff Scott

Jeff Scott
Co-Offensive Coordinator / WR
View Full Profile , Tony Elliott

Tony Elliott
Co-OC / Running Backs
View Full Profile and Brandon Streeter

Brandon Streeter
Quarterback Coach
View Full Profile before getting a quick 1-on-1 with Brent Venables

Brent Venables
Def. Coordinator / Linebackers
View Full Profile .
Also in attendance was 2017 offensive lineman Blake Vinson out of Winter Garden (FL) Trinity Catholic. Vinson attended one of Clemson's Russell Athletic Bowl practices with a family member who played under Robbie Caldwell

Robbie Caldwell
Assistant Coach / Offensive Line
View Full Profile at Vanderbilt.
Outside linebacker Justin Foster out of Shelby (NC) Crest was also in attendance. Foster has a Clemson offer, as well as offers from North Carolina and Wake Forest. Foster spent several minutes with defensive coordinator Brent Venables during the first part of practice.

Tags:
Mackensie Alexander
,
Germone Hopper
,
Mike Williams
,
Wayne Gallman
,
Ben Boulware
,
Jayron Kearse
,
Andy Teasdall
,
C.J. Fuller
,
Artavis Scott
,
Adam Choice
,
Hunter Renfrow
,
Brent Venables
,
Robbie Caldwell
,
Tony Elliott
,
Danny Pearman
,
Jeff Scott
,
Mike Reed
,
Brandon Streeter