---
| | |
| --- | --- |
| Tuesday, August 4, 2015 9:20 PM | |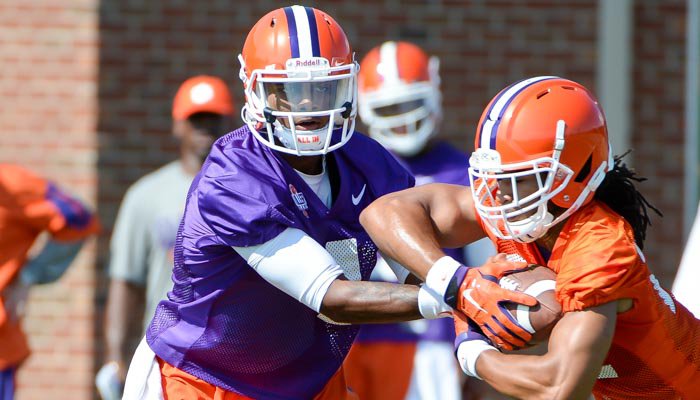 CLEMSON - Deshaun Watson

Deshaun Watson
So. Quarterback
#4 6-2, 205
Gainesville, GA
View Full Profile was at his silky-smooth best Tuesday afternoon when the Clemson football team held the first practice of the 2015 season, throwing darts down the field and laying easy-to-catch balls in the receivers' hands on the short routes.
In other words, everything was back to normal for the Tigers' talented sophomore.
The ACC media tabbed Watson as the preseason ACC Player of the Year after completing 68 percent of his passes in eight games last season. Watson looked the part Tuesday, and he said that his surgically-repaired left knee isn't posing a problem.
Neither is the light brace he wears on that knee.
"The knee feels fine. Today was a great day, and I was just happy to be back out there with my teammates and get things going," Watson said after practice. "Whenever I am practicing or playing I don't really even worry about the brace. It's just there for protection. It's working so far."
Asked if his knee is at 100 percent, Watson smiled, and said he didn't know for sure.
"I guess so. I can't really tell if I 'm 100 percent or not. I feel good," he said. "They've cleared me to play and I'm just out there doing what I can do. Since this spring, whenever I was able to run. It's just gotten better, and I've been doing everything I needed to do since we started in May."
Expectations
"Me and my teammates don't really worry about other people's expectations. We know that each week we have a job, and right now we are worrying about practice. Tomorrow is just the second day. Right now I am going to do my job and everything else will take care of itself."
On whether he will protect himself
"I will approach the game like I did last year before I was injured. I will do what I have to do. I can't go out there and worry about taking hits. That is part of the game, and I am not going to shy away from that. I am just going to go out there and do my job. They will probably say "stay down" but if the opportunity is there, I am going to jump first. I am out there doing what I love, and I am just going to do what I have to do. I am just back in the saddle. I don't have to think about it."
On people saying he might be best in the country
"That is something that other people think. Of course, I want to be the best and compete, but I don't carry myself like I am the best. I want to get better, and I want to learn from the other guys."
Chad Morris

Chad Morris
Offensive Coordinator / QBs
View Full Profile
"That's going to forever be my best friend, and I will be his biggest fan and I bet he'd tell you the same thing."
Being the Clemson quarterback
"I embrace everything that comes with this game and the position that I'm in. Being the Clemson quarterback is a big deal, and I enjoy every moment of it. I know we have a special team but now we just have to go out there and perform and prove it."
Tuesday's practice
"Really just getting back in football shape. The first day was really hot. There was a lot of install, but nothing really difficult. I've been working and training so hard that I feel confident about my knee. Even with the hurt knee I was working and trying to get better."
What he worked on in the offseason
"I just really worked on leadership - building the trust with my teammates and making sure I'm around those guys all of the time. I was just trying to be up there and make sure everyone heard my voice when they were training and working hard."