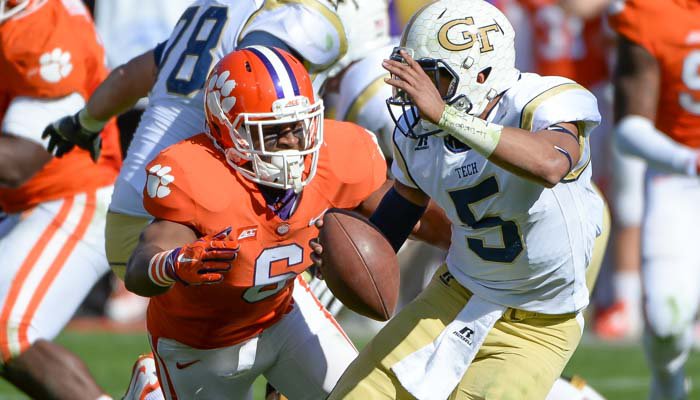 | | |
| --- | --- |
| At Last: O'Daniel's patience pays off as he looks to shine in first start | |
---
CLEMSON – Dorian O'Daniel has been waiting for his opportunity to shine, and Auburn might provide that opportunity.
The junior linebacker out of Olney, MD, arrived at Clemson in 2013 as one of the nation's top linebackers, but O'Daniel played more running back in high school and had to learn the nuances of the linebacker position once he arrived on Clemson's campus.
He has 63 tackles over just 268 snaps in 27 career games, but over half of his tackles (32) have come on special teams where he has been a standout the past two seasons. Now he takes on a bigger role, and will get the start Saturday night when Clemson travels to Auburn.
Earlier this week in the WestZone, O'Daniel's eyes lit up when he was asked about finally getting his shot.
"Yes. I have been waiting three years now," he said. "I've been very patient and paid my dues, earned my stripes and I'm just really proud of myself with how far I've come."
Some of O'Daniel's best work has come against Georgia Tech and the triple option – he had 10 tackles at Tech in 2014 and had three tackles-for-loss in earning defensive player of the game honors against the Jackets in Death Valley last season.
Auburn's offense has many of the same tendencies, and O'Daniel thinks he can be a force, especially against Auburn quarterback Sean White.
"More or less. Georgia Tech runs the option, with Auburn, we've seen them run the option, but maybe not as much," he said. "Just applying my skill set to what they do offensively, I'm really looking forward to showcasing my ability.
"He's (White) very poised in the pocket, after watching the film, he was very confident even as a freshman last year. We saw some plays where a normal quarterback might get a little startled and throw the ball away, but we saw him step-up very confident in the pocket and stand their poised."
What will he be looking for out of White and the other quarterbacks?
"Probably just the running aspect," O'Daniel said. "I'm not going to say that he (White) won't pull down or scramble and run, but whenever Jeremy Johnson or the other quarterback is in, we're thinking more run-pass than just pass."
Auburn also uses misdirection to get their running backs in space, but O'Daniel says the Clemson defense has to trust what they've been taught, and they'll be okay.
"Practice what we see on film. We know they have a premier guy, number 21 (RB - Kerryon Johnson) they like to give him the ball in space. He's probably one of their more dynamic play makers. He's really athletic and very versatile. They use him out of the backfield, and we just have to apply what we see on film. That's one thing that Venables preaches on a daily basis - 'Don't do too much, just do your job.' Whenever you worry about doing someone else's job, that's when you make a mistake. You have to trust the guy next to you that he will do his job. If everyone does their assignment, you'll be alright.
"Coach Swinney is always preaching about 'staying the course' and there's been players before me - Kevin Dodd, Vic Beasley, Travis Blanks, Tony Steward - that have faced adversity and whenever their time has come just made the most of it. I just have to take what I learned from them because I learned a lot and I'm applying it to my situation."
OTHER NOTES
On if playing Clemson's offense helps with Auburn
"It's a confidence booster. There are some similarities, but there are also some differences. Just knowing Auburn's game plan and their offensive skill set and how we can compete against that is definitely what we think going into meetings. But, going against our offense, day in and day out, since August is definitely a confidence booster. I do think we have the best offense in the country, so if we can stop our offense during the summer, then it's going to be a great confidence booster."
How will the defense be this year?
"Actually, it's funny you say that because we get the same question every year, 'How do you think the defense is going to be? How are you guys going to stack up against last year.' It's funny because each year the defense is just as good, if not better. What I've seen is a lot of young, anxious, and talented players that are ready to contribute. They have very selfless attitudes and just a will to play with passion."
Will he still be out there for special teams?
"You'll see me out there on special teams. I definitely lucked out on depth-chart as far as special teams. I don't play as much, but I still start on kick-off and punt, which I don't mind because I like to plays on those two special teams. Definitely motivation. I think we were ranked last in the ACC in special teams, which is pretty pathetic for a kind of season we had. We have to take pride in what we do and how far we've come this off-season and how much we've been working on special teams and ready for it to show."

Upgrade Your Account
Unlock premium boards and exclusive features (e.g. ad-free) by upgrading your account today.
Upgrade Now