---
| | |
| --- | --- |
| Friday, November 14, 2014 7:01 AM | |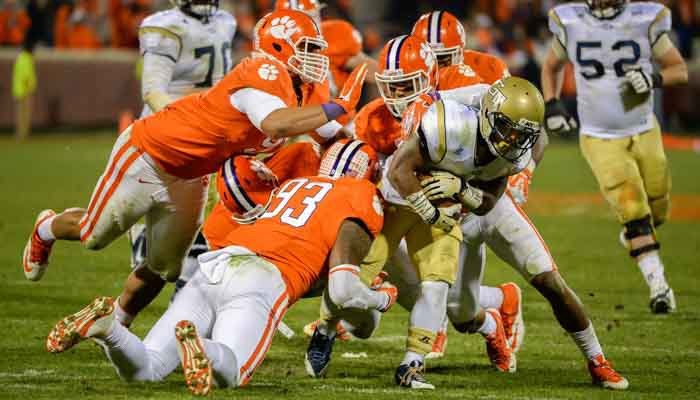 CLEMSON – Assignment football.
Two words that are heard whenever you talk football and defense, but are most often heard during the week each year when Clemson plays Georgia Tech and Paul Johnson's wingbone/flexbone/veer/option offense.
Johnson's offense is designed to take advantage of defenders who chase a fake or don't follow the football or get out of position. Do any of those things and the potential for a big play is there. In this day and age of video game football and multiple passing attacks, it isn't sexy or popular. But it's effective.
Clemson's defensive players were asked about playing against the option this week, and linebacker Tony Steward

Tony Steward
Sr. Linebacker
#7 6-1, 236
Hastings, FL
View Full Profile laughed when he was asked if playing against that type of offense is "fun" for defensive players.
"Honestly, I think there are mixed feelings. Personally, I don't think that is the best game of the season having to up against the triple option," Steward said with a smile. "But it's a challenge, and we welcome challenges. We enjoy the different challenges that we get. We have to play assignment football and read our keys and not try and do too much and hurt the team."
Defensive end Vic Beasley

Vic Beasley
RS Sr. Defensive End
#3 6-2, 236
Adairsville, GA
View Full Profile – who hasn't had a sack in the last three games – was reminded that sack opportunities will be few and far between on Saturday, but he said it doesn't matter as long as the team wins.
"I just get prepared for the next opponent. As long we do our jobs on defense, we should be pretty successful," Beasley said. "There is a lot of trickery in that offense, but everybody has to do their job in order to be successful. The same guys that played last year are the same guys that are playing this year, so we should be pretty familiar with this offense."
Senior defensive tackle Grady Jarrett

Grady Jarrett
Sr. Defensive Tackle
#50 6-1, 290
Conyers, GA
View Full Profile said the Tigers' defense is loaded with players who have seen the offense in previous season.
"We've got guys that have played against it for three years now, so we know what to expect," Jarrett said. "We know how to prepare for it. It is a season of its own when you prepare for Georgia Tech, so having guys that have seen it for two and three years is a big advantage for us."
Tech's offensive line is known for risky cut blocks, and Jarrett said the Jackets haven't changed their approach.
"We know what we are getting," he said. "That has been real successful for them, and I don't see them changing the formula. It has worked for them, and it comes down to us preparing for it. It's just something that you have to have experience against and practice for it throughout the week. It is something you have to prepare for every year, and you have to renew it every year. I have to go to work on it."
Jarrett said that one of the keys to stopping Tech's offense is stopping the dive back, the first option in that type offense.
"Me and my segment are going to be really important trying to take up four guys during the game," Jarrett said. "That is constantly tackling the dive and controlling the guards and the center. That middle part – the guards and center and guard and fullback – are the keys. We just have to do our job and win at the point of attack on every single snap. It's all about winning at the line of scrimmage and staying on your feet."
Defensive end Tavaris Barnes

Tavaris Barnes
RS Sr. Defensive End
#9 6-4, 273
Jacksonville, FL
View Full Profile said he was looking forward to the challenge.
"We plan to prepare well this week in practice," Barnes said. "This is a different feel with Georgia Tech – they run a different offense than anybody else we play. We are going to stay on our heels and play lights out. We just have to come out ready to play."