| | |
| --- | --- |
| As long as Tigers keep winning, Swinney will keep dancing | |
---
| | |
| --- | --- |
| Wednesday, October 28, 2015 8:18 AM | |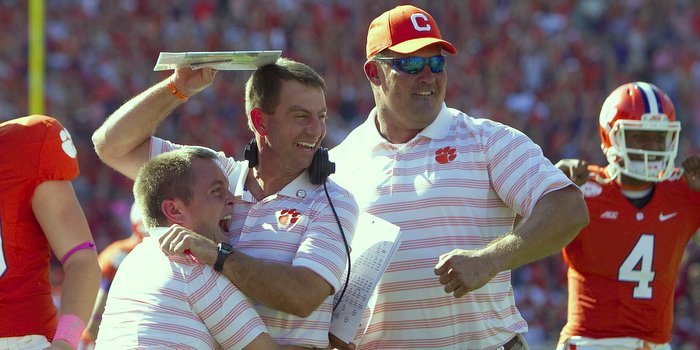 CLEMSON – Clemson head coach Dabo Swinney doesn't care if people ridicule his dance moves, and he doesn't care what people think about the way he celebrates victories. He is going to keep dancing as long as the Tigers keep winning.
The third-ranked Tigers travel to N.C. State this weekend to take on a 5-2 Wolfpack team, and if the Tigers win Swinney will again celebrate in his own special way.
Swinney was asked about his celebrations during his Tuesday morning press conference in the WestZone, and he said that the fun is in the winning and he won't stop doing things his way.
"Everybody has to do things their way. For me personally, guys get bored. It needs to be fun," Swinney told the media. "This is college football. Part of what we want these guys to take away from here is that they had a great experience and had some fun. It's a lot of hard work and stress for these guys."
Swinney is known for his postgame enthusiasm, whether it's an interview on the field after the game or celebrating in the locker room with his players. Some around the country might chuckle or sneer at what they perceive as antics, but Swinney said the players deserve to celebrate because wins are hard to come by.
"The average person really has no clue the type of stress and pressure that these guys deal with on a daily basis," Swinney said. "They're kids. It comes with the territory and it's not a complaint, it's just the way it is. I love to see them be able to have some fun and to celebrate with their teammates when they achieve the goal."
As a former player, Swinney remembers how he was treated by his coaches and he said he would hate for his players to miss out on those special moments.
"I would hate to be at a place where you win a game and everybody just says "attaboy" and you don't really celebrate the moment," he said. "We won the national championship my senior year and I still remember everything about it. But it fades. What you remember the most is the journey to get there. Let's not worry about the destination but we need to just enjoy each day. We only have 30 something days left in the season and then there's the postseason. Every day is a gift so just enjoy today and win today. When we achieve our objective on Saturday, then we can have some fun with it."
No one can argue with the results to date, and Swinney said he has a team that genuinely likes each other. They also win and the fun is in the winning.
"They like each other. They like to practice and prepare. The leadership is critical," he said. "I think they appreciate each other. There's a genuine love for everybody on this team. Bloom where you're planted. I think our guys have a good grasp of that. They are unselfish but there's also an edge to these guys. They respect each other but they compete."