| | |
| --- | --- |
| Artavis Scott: On the grind for his mom | |
---
| | |
| --- | --- |
| Tuesday, August 11, 2015 1:45 PM | |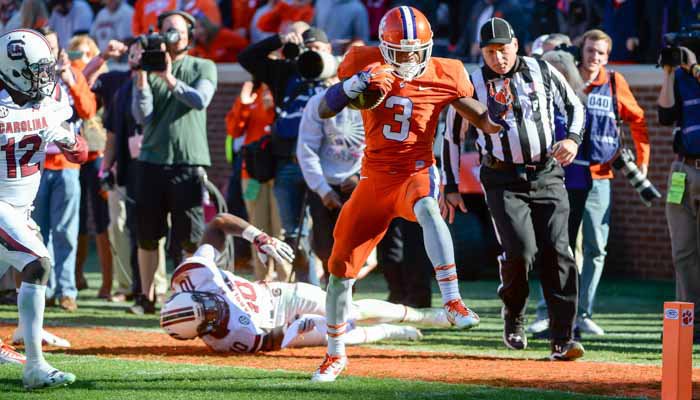 CLEMSON – The temperatures on the football practice fields at Clemson soared close to triple digits last week, and players battled the heat and cramps in the first few days of camp. Artavis Scott

Artavis Scott
So. Wide Receiver
#3 5-10, 190
Oldsmar, FL
View Full Profile pushed through the exhaustion and the sweat, never taking a snap or drill for granted. He grinds because his mother grinds.
The talented sophomore wide receiver out of Clearwater, Fla., burst onto the scene last season and was named a First-team freshman All-American by USA Today and by ESPN. Scott had a team-high 76 receptions for 965 yards and a team-high eight touchdowns.
The sight of Scott dancing and weaving his way through South Carolina defenders on play after play, even stepping on a Gamecock's hand to stay in bounds for a touchdown, will forever be burned into the memories of Clemson fans everywhere.
He did it for mom, Johnatta Daniels.
"The reason I do what I do? My mother. I see how hard she works every day," Scott told TigerNet after Monday's morning practice. "She gets up at five a.m. every morning, and she gets out there and grinds, so I feel like I owe it to her to go out there and play the game I love. Jesus gave me this gift, so I am going to use it the right way and take advantage of it. I see how hard my mom is working, and I want to be able to give back so she won't have to work anymore."
Scott said his mother pulls double duty as a nurse and as a student, and it pains him to hear how tired she is at the end of a long day.
"She's a nurse and she is in school right now. She is grinding. She is a beast," Scott said with emotion in his voice. "I know she works pretty hard. We don't talk about it, but I know she is hurting. I can see it in her face sometimes when she comes home from work. I talk to her, and I can hear it in her voice. I know she is out there grinding."
As a result, Scott doesn't take plays off.
"I have to keep pushing and go through (each practice). I know my mom is out there grinding, and I get my mental toughness from her," he said. "There are people who also don't have my gift to play, and they would love to be doing what I am doing, so I just look at it in that perspective. I feel like I have to get back at it and push through because it could be a lot worse than it is."
Scott also has a tattoo of his grandmother's name on his chest and says thoughts of her are never far away.
"This is my grandma," he said, pointing to his chest. "I like to have her name on my chest. When I started high school, she always smiled when I played, and she was a blessing."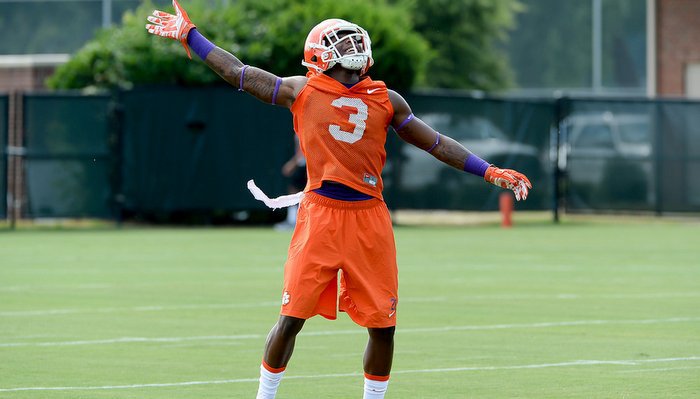 Last year, Scott was the precocious freshman trying to learn the ropes. This year, he is the experienced hand trying to help lead freshmen like Deon Cain

Deon Cain
Fr. Wide Receiver
#8 6-1, 190
Tampa, FL
View Full Profile , Ray-Ray McCloud

Ray-Ray McCloud
Fr. Wide Receiver
#34 5-9, 175
Land O' Lakes, FL
View Full Profile and Shadell Bell

Shadell Bell
Fr. Wide Receiver
#11 6-3, 190
Decatur, GA
View Full Profile .
"I answer their questions. I know last year I was in their spot, so whatever they need I try and help them the best I can," he said. "I try and show them the little things like how to get open and what to do if the defender is close. How to get that release. I do whatever I can to help them."
Scott's goals for this season? Be the best he can be each day, the same as his mother.
"To be honest, I don't write down my goals for the season. I go out there and compete the best I can and whatever happens, happens," Scott said. "I always have a goal in mind but if I don't get it I don't get mad. I just set my goal to be the best I can be each and every day."
His mom should be proud.