| | |
| --- | --- |
| Arizona Clemson Club hosting events for title game | |
---
| | |
| --- | --- |
| Saturday, January 9, 2016 7:01 AM | |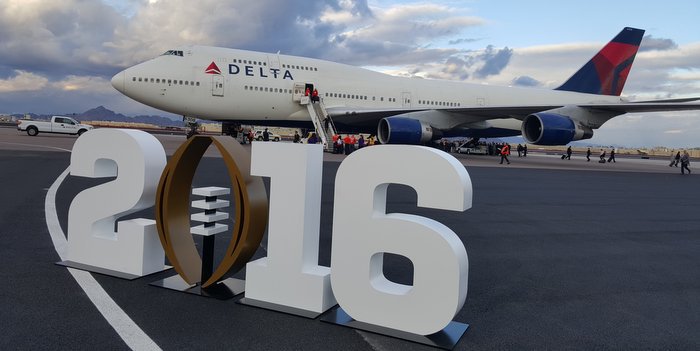 PHOENIX, AZ – Clemson's football success has meant the Arizona Clemson Club doesn't have to eat breakfast while watching their Tigers play.
The Arizona Clemson Club is acting as a host to Clemson fans who are traveling to Phoenix and the surrounding area for Monday's College Football Playoff National Championship, and several activities have been planned around the game between the Tigers and Alabama.
Tracy Clark, the President of the Arizona Clemson Club, said having the football team and the fans in town has been big for her group.
"Our club has increased in size and our Facebook group has increased considerably with all of the national attention the football team has received, so we decided to hold a meet and greet today and our location was right where the buses came by to go to their hotel, so we were able to greet them," Clark said. "For our group, we watch the games and we watch "the most exciting 25 seconds in college football" opening and we celebrate here, but something like today was so incredibly big for our group. We kept it on the down low but one guy who showed up was celebrating his birthday, and he said, 'That was the best birthday ever!' Having them out here is phenomenal. It's a dream come true."
The increased attention has changed the menu during games.
"We started our club five years ago and I had found a couple of people on Facebook because I'm an organizer type of person. I wanted to see how many alumni were out here in Arizona, so I went and found people," she said. "Five years ago, our team was okay. They certainly weren't the caliber they are now, and so my challenge was to find a sports bar that served breakfast because all of our games were on at nine in the morning here. I found a place that serves breakfast, and the gauge of how successful our team is to us has been what meal we are eating during the day. We've graduated from breakfast to lunch and then we hit happy hour and now we're at dinner. That's the epitome of success to us."
The group hopes that some of the proceeds from the events this weekend will help send a deserving Arizona student to Clemson.
"We are so blessed this year," Clark said. "We're a small a club, but with all of the attention of the national championship all of our merchandise sales and money we make from raffles are going into a brand new fund for a scholarship for an Arizona student."
CLEMSON EVENTS IN PHOENIX
Saturday, January 8 – 6:00 – 10:00 pm
Kick-off the Weekend – sponsored by Arizona Clemson Club and Coach's Corner Grill
Location is downtown Phoenix
We selected this location with Coach Swinney in mind since he is COY. Coach's Corner is promoting their location as the Tiger Den and this is a prominent location in relation to all the Championship Campus activities sponsored by CFP.
Sunday, January 10, 2016 - 6:00 pm – 10:00 pm
Clemson Welcome Party – sponsored by Clemson Alumni Association, Arizona Clemson Club and IPTAY
Front Row Sports Grill
Chase Field – Home of the Arizona Diamondbacks
Monday, January 11 – 1:00pm – 4:00pm
Rally in the Valley – Tigers Roar - sponsored by the Arizona Clemson Club
SALT - Westgate Entertainment District (across from University of Phoenix Stadium)