| | |
| --- | --- |
| Are these your daddy's Tigers? | |
---
| | |
| --- | --- |
| Monday, October 12, 2015 7:01 AM | |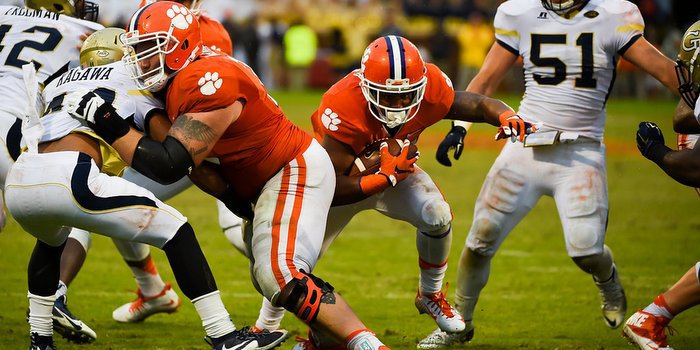 These aren't your daddy's Tigers. Or depending on when you were born, maybe they are.
Clemson soundly defeated Georgia Tech 43-24 on Saturday and ESPN analyst Desmond Howard said it best when he tweeted out during the game that the Tigers were merely toying with the Yellow Jackets. The Tigers finished up the rout, head coach Dabo Swinney

Dabo Swinney
Head Coach
View Full Profile went on another rant and the Tigers moved up to number five in one of the national polls.
We got home late Saturday evening, and as I watched a few other games on television and endeavored to relax after a long day in Death Valley, a few thoughts kept popping into my head. First and foremost was that we in the media – fans do it, too – get a little too caught up in history and sometimes fail to focus on the here and now and what's right in front of our eyes.
We knew going into the game that Georgia Tech was banged up and had depth issues at A-back. Still, I wrote in my prediction that Tech was desperate, and the game would never be comfortable. I had fans sending me messages all week asking if this team was fired up…could they come out and play with emotion and beat up on the Jackets? Were they …….prepared?
We were up early Saturday, and I did the Tiger PreGame Show with Scott Rhymer, and I had more than one fan come by to talk about Georgia Tech, the worry of a letdown, the worry that Paul Johnson would once again find a way to beat the Tigers. Once the show was over, WCCP's Ben Milstead drove us over to the stadium on a golf cart, and he admitted that he was seriously concerned about that day's game.
All of that…it's called scar tissue. And it has nothing to do with this year's team or Dabo Swinney's program in its current state. A reporter later threw out that word – you know the one – and Swinney went off in defense of his program. Good for him, because that word doesn't define this program. Not anymore. This program is and has been the model of consistency. The Tigers have won 37 out of their last 44 games, and we know the big-name programs that have fallen to the Tigers.
This team went into the Georgia Tech game motivated to get a win – defensive end Kevin Dodd

Kevin Dodd
RS Jr. Defensive End
#98 6-5, 268
Taylors, SC
View Full Profile told me early last week that while he knew Tech would be desperate he didn't think they were as desperate as Clemson. The Tigers have bigger goals and Tech was a steppingstone to those goals.
When you're dealing with the psyche of 18-22-year-olds, it's hard to find ways to motivate them every week, but what Swinney and these coaches have been able to accomplish is a testament to the culture of this program. Those same players stood in the shadows late Saturday and took pleasure in a coach who defends them – they aren't responsible for that abhorrent term. They know it. Swinney knows it. It's time everybody else knows it.
The other part of what has impressed me is Clemson's ability to run the football, and they are doing it behind a…get this…physical offensive line. The Tigers have rushed for over 200 yards in four of five games this season and have passed that magic mark in three straight. Former offensive coordinator Chad Morris

Chad Morris
Offensive Coordinator / QBs
View Full Profile would talk about a smashmouth spread, but it never really took shape.
Clemson fans were filled with angst when Clemson didn't throw the ball all over the field against Louisville or Notre Dame, but both offensive coordinators and Swinney all preached patience as they endeavored to develop the running game. Swinney echoed those comments Sunday night.
"I think that just speaks to the core of what we want to be. We want to always run the ball effectively and be a great defense," he said. "That is something that was a huge emphasis coming into this year - we wanted to be better, and we felt we would be better. It allows you to create explosive plays when you can dictate the run. It allows you to dictate to the opponent. When you're averaging five yards a carry, you're dictating to them. That's one of the key reasons we had so many explosive plays."
The identity of this team is changing. No longer is this a team that wants to win games 44-40. No longer is this a team that wants to throw it 40 times a game and sling it all over the lot. They want to play good defense. They want to run the football. They want to dictate the game to their opponents. Sound familiar? It's the blueprint teams like Alabama have used to win National Championships.
The era is different, but that's also the blueprint Danny Ford

Danny Ford
Former Head Coach
View Full Profile used to win a championship all those years ago. Play good defense, run the football and win the line of scrimmage. If you were born recently, maybe these aren't your daddy's Tigers. But if you're old school, this is beginning to look familiar. Maybe these are your daddy's Tigers.