| | |
| --- | --- |
| App St. coach not buying drop-off in Clemson's defense | |
---
| | |
| --- | --- |
| Thursday, September 10, 2015 7:01 AM | |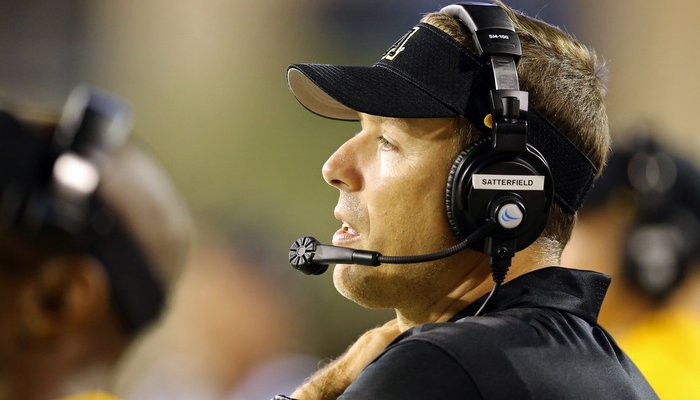 Yes, the Clemson defense lost a lot of talent to the NFL after last season.
And yes, the Tigers have a lot of new faces stepping into new roles this season.
But Appalachian State head coach Scott Satterfield doesn't see a big change from last year's Clemson defense to this year's. The Mountaineers face off with the Tigers on Saturday afternoon.
"(Brent) Venables is still their defensive coordinator, and he has done an outstanding job with his defense," Satterfield said during Monday's Sun Belt Conference coaches teleconference. "They're doing the same things that they did last year. You've got some new faces out there, but they're still very good. They run very, very well. The overall speed of their defense is outstanding. A lot of the players played last year who happen to be starting this year, so they do have some experience coming back.
"Not only do they run well, but they're coached well. They are where they're supposed to be, and they don't make mistakes. They're picking up where they left off defensively."
Satterfield also was impressed with the Clemson offense, especially quarterback Deshaun Watson

Deshaun Watson
So. Quarterback
#4 6-2, 207
Gainesville, GA
View Full Profile . Satterfield expects a big test coming for his defense even with Clemson wide receiver Mike Williams

Mike Williams
Jr. Wide Receiver
#7 6-4, 213
Vance, SC
View Full Profile out for some time after last week's neck injury.
"They don't fall off too much. Williams is not playing, but they have unbelievable wide receivers," Satterfield said. "They signed some really good freshmen, and they came in last week and played well, and I think that Deshaun Watson is one of the best quarterbacks in the country. He commands respect, and he can run, he can throw. He's a great kid, a great person, studies film. Everything you've ever heard about him is top-notch. And so, he leads their offense, and when he's out there, they are able to put up points, and he makes it look easy.
"So we have a huge challenge for our defense to try to slow those guys down on offense."
The Mountaineers are coming off a 49-0 win over Howard, which marked their seventh straight win. That is the fifth longest winning streak in the nation. It also was the team's third shutout in its past 12 games.
Running back Marcus Cox had 105 yards and one touchdown on 11 carries for his 15th career 100-yard game.
"We started off really, really good, and then we finished really good," Satterfield said. "So, I think, all around it was a good game for us. Our defense got a shutout, and any time you can do that in this day and age of college football, it's something to be proud of. Now, all our focus is on Clemson, obviously one of the best teams in the country."
Appalachian State is 0-4 in its series with Clemson and last played the Tigers in the 1997 season opener, a 23-12 Clemson win.
Mountaineers quarterback Taylor Lamb, a sophomore, completed 16-of-21 passes last week for
209 yards and three touchdowns. His father is former Furman head coach and current Mercer head coach Bobby Lamb.
Bobby Lamb never played against Clemson during his days as Furman's quarterback, but he did coach the Paladins against the Tigers and many other big-time FBS programs.
"Sure, I talked to Taylor about it," Bobby Lamb said. "He played at Michigan last year, but Michigan is not nearly as loud as Clemson. The year before, he made the Montana trip, and he said Montana was unbelievably loud because they are right on top of you.
"But I had him on the sidelines with me when we played at Virginia Tech, North Carolina, Clemson and other schools. So he has been there in that environment on the sidelines. Obviously not under center taking snaps, so we see how he reacts."
*Daniel Shirley is the sports editor of The Telegraph in Macon, Ga., and co-host of The Morning Show on FoxSports 1670 AM. Follow him on Twitter at @DM_Shirley and read his blog at macon.com/peachsports.