| | |
| --- | --- |
| Anthony on SC game: "I think we are going to get it done" | |
---
| | |
| --- | --- |
| Saturday, November 22, 2014 8:59 PM | |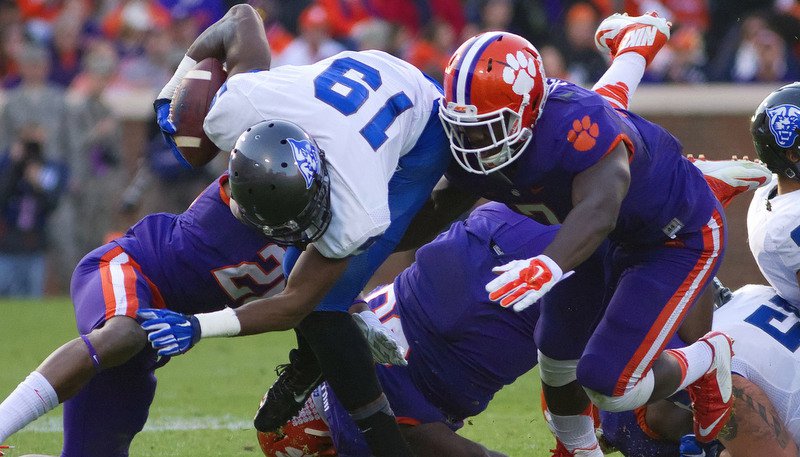 CLEMSON – Mere minutes after the Clemson football team walked off the field Saturday, their attention turned to South Carolina.
Clemson defeated outmanned Georgia St. 28-0 Saturday in Death Valley, and as the players exited the locker room to meet with the media following the victory it was obvious what they were all thinking about – beating South Carolina.
Clemson hosts South Carolina next Saturday in the latest renewal of the rivalry on the short end of a five-game losing streak, and senior defensive tackle Grady Jarrett

Grady Jarrett
Sr. Defensive Tackle
#50 6-1, 290
Conyers, GA
View Full Profile was asked when the Tigers will turn their attention to the Gamecocks.
"Right now. Right now. This one has been on our minds for a long time," Jarrett said. "It's been on everybody's minds. We have been working hard for this and we will be ready when the time comes next week. It will be a big week of preparation and we are looking forward to it."
Jarrett said he is fully invested in the rivalry.
"When we do end the streak it is going to be a really special moment," Jarrett said. "This game means a lot to everybody in this state. Growing up in Georgia I really didn't understand that until I got here, and now I feel as strongly about this rivalry as anybody else now. Just playing in this game is going to be special and we are looking forward to seeing how it turns out.
"We feel like they are a really good offense, and we are a really good defense. It is a good match-up for our team. Mentally, we just have to prepare like we have been doing all year. You try to say every game is the same, but it's not. We have to limit turnovers and just not shoot ourselves in the foot."
Senior corner Garry Peters

Garry Peters
RS Sr. Cornerback
#26 6-0, 194
Conyers, GA
View Full Profile said he is tired of hearing about the streak and can't wait to take the field against the Gamecocks.
"I am about to go and watch them tonight, and tomorrow for sure. We need turnovers so we can give our offense every edge and give the offense the ball because they need it," Peters said. "I can't wait. South Carolina is like a season in itself. You play the regular season and then you play South Carolina. You know how we feel about them and you know how they feel about us. Hopefully we come out ready to play on Saturday. We are ready to put it to bed. We are tired of hearing people say how many times they have beaten us in a row. As a senior, I have never beaten them and I don't want to leave here without beating South Carolina. We will make sure the guys prepare this week."
He then said the seniors will make sure the underclassmen understand the importance of this week's preparation.
"You have to go harder than every other week," Peters said. "You have to get in the film room early and watch and get the little tips and tendencies that they like to do because everybody has their own tendencies. And then we will take it to the field - when you are confident you know what is coming you play confident on the field."
Senior linebacker Stephone Anthony

Stephone Anthony
Sr. Linebacker
#42 6-2, 244
Polkton, NC
View Full Profile – who led the Tigers with nine tackles in Saturday's win – said he is certain the Tigers will be ready for the challenge of the 6-5 Gamecocks.
"We will have to do some preparation but we will be ready. It's time," he said. "It's five years in a row and we haven't put our best foot forward. Now it's time for us to put that best foot forward. Tomorrow it will be a full go. I feel like we have a hungry bunch and we have a bunch of guys that know what we have to do to win the game and I think we are going to get it done. I am pretty certain we will be ready."