| | |
| --- | --- |
| Another week, another challenge for the defense | |
---
| | |
| --- | --- |
| Friday, October 30, 2015 7:01 AM | |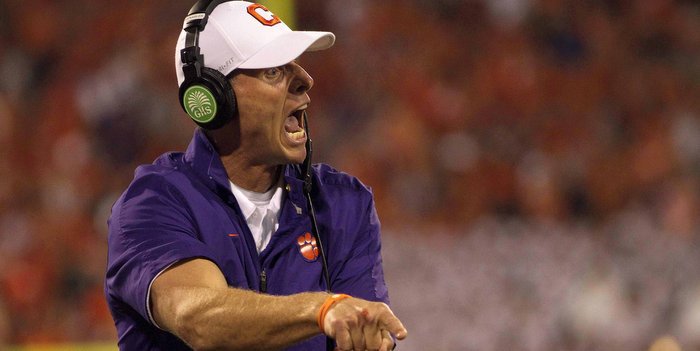 CLEMSON – Another week, another challenge for Brent Venables' defense.
Clemson held Miami quarterback Brad Kaaya in check last week – even knocking Kaaya out with a concussion in the second quarter – and face another dynamic but different quatrterback this week in N.C. State's Jacoby Brissett.
Through the season's first seven games this season, Brissett has completed 67 percent of his passing attempts for 1,332 yards and 10 touchdowns. He's also only thrown one interception, the same number Kaaya had prior to last week's game against the Tigers before throwing a first quarter pick that stalled Miami's first drive.
"Watching Brad Kaaya last week through film, we see he only had one interception but we seen there was like six interceptions dropped," junior safety Jayron Kearse said. "With Jacoby Brissett, I can't say I've seen the same thing. He's taken care of the ball pretty good, but the defensive guys are not getting their hands on the ball. This will be a pretty good task for us on the defensive side of the ball, especially on the back end. I just hope Jacoby gives us a chance to get our hands on some of (his passes)."
The Wolfpack also don't throw the ball down the field – State's top two receivers are a fullback (sophomore Jaylen Samuels) and a running back (junior Matthew Dayes).
"Their passing game is through their run game," Venables said. "It complements it through play-action. They'll do a lot of quick throws as well when they do spread you out, and they get the balls to the backs where they're not necessarily vulnerable to a lot of high-risk throws. It's just the style of what they do. It's smart, and he (Brissett) makes a lot of good decisions. The scheme also doesn't invite a lot of risky throws across the field."
Stopping Brissett will be the key.
"He's a dual-threat guy. He can run, he can throw it. He's big and strong and he's hard to get down," Venables said. "He's smart and he's played a lot of football and has been very successful in their system."
Another key will be stopping the Wolfpack on third down – N.C. State is second nationally in time of possession, averaging 34:49.29 per game.
The Wolfpack have converted 42-of-96 third down attempts this season, a conversion rate of 43.75% that ranks 38th nationally. On the flip side, Clemson's defense has allowed opponents to convert just 21-of-103 attempts, a conversion rate of 20.39% that is second nationally (Michigan leads at 19-for-97, 19.59%).
"Third down is everything," Venables said. "Playing great third-down defense is what it's all about. Being disruptive and getting people behind the chains, that's all reflective of being an aggressive, attacking, disruptive defense, and that's what we want to be known for."
Venables said it isn't his scheme that make the Tigers successful on third down.
"I don't know if it's the scheme as much as the players just understanding what's coming," Venables said. "We emphasize it, starting immediately on Monday. Our coaches do a good job of putting the right things in front of the guys to enhance their recognition and anticipation. They're ready for different situations. Third-and-two is different than third-and-four in this personnel group, and here's why. Here's what to expect when they do this. We try to emphasize third downs every single day and not wait until later in the week. We're exposing them to as much as we can, and we've been doing that for a long time."