| | |
| --- | --- |
| Another C.J. aims to start at running back for the Tigers | |
---
| | |
| --- | --- |
| Tuesday, March 18, 2014 8:19 AM | |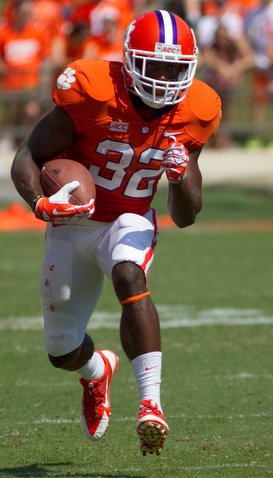 CLEMSON – C.J. Davidson

C.J. Davidson
RS Jr. Running Back
#32 5-11, 185
Clemson, SC
View Full Profile admittedly was a little nervous when he realized he would see significant playing time during the 2013 campaign, but with a season under his belt he is ready to battle for a starting job.
The Central native appeared in nine games last season before injuring his MCL, and he told the media at the start of spring practice that he was a little taken aback when the coaches trusted him so quickly.
"I felt like I was kind of nervous at first because I was contributing to this high-powered offense and high-powered team," Davidson said recently. "Coach (Tony) Elliott and all of the coaching staff believed in me and I felt like they knew that if I had the opportunity that I would be ready. I showed them through out the season that I took advantage of all of my opportunities, so it wasn't a stretch for them to see that I would be able to contribute."
Davidson carried the ball 34 times for 155 yards and four touchdowns and caught five passes for forty yards, but he said that it was frustrating to have a three-game layoff because of the injury before being able to play against Ohio State in the Orange Bowl.
"It was frustrating, but at the same time I knew that I probably had a little bit of time to get back and contribute in the bowl game, which I did a little bit," Davidson said. "I talked to Coach Swinney and he was really wanting me to finish the season out over the last two or three games, but we understood the process of rehabbing and getting back to full strength, so I didn't take that to heart too bad."
Now that he is healthy, however, he is ready to fight for a starting job at one of the deeper positions on the team.
"I feel like the competition in the room is very high," he said. "Everybody is out there trying to get the same thing. The opportunity is there. I just have to stay healthy, continue to show them that I know what to do and work hard."
The former track star said that every college has fast players, but he wants to bring something different to the table.
"I'd probably say – we all joke about speed in the room – but I'd probably say consistency and quickness," he said. "We are all fast. I'm faster than Zac Brooks

Zac Brooks
Jr. Running Back
#24 6-1, 185
Jonesboro, AR
View Full Profile . Whenever he wants to race me, I'll be ready.
"Everybody is pretty much in the same place as far as understanding the install and stuff like that. At the end of the day, it's going to come down to knowledge and consistency and that's what I'm going to try to bring to the table."
But to show that consistency, he's going to have to add a little bit of weight.
"I feel like that if I gain enough weight, I can be that [every down back]," he said. "They want me at 200 pounds and I feel I can get there before the summer starts. I feel like that is the only thing that will keep me durable and I feel like I can obtain that goal. I'm right at 195, right now."