| | |
| --- | --- |
| Anchrum on Clemson commitment: "It's just an amazing place" | |
---
| | |
| --- | --- |
| Thursday, November 19, 2015 4:14 PM | |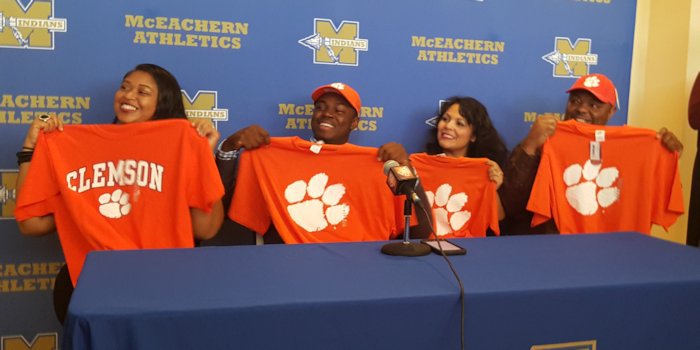 POWDER SPRINGS, GA – When Tremayne Anchrum, Jr. first started playing football at the high school level, he never could have imagined that he would be playing college football, let alone committing to the top-ranked team in the country.
The 3-star offensive lineman out of Powder Springs (GA) McEachern verbally committed to Clemson Thursday afternoon in a ceremony at his school.
Anchrum – who chose the Tigers over Colorado and Nebraska – took his official visit to Clemson for the Florida State and told TigerNet he immediately fell in love with the campus and people.
"Just the atmosphere in general. It's just an amazing place to be - the people, the fans, the students, the teachers. It's so diverse," Anchrum told TigerNet Thursday afternoon just before announcing his commitment. "I've gone to colleges and only seen a certain type of people, but when I go to Clemson, I see diversity of people -characteristics, personalities. It's like, 'Wow! This is amazing.' What Coach Dabo has done with the program, there's a plan. There is a step-by-step of how it's supposed to come up, and as they've done that I've seen the results. I've seen the fruits of their labor and their record proves it. That's what has kept me in it with Clemson for so long."
However, it wasn't until Monday that Anchrum said he decided on a school.
"I figured this out three days ago. I was so sure that I called up the coaches and committed," Anchrum said. "I just looked at their track record. I talked to some of the players and looking at the fruits of their labor. I saw that they put the person before the player, and they built the man first. Seeing what they have done this season, what they went through and how they came to be, that's something that I thought I had to be here."
The first call he made was to Clemson head coach Dabo Swinney.
"He [Swinney] was definitely shocked," Anchrum said. "He was like, 'This is the best news I've heard all week.' He went in the next room and told his staff, and they applauded and cheered. It was definitely special."
One of the things that stood out to Anchrum about Clemson was the plan for the new football operations complex, but it wasn't the deciding factor.
"Some of it does matter because it looks good. Some recruits it matters more, but it really didn't matter that much to me because it's not the facility, it's the people running the facility," he said. "I want to make sure I'm going to a program with strength coaches and people who know what they're doing and can help me get to a certain point and get where I need to get to. Don't get me wrong, it looks good, but I was more amazed and more comfortable with the people there."
The 6-3, 270-pound lineman plans to play tackle at the next level, but after not being about lift weights for much of the season due to a shoulder and wrist injury, Anchrum knows he has a lot of work to do before he's ready to contribute at the next level.
"Just building myself up and getting more strength back," he said. "Getting acclimated to the system. Getting my explosiveness back. My run blocking has improved, but I want it to be better. Blocking out perimeter guys and reading defenses and just increase my overall IQ."
Anchrum will get a head start in the training room, with the nutritionist and in the classroom as he set to enroll in January.
"It gives me a better advantage, not just in sport but in school," he said. "I can come to school and get better acclimated with the program for study habits and social life. It also allows me to get ahead in the weight room. I get an extra semester to lift and to get my body where I want it to be in terms of fat and muscle. I get to meet the coaches and learn the playbook and get better acclimated so when it comes time I'll be ready."