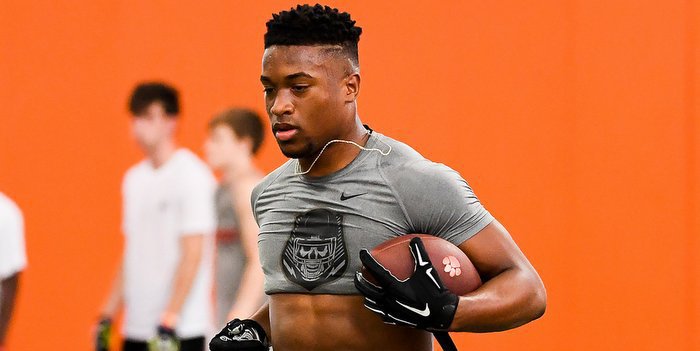 | | |
| --- | --- |
| Amari Rodgers talks The Opening, recruiting and Tee Higgins | |
---
Amari Rodgers is just beginning what will be a busy week, and it started with a bang.
The 2017 Clemson wide receiver commit out of Knoxville (TN) Catholic is headed to Nike's The Opening early Tuesday morning, and he will compete against 165 of the nation's top prospects. However, his week started with good friend and fellow wide receiver Tee Higgins committing to the Tigers on Monday.
TigerNet spoke with Rodgers Monday, and the 5-10, 200-pounder broke down the Higgins commitment, recruiting and traveling to Oregon for The Opening.
What was it like seeing Tee commit to Clemson?
"It's great. It's exciting. As soon as I saw it, the biggest smile came on my face. We've been close friends since freshman year, so to know that we're going to be playing together in college, it's a great feeling."
What was it like to work with Hunter Johnson at Dabo Swinney's high school camp?
"It was great. That wasn't my first time working with him. We've thrown before together. It was great to do it in front of the coaching staff and getting tips from the coaching staff. It was also good to go ahead and work on our connection for The Opening because he's going to be my quarterback there, too. It's kind of cool to be able to get comfortable with him before we get to The Opening."
How was camp coming in as a commit and what was the overall experience like for you?
"It was awesome. I got to hang out with other commits, too. All of the people you want to commit, you have to recruit them. It was pretty fun. We got to hang out with some of the current players and the coaching staff. We got kind of a feel of what it's going to be like when we get there."
What was it like working with Coach (Jeff) Scott and getting a feel for his coaching style?
"Coach Scott is a great man and a great coach, too. He's a funny guy. It's always fun playing with him. He can joke around, but at the same time, he's one of the best coaches in the country. Learning tips from him, I've taken it back my high school and I'm using it there so I can use it at Clemson later. It was a great experience."
What was Coach (Dabo) Swinney's message to you?
"I was able to spend a lot of time with Coach Swinney. He told me I looked great at camp and I did a great job. He said I was the perfect size right now to play in college, so I need to stay the size that I am right now. He said that he can't wait for me and Hunter to get there - now it's me, Hunter and Tee - so we can win a national championship."
What's it like knowing that you're going to the new Football Operations Complex when you get to Clemson?
"It's going to be amazing. One of the assistants walked us through the building and showed us where everything is going to be at and it's just amazing how big that place is going to be and how much fun is going to be in there and how many activities you're going to be able to do. You don't even have to leave the building because there's so much stuff that you can do there. It's awesome to know that when we get there, it's going to be waiting on us."
What's the one part that you're looking forward to the most?
"The basketball court or laser tag, I'm probably going to stay around that area most of the time."
When do you leave for Oregon and how excited are you to get out there and show off?
"I leave Tuesday morning around 6:30 a.m. I can't wait. This is a lifelong dream. Ever since I've been in high school, I've watched The Opening on television every year and I wanted to be there one day. To know that it's coming true, I'm going to take advantage of every second of it. I'm going to take it all in. I'm going to have fun, but it's also a business trip. It's against the best of the best and I'm trying to show out so I can get my name out there even more."
Do you want to use The Opening to see how you stack up against the elite of the elite?
"No doubt. I want to compete against the best. Jamyest Williams and all of those top-notch defensive backs are going to be there and I want to go up against them. They're going to make me better and I'll make them better. I might get beat sometimes and I might beat them sometimes, but that's what this is for. We're out there competing and getting better at the same time. That's really what I'm looking forward to the most?"
Are you going to do any recruiting while you're at The Opening?
"It's always recruiting time for me. I'm always putting the bug in everybody's ear talking about Clemson. I'm going to be recruiting a little bit and telling people that we just got Tee so they can join in and be a part of the dynasty that we're about to have. That's definitely going to be said a lot this coming week."
Who gets credit for Tee committing to Clemson, you or Coach Jeff Scott?
(Laughing). "We can both take the credit. It was a little bit of both me and Coach Scott."

Upgrade Your Account
Unlock premium boards and exclusive features (e.g. ad-free) by upgrading your account today.
Upgrade Now