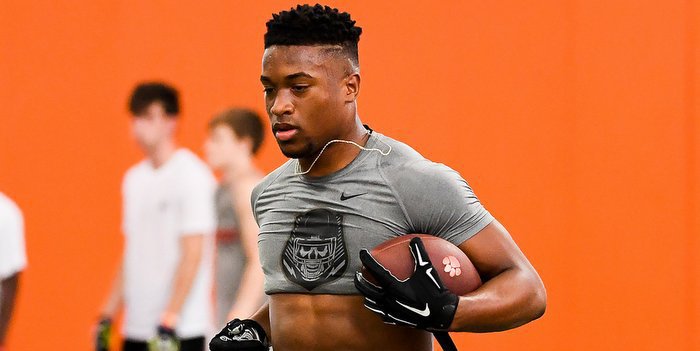 | | |
| --- | --- |
| Amari Rodgers proves he stacks up after Opening showcase | |
---
| | | |
| --- | --- | --- |
| Monday, July 11, 2016, 4:41 PM | | |
When Amari Rodgers left Tennessee for Oregon, he had one goal in mind – prove he could take his place among the nation's elite.
Mission accomplished.
The 4-star Knoxville (TN) Catholic wide receiver and Clemson commit participated in Nike's The Opening last week, and he told TigerNet that he left feeling a sense of accomplishment after showing the college football world that despite his 5-10 stature he is one of the best receivers in the 2017 class.
"I feel like I stack up well. With my size and stuff, people started to question how I could perform, and I think I proved this week that size doesn't matter," Rodgers told TigerNet Monday evening. "It's all about route running and creating separation. I caught almost every ball that came my way. I think had the most receptions in the whole tournament. I think I made a name for myself, and I put myself out there that I can be one of the best receivers in the country."
Not only did he prove he could make the routine plays and do the little things right, but he also wowed spectators by going up and over a much taller defensive back to snag a touchdown a pass.
"That was the highlight of the week for me. I really didn't expect to catch it. I just ran a corner route," Rodgers said. "I was expecting the quarterback to lead me a little bit, but he threw it a little short, so I just jumped up and put my hands out. It was just right in my hands. That was one of the best catches I've ever caught."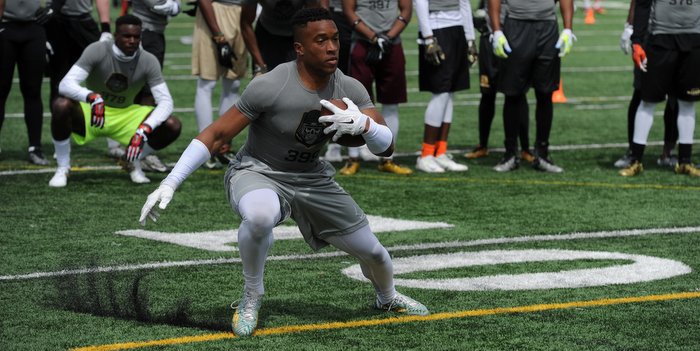 Rodgers said that a lot of his success during The Opening could be attributed to the coaching he received from current and former NFL players.
"Coach Curtis Conway - the wide receiver that went to USC and played in the league with the Bears for 20 years. He coached me up very well," Rodgers said. "He told me if I ever had any questions that I could come to him. I had a lot of questions because I wanted to learn a lot. The stuff he told me are a lot of the reasons why I performed so great at The Opening, so props to him. I thank him for giving me all of the tips he did."
Despite not having success during the 7-on-7 portion of The Opening, Rodgers said he couldn't have asked for a better experience.
"I liked everything about it. There wasn't one thing that I didn't like about it except that I wish it were longer because everything about it was so great," he said. "It was a great experience with great people - Hall of Famers and coaches coached you very well, and I learned a lot of things that I didn't already know. Everything about it was just perfect. I wish I could go back.
"I wasn't disappointed. It's all about having fun. We formed a bond. We were close, and that's all that matters. We were building relationships. We had five people on our team that were out and didn't play any of the games. We didn't have everybody on the team playing, so that was probably one of the reasons. I really wasn't worried about winning the whole thing. I just worried about getting better and being a leader and just performing well for my team and for myself. I wasn't really disappointed at all."
Rodgers and fellow Clemson commit Tee Higgins also found some time to do a little recruiting during the week-long event, which could pay dividends for the Tigers sooner rather than later.
"No doubt. We did well. Me and Tee, we recruited a few people," he said. "I think we've got somebody who's pretty close to committing, so hopefully that will be good news for the Clemson family. We'll see."
In the meantime, Rodgers will turn his attention to his final season of high school football.
"We started practice today, but I just got back in town about an hour ago," he said. "We start two-a-days this week and then I'm going to Clemson for the All In Cookout. I've just got football practice to get ready for the season and one more visit to Clemson before the season starts."
Big players make big plays ???? pic.twitter.com/VSz29bx2Te

— Amari Rodgers3?? (@arodgers_3) July 10, 2016
I definitely feel like I proved that I should be in the conversation as one of the best WR's in the country this week. Hard work paying off!

— Amari Rodgers3?? (@arodgers_3) July 11, 2016
All tournament team???? pic.twitter.com/QyBTE35QsK

— Amari Rodgers3?? (@arodgers_3) July 11, 2016
Sean Clifford goes deep to @arodgers_3 #WeAre #AllIn #GETOPEN pic.twitter.com/MfToB3w1CK

— Sanjay Kirpalani (@SanjayKirpalani) July 10, 2016
Definitely got better as a person and a player this week.. Thank you @TheOpening for giving me the opportunity to showcase my talents????

— Amari Rodgers3?? (@arodgers_3) July 11, 2016