| | |
| --- | --- |
| Almost benched, Mike Williams responds with the happiest of birthdays | |
---
| | |
| --- | --- |
| Sunday, October 5, 2014 8:01 AM | |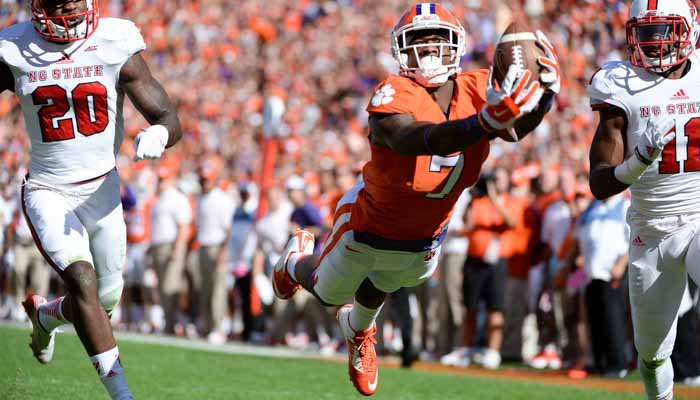 CLEMSON – When Mike Williams

Mike Williams
So. Wide Receiver
#7 6-5, 208
Vance, SC
View Full Profile rolled out of bed Saturday morning the first thing he said to himself was, "Happy birthday, Mike!"
It was a happy birthday, indeed, as the Vance, South Carolina native had a 20th birthday that he won't soon forget. Williams caught six passes for 155 yards and two touchdowns in Clemson's 41-0 victory over North Carolina State Saturday evening in Death Valley.
Williams told the media after the game that he told quarterback Deshaun Watson

Deshaun Watson
Fr. Quarterback
#4 6-3, 204
Gainesville, GA
View Full Profile that all he wanted for his birthday were a couple of touchdowns.
"We were actually talking about that the whole week," Williams said after the win over N.C. State. "I told him [Watson] that my present from him was to just throw me some touchdowns and we did that."
Watson gift-wrapped two scores, making Williams' birthday one of the best yet.
"That was a great feeling to come out here and get two touchdowns and a hundred and something yards on my birthday," Williams said. "You can't get anything better."
Offensive coordinator Chad Morris

Chad Morris
Offensive Coordinator / QBs
View Full Profile said that Williams has come a long way since fall camp, and that at one point he considered benching Clemson's leading returning receiver after his performance, or lack thereof, during camp.
"I really questioned Mike and questioned whether he had the mentality and the work ethic," Morris said. "I knew he had a really good freshman year and a lot of times you have guys play well as freshmen and they have a let down their sophomore year. I really challenged him and I saw some of the complacency during fall camp. I really challenged him to the point that we were going to put him on the bench. To see him respond the way that he has responded - he's gotten bigger, he's playing more aggressive and that's good to see."
However, Williams has focused on his responsibilities and getting better and may very well be on his way to becoming Clemson's next great wide receiver.
"How about that? The birthday boy. What a great way to celebrate his birthday," Morris said. "It was unbelievable, some of those catches that he made. The big diving catch in the endzone, that was big time. I'm very proud of him. He just keeps getting better. His confidence level keeps growing. I thought he had an average at best fall camp. As a matter of fact, I was disappointed in him in fall camp. We really challenged him to see how he was going to respond. I actually considered moving him around because I didn't know if he would be physical enough to play that position. He's done nothing but improve and respond to the challenges that were made. I'm very proud of him."
Williams said that he must think like a great player if he is going to take the next step to becoming an elite wide receiver, following in the footsteps of Nuk Hopkins and Sammy Watkins

Sammy Watkins
Wide Receiver (2011 - 2013)
#2 6-1, 205
Fort Myers, FL
View Full Profile .
"I kind of took on that challenge during fall camp," Williams said. "I wasn't really playing my best ball. I got focused and now I'm playing my best ball. My mind set has really changed. I'm just trying to be great. I've got to do the things that great people do - practice hard every day, stay focused and play ball."