| | |
| --- | --- |
| All Aboard the Wayne Train | |
---
| | |
| --- | --- |
| Wednesday, September 23, 2015 1:30 PM | |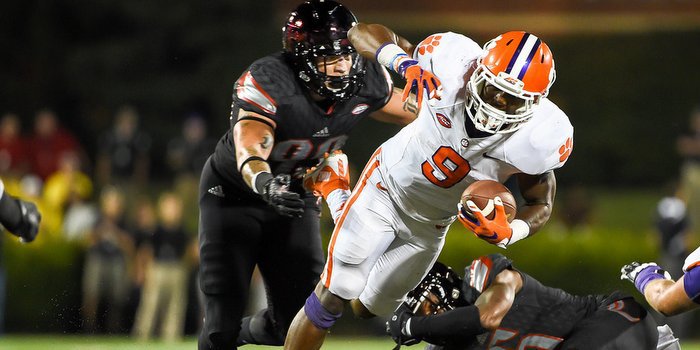 LOUISVILLE, KY – All aboard the Wayne Train.
Sophomore running back Wayne Gallman

Wayne Gallman
RS So. Running Back
#9 6-1, 210
Loganville, GA
View Full Profile 's teammates gave Gallman the nickname "Wayne Train" last season, but Gallman's numbers and productivity didn't take off until the middle of the year. Early in 2015, Gallman has looked like a locomotive in rushing 53 times for 310 yards, an average of 5.8 yards per carry.
Gallman carried Clemson's offense in the Tigers' 20-17 victory at Louisville last Thursday, gaining most of his 139 yards after contact. Gallman told TigerNet after the game that he is finally beginning to feel comfortable in his role.
"This is probably one of the first games where I was really confident in myself. I had the jitters, but I really, really started to feel everything and come out feel really good about myself," Gallman said. "That's what we as a group all wanted, in the running back game. We just wanted the running game to be a game-changer. We just want to put the team on our back, and I feel like I need to do that."
Gallman said his Thursday success was a result of trusting the gameplan, and then added that he still felt good after the added workload.
"Just sticking with the plan and our preparation and just really trusting what we've been doing in practice and really just trusting myself and the offensive line," Gallman said. "I had fun tonight and everybody really just did a great job. I feel pretty good. I'll probably just go over there and get some treatment anyway, but I'm pretty fine. It feels great to have over 20 carries because in high school I barely got any, but I tried my best with every one I had."
His success also stems from his comfort level, and he said he hopes to bring a lot of the younger offensive skill players along for the ride.
"You know last year I came into my own probably later on in the year and now we're starting out the year I'm glad that the whole team is getting on this trip," he said with a smile. "I'm just glad I'm feeling more natural at the position. That just goes to show that they've been doing, what they're supposed to do off the field and on the field - really getting into the playbook and learning what they're supposed to. It definitely bringing confidence and it's definitely something that we know we can do when we go to places. It's also exciting just really getting to experience different stadiums and different fields. It's all about just having fun."
Can the locomotive that drives the Wayne Train keep up his head of steam? He says yes.
"It's something that I know I can do. It's really all just preparation when you really get into it and really trust the offensive line. That's what it all comes down to," he said.