| | |
| --- | --- |
| Alexander: "It's time to win it all" | |
---
| | |
| --- | --- |
| Saturday, January 9, 2016 11:12 PM | |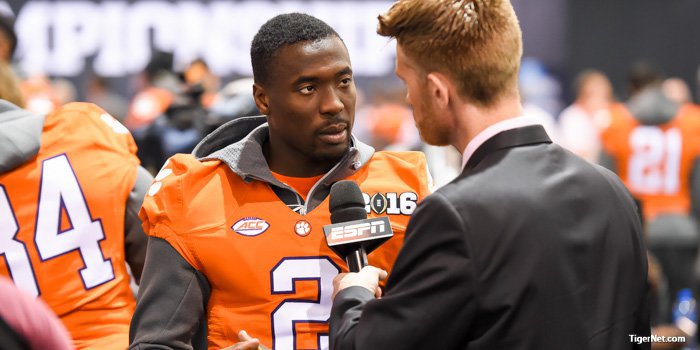 PHOENIX, AZ – Mackensie Alexander doesn't back down from any challenge, and he isn't backing down from Alabama. In fact, he says as long as Clemson is in Arizona with a chance to win a title, it's time to win it all.
Clemson's mercurial cornerback will be faced with stopping Alabama receiver Calvin Ridley in Monday night's College Football Playoff National Championship, but Alexander doesn't put any special meaning into the matchup – it's just another challenge in a season full of challenges.
"I don't even know how to answer that. It's week 15. I've been doing this for 15 weeks," Alexander said Saturday. "He is what he is and he's a good player. We're just going to go out there and do what we do. We have a great secondary. I just go out there and do my job. I'm blessed. Gifted. God fearing man. I'm just gifted. I'm thankful. I take my job seriously, so it allows me to go out there and do that."
Alexander then said he is only a small part of the Clemson secondary, and that most people don't understand that there are four future NFL players starting the group.
"I don't think people realize that, but they will. They will pretty soon," he said. "We've got great players. We've got a great secondary. We're very multiple and very flexible. We can move around. We can adjust to anything. We just do what we do out there. Cordrea (Tankersley) is having a great year out there. He's doing his thing. He's out there competing. It's all about throwing work to each other. They don't come to me, they go to Cordrea. I say, 'Cordrea, push me some work over here. Give me a PBU (pass break up) or something. Force them over here.' That's what it's all about - helping each other compete.
"The two safeties – (T.J.) Green and Jayron (Kearse) - they're very long and instinctive. They make a lot of plays for us and they allow us to move around. When you've got two great corners, it allows the whole defense to make adjustments and do stuff that other defenses are not able to do. Then you've got Adrian Baker and Ryan Carter who have been helping us, along with Mark Fields. We're very skilled. We can do a lot."
When Alexander signed with Clemson three years ago, he told anyone that would listen that Clemson would win a title while he was a Tiger.
"If you guys remember on signing day, I said we're going to win a national championship. I really believed it," he said. "The whole formula is that you have to have a couple of players to do it. You have to have a couple of players who are hard-nosed and really want to win. I love football. On signing day, I said that we would be here, and we would win it all. We're here, and it's time to win it all."
He also talked about his disdain for the SEC hype machine.
"I also talked about the SEC on signing day. I said, 'Hey, forget the SEC. It's the ACC's time.' I'm a firm believer in it, and we're here today, so that's a blessing," Alexander said.
The Immokalee (FL) native had to sit out his first year at Clemson while he dealt with injuries, something that made him stronger.
"They were going to give me the opportunity to come out here and compete and win. I knew that Clemson didn't have a talented guy in their secondary roster like they've got in me," he said. "I knew that I would be able to move around and do what I'm supposed to do. I just knew that I was going to come here and be the guy. They didn't have it. They needed it. It was a need and a want. They needed that and Coach Swinney talked to me before signing day. Coach V (Brent Venables) talked to me. Coach (Tony) Elliott talked to me. I knew I was going to come here and be the man. That was my biggest thing - come here, be the man and earn your stripes.
"It didn't bother me as much, but it frustrated my head coach and Brent Venables because they knew how good I was. They knew I could play. They had a guy that couldn't play because of his injury. I couldn't physically go out there and play. They wanted me out there really bad, but it just couldn't happen. I was really relaxed. I knew that I was going to come out here and do what I do."
Now that he's healthy and on the brink of a title, what can Clemson fans expect late Monday?
"The big W," he said. "That's what it's all about - getting the W."