| | |
| --- | --- |
| Albert Huggins: From Bully to Technician | |
---
| | |
| --- | --- |
| Monday, October 26, 2015 12:33 PM | |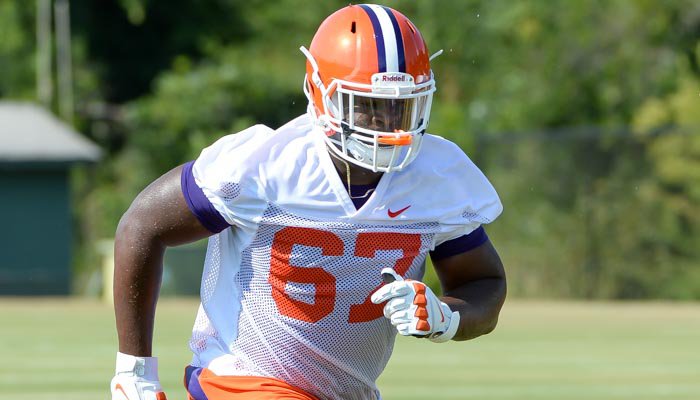 CLEMSON - As a defensive lineman at Orangeburg-Wilkinson High School, Albert Huggins was a bully, bowling over smaller offensive linemen and wreaking havoc in the backfield. Now that he's a freshman at Clemson and playing against a different caliber of player, he's having to learn different ways to make his presence known.
The top player from South Carolina for the 2015 recruiting cycle enrolled in January and has since been making the transition from defensive end to defensive tackle and learning the intricacies of the position.
Huggins met with the media Monday morning in the WestZone and said that learning to be a technician at his position has been the most difficult challenge of transitioning from high school to the college level.
"Just playing with more technique. Me, as a guy in high school, I was more of a bully and more of a physical guy, and now it's more of a technique, speed thing, so that's one thing that I have to critique - my technique," Huggins said Tuesday.
Having defensive tackles coach Dan Brooks as a teacher has helped Huggins progress in both the meeting rooms and on the field.
"It's good [playing for Brooks]. He's older, so he has a lot of experience," Huggins said. "Every time we go in meetings, I just try to listen to him and take everything in - writing things down that he says to critique my game so I can improve my game."
The progress and improvement was evident Saturday afternoon when Huggins saw his first extended playing time of the season.
"That was the first time I've had that many snaps this season, so it was a good thing," he said. "I learned a lot from it. I'm very blessed to have those snaps. I'm just happy that I had them and that I was able to get in and make some plays. I thank the coaches for trusting us to go out there and continue the shutout and get the goose egg. That's a good thing that the coaches trust us to go out there and continue the shutout."
While Huggins is still learning his position on the field, there are some things he always brings to every meeting, practice and game - a smile, a good attitude and superb leadership ability, even for a freshman.
"As a freshman, I'm just sitting back and trying to learn different styles of leadership and things like that, but every now and then I get hyped," he said. "I try to pump them up a little bit. Right now, I'm just learning from everybody else. I feel like as a person I'm bringing my own style in. I think a lot of guys can take from my style and learn from me, but right now as a freshman I'm trying to learn from everybody else as a player."
As Huggins tries to transition to being a leader at Clemson, he's picked up of few things from senior D.J. Reader, despite the two competing for playing time.
"It's very valuable. I knew with D.J. coming back that snaps would be limited for me, but I'm glad it was a shutout, and I got some snaps," Huggins said. "Me and him actually went into the game at the same time and played together and had a good time doing it."