---
| | |
| --- | --- |
| Wednesday, December 4, 2013 8:48 AM | |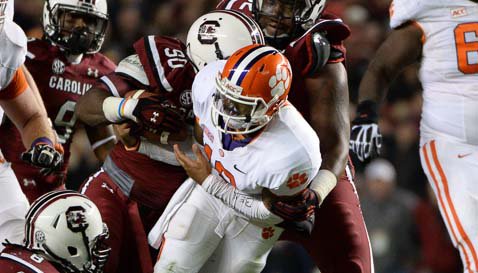 Anyone who grew up in my era (I was a kid in the 70's and a teen in the 80's) remembers ABC's Wild World of Sports intro.
The show came on Saturday afternoons, and my dad would hit his favorite recliner for whatever sport or sports happened to be featured that day. Heck, all of us could repeat the phrase as easily as we could anything we learned in school.
"Spanning the globe to bring you the constant variety of sport! The thrill of victory, and the agony of defeat! The human drama of athletic competition!"
When the commentator reached the part about the agony of defeat, the first scene showed a ski jumper wiping out at the base of a jump, his skis windmilling through the air, followed by motorcycle crash.
Saturday underneath Williams-Brice Stadium, the scene of the ski jumper and the "agony of defeat" rang all too true for Clemson players and coaches who filed out of the locker room after listening to head coach Dabo Swinney

Dabo Swinney
Head Coach
View Full Profile 's postgame comments.
Swinney, obviously disappointed, was whisked away by Athletic Director Dan Radakovich for a few moments before heading into his postgame press conference. Defensive ends coach Marion Hobby

Marion Hobby
Assistant Coach / Defensive Ends
View Full Profile grabbed a Chick-fil-A sandwich bag, sat on a bench outside of the coaches dressing room, head hung in dejection.
Other coaches filed in and out of the locker room, players talked in hushed tones to friends and family with tears in their eyes, disappointment etched in their faces.
The agony of defeat is sometimes inescapable, and sometimes the agony of defeat is self-inflicted. Saturday night's loss was self-inflicted, with six turnovers ruining any chance the Tigers had to win the game. Four came in the fourth quarter after Clemson had claimed a 17-17 tie.
The sad truth – Clemson beat Clemson Saturday night in Williams-Brice. Two turnovers in plus territory on special teams. Clemson's offensive line was working over South Carolina's defensive line, playing one of its best games of the season.
"I thought our offensive line played extremely well," offensive coordinator Chad Morris

Chad Morris
Offensive Coordinator / QBs
View Full Profile told me after the game. "I thought they protected, they played hard and they allowed us to run the football. I was extremely pleased with the way they played."
Clemson's offense ran just 57 plays and still racked up 352 yards of offense, averaging over six yards per play. Imagine if the Tigers hadn't turned the ball over six times. The defense, despite the third down conversions by Shaw, limited South Carolina to just 318 total yards of offense.
If someone would have told you before the game that the offensive line would play well, the Tigers would have averaged six yards per play and held South Carolina to just 318 yards, you would have predicted a Clemson win, right?
The win was there for the taking, and Clemson blew it with six turnovers. Quarterback Tajh Boyd

Tajh Boyd
RS Sr. Quarterback
#10 6-1, 225
Hampton, VA
View Full Profile said it was disappointing to know that ending the streak was within Clemson's grasp, but the self-inflicted wounds allowed the streak to continue.
"It's pretty disappointing. You obviously can't turn the ball over six times and win," Boyd said.
Boyd said that was par for the course against the Gamecocks over the past few seasons.
"We just never really played a complete and clean game against these guys. Congrats to those guys, they did a great job of capitalizing on it," Boyd said. "But again, I think we hurt ourselves for the most part when we play these guys. I think this game was a little bit different because we had the momentum heading into it. We tied the score, and then we couldn't capitalize. It sucks, ultimately. But you can't dwell on it. Clemson will beat South Carolina again. It's just a matter of who will do it. We had the opportunities and just didn't take advantage of those opportunities. We lose the turnover margin every year, and you just can't do that. We lost the turnover margin. You wanna know what is really wrong? Go look at the turnover margin every year. That will tell the story. The ball was in our court and momentum was in our favor and we just didn't finish it."
The agony of defeat, all too real.