| | |
| --- | --- |
| ACC football schedule winners and losers | |
---
| | |
| --- | --- |
| Thursday, January 23, 2014 8:48 PM | |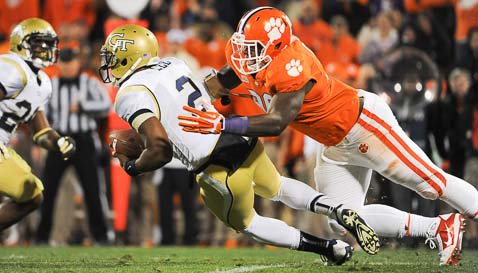 The Atlantic Coast Conference released the 2014 football schedule Wednesday afternoon, and Clemson head coach Dabo Swinney

Dabo Swinney
Head Coach
View Full Profile said his Tigers have the kind of schedule that will allow them to compete for a spot in the new playoff system.
Not every ACC team can say that.
In order to impress the selection committee at the end of the season, teams had better have an impressive non-conference win or two on their resume. Obviously, schools in the SEC will get a hall pass because of ESPN's love for the SEC, but everybody else needs a signature win outside of their conference to gain a little recognition.
Clemson has two opportunities to do just that and they bookend the season – the season opener at Georgia and the regular season finale against South Carolina. The Tigers have the traditional in-state FCS sacrificial lamb in S.C. State, but the real stinker is Georgia St. at the end of the season. Thank you ACC for changing your mind about the eight-game schedule and causing us to see that one.
The ACC also has a bit of a unique scheduling quirk this season – Notre Dame begins playing a slate of games against ACC football teams in 2014 as part of the deal that saw the Irish join the conference in nearly every other sport. The first of those games will take place against Syracuse on Sept. 27 at MetLife Stadium in East Rutherford, N.J. Notre Dame's other ACC games in 2014 are against North Carolina (Oct. 11), Florida State (Oct. 18) and Louisville (Nov. 22).
While those are part of the deal with the ACC, they are still non-conference games.
Another couple of ACC schedule oddities – Syracuse will play Maryland. Two years ago, Maryland was in the ACC and Syracuse was in the Big East. Now, Syracuse is in the ACC and Maryland is in the Big 10. Also, Louisville and Miami met in the Russell Athletic Bowl last month, and the Cards came away with a 36-9 win. The two programs will face off in the season opener on Labor Day night. Have two teams ever played in a bowl game, then opened the season against each other as conference foes?
Here are the biggest out of conference games on the schedule:
Clemson at Georgia, August 30
Florida State vs. Oklahoma State, August 30
Virginia vs. UCLA, August 30
Virginia Tech at Ohio State, Sept 6
Boston College vs. USC, Sept 13
Syracuse vs. Maryland, Sept 20
Miami at Nebraska, Sept 20
Pitt vs. Iowa, Sept 20
Virginia at BYU, Sept 20
Syracuse vs. Notre Dame, Sept 27
North Carolina at Notre Dame Oct 11
Florida State vs. Notre Dame, Oct 18
Louisville at Notre Dame, Nov 22
Clemson vs. South Carolina, Nov 29
Florida State vs. Florida, Nov 29
Louisville vs. Kentucky, Nov 29
Georgia Tech at Georgia, Nov 29
Now, let's grade the non-conference schedule for each team.
*Boston College – UMass, Southern Cal, Maine and Colorado St. Props for scheduling Southern Cal, and Colorado St. isn't a pushover. GRADE – B
*Florida St. – Oklahoma St., The Citadel, Florida, Notre Dame. The opener in Dallas against Oklahoma St. would have been tougher last season, but the Cowboys lose seven starters on defense and have to find another starting quarterback. However, playing three solid programs out of conference gets them an... GRADE – A+
*Miami -- Florida A&M, Arkansas St., Nebraska, Cincinnati. GRADE – B
*Clemson – Georgia, S.C. State, Georgia St., South Carolina. Just looking at the Georgia St. game late in the season hurts my eyes. GRADE – A
*Georgia Tech – Wofford, Tulane, Georgia Southern, Georgia . Georgia Southern makes the jump to the 1-A level, and they knocked off Florida in The Swamp last year. However, Georgia is the only saving grace in this schedule. GRADE – C
*North Carolina – Liberty, San Diego St., East Carolina, Notre Dame. East Carolina knocked off the Heels last season, and Notre Dame-UNC might be fun to watch. GRADE – B
*Duke – Elon, Troy, Kansas, Tulane. This non-conference schedule is just awful, and their conference slate isn't very difficult either. Will the Dookies make it back-to-back Coastal titles? GRADE – D
*Louisville – Murray St., Florida International, Notre Dame, Kentucky. GRADE – B
*N.C. State – Georgia Southern, Old Dominion, South Florida, Presbyterian. I am sure Pack fans are salivating over a season ticket package that includes Georgia Southern, ODU and Presbyterian. But they do go on the road – against a South Florida team that went 2-10 last season. GRADE – F
*Pitt – Delaware, Florida International, Iowa, Akron. Iowa keeps them from being an F. GRADE –D
*Virginia Tech – William & Mary, Ohio St., East Carolina, Western Michigan. Ohio St. will be really good, and East Carolina was solid last season. GRADE – B
*Syracuse – Villanova, Central Michigan, Maryland, Notre Dame. GRADE – B-MINUS
*Wake Forest – UL-Monroe, Gardner-Webb, Utah St., Army. At least Utah St. will be competitive. GRADE – D
*Virginia – UCLA, Richmond, BYU, Kent St. GRADE – B