| | |
| --- | --- |
| A few hours made all the difference for Adam Choice | |
---
| | |
| --- | --- |
| Tuesday, September 9, 2014 8:12 PM | |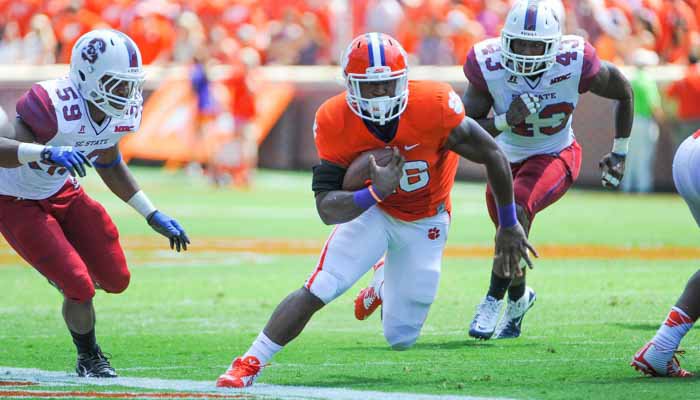 CLEMSON – A few hours made all the difference for Adam Choice

Adam Choice
Fr. Running Back
#26 5-10, 211
Thomasville, GA
View Full Profile .
The freshman running back out of Georgia's Thomas County Central High School told the media Tuesday that he went into fall camp not thinking about playing time or his role on the team – he just wanted to get better. However, a conversation with running backs coach Tony Elliott

Tony Elliott
Assistant Coach / Running Backs
View Full Profile and an injury a few hours later changed his entire outlook.
"During fall camp it didn't matter whether I was going to redshirt or not, it was just a matter of trying to get better," Choice said during an interview session in the WestZone. "As we had our meetings with coaches post camp, I talked to Coach Elliott and he said they were leaning more towards redshirting me, unless someone went down. It happened that day that Zac (Brooks) went down, and I had to prepare even harder in trying to get ready if my number was called."
It didn't take the Clemson coaches long after Brooks' injury to announce that Choice – a quarterback in high school – would avoid the redshirt. Since that time, Choice said he has been working on learning the position.
"It's just a matter of me trying to help the team. It wasn't a matter of me trying to earn a starting spot right away," he said. "Of course, that's the goal but just trying to get better and work with the guys and learn from the guys. They all know so much and that is what it came to be - just me being prepared and be ready when my number is called and helping put the team in the best position to win."
Choice didn't get his chance to play in the season opener at Georgia, but he admitted Tuesday that he knew he wasn't quite ready to contribute.
"I wasn't really surprised. I felt as if the offense was going at a faster pace than I was ready for," he said. "Because I haven't played a game and they were doing some schemes and stuff I wasn't necessarily ready for. As far as everybody else out there knew them like the backs of their hands and I still had to process it all as they were being called. It was just a matter of me learning it and being on the correct page."
Choice said that the conversion to running back hasn't been as difficult as he first thought, but did admit that learning to pass protect is high on his list.
"It hasn't been too bad, because we ran the split back veer (in high school), and that's a style of offense where I had the ball in my hands and really didn't throw much. Instead of taking off it was just me taking a handoff," he said. "It's (pass protection) not too hard. It is more of a technique thing, learning to shoot your hands and timing and getting your pad level right. I have a long way to go in all areas of trying to be a complete back, but that is one area I am focusing on and trying to improve."
He got his chance to shine last Saturday in Clemson's 73-7 win over South Carolina St., carrying the ball 12 times for 74 yards and a touchdown.
His next step? Knowing he can be counted on when the coaches need him to step up and make a play.
"It was more me just going out and trying to show I am trying to learn the offense and get better every day and get the little things correct," he said. "I am still learning every day, and I feel like from the beginning of camp to now I have made great strides but I am not near where D.J. is, or Zac is. I still know that there is more to learn and I will try and learn from them and Coach Elliott and Coach Morris. And then when I get to that point in my career where I can sit there and they can call a play and I can know 100 percent right off the bat what I am supposed to do and know that I can execute it. "