---
| | |
| --- | --- |
| Thursday, August 21, 2014 10:30 AM | |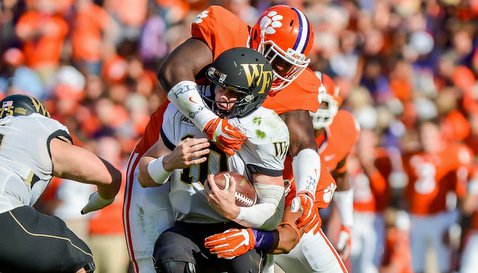 CLEMSON – A. S. N. F.
A son never forgets.
D.J. Reader
D.J. Reader
Jr. Defensive Tackle
#48 6-2, 322
Greensboro, NC
View Full Profile will never forget all of the time that he spent with his father – David Reader, Sr. – out on the football field, on the baseball diamond or all of the life lessons he learned from his dad about how to be a better man, how to have good work ethic and how to succeed in life.
Unfortunately for Clemson's defensive tackle, he will never again get to see his dad in the stands at one of his games, or hear his voice on the other end of the phone. However, D.J. said that not a day goes by that he doesn't talk to his dad, and when he takes the field for the first time in 2014, he will be playing for more than just himself and his teammates.
David Reader, Sr. passed away unexpectedly at the end of June, leaving D.J. with only the memories of his father and the realization that a career and even life can be taken away in the blink of an eye.
"My dad always had this quote, 'A. S. N. F.- A son never forgets,'" Reader told TigerNet recently. "I just remember him and it just makes me appreciate playing the game a lot more. At any time God can take it all away, so I go out there every day like it's going to be my last."
Reader has had his good days and bad days in the two months since his father's passing, but getting back on the football field and knowing that his father is always watching over him has helped relieve some of his grief.
"It was really good [to get back to football]. My brothers wrapped their arms around me." Reader said of his teammates. "It's tough anytime you lose someone, but especially a dad like I had. He was a role model. He was my best friend. It was really tough and I still have my days where I'm up and down, but I just wrap my arms around my brothers and I know that he's up there watching me and looking over me every day. I talk to him every night and every day before I go on the field. It's just like he's right with me."
Unfortunately, Reader's brother on the football field and at defensive tackle, Carlos Watkins

Carlos Watkins
RS So. Defensive Tackle
#94 6-3, 294
Mooresboro, NC
View Full Profile , has dealt with his own tragedy – the tragic loss of a good friend – over the course of the last year. However, both Watkins and Reader have been able to lean on each other in the good times and the bad.
"It's been good having him as my teammate and my roommate, especially," he said. "He's like my brother here. Me and him talk daily. Sometimes he needs to go just catch a break and sometimes I need to catch a break - just go look out over the lake or something. We talk a lot about it because he can tell when I'm up and when I'm down. I can do the same with him. We both feel each other's energy. That part has been really good, just having someone like him there with me."
With Reader, Sr. and Watkins' childhood friend Dache Gossett watching over Sanford Stadium in 10 days, Reader is ready to get to the 2014 football season started.
"It's definitely getting real, being able to see the finish line," he said. "We wait all year – 100 and something days to play a game. All of us are ready to not hit each other and to get to that Saturday against a competitor and play."