| | |
| --- | --- |
| A Military Tradition. A Family Tradition. | |
---
| | |
| --- | --- |
| Friday, August 14, 2015 7:01 AM | |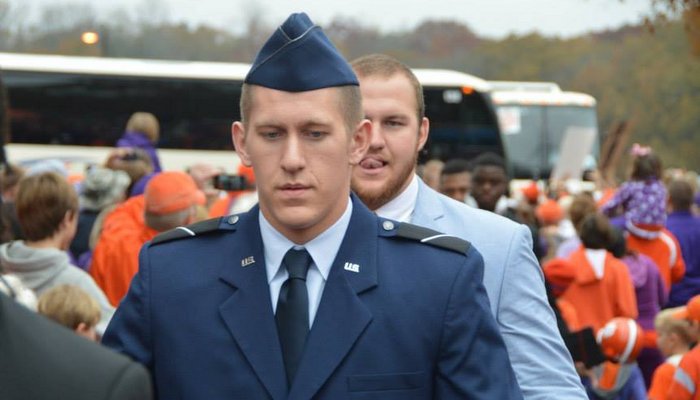 CLEMSON – Sean Mac Lain

Sean Mac Lain
RS So. Wide Receiver
#88 6-4, 210
Hope Mills, SC
View Full Profile embodies the best of Clemson's military tradition and the best of his own family's tradition. A military tradition.
The redshirt sophomore wide receiver out of Hope Mills, N.C., is the younger brother of starting left guard Eric Mac Lain

Eric Mac Lain
RS Sr. Offensive Tackle
#78 6-4, 305
Hope Mills, NC
View Full Profile . He isn't on athletic scholarship, and he wears an Air Force ROTC uniform when he isn't in the uniform of a Clemson football player.
This past summer – while most of his Clemson teammates were undergoing summer conditioning programs and catching up on summer school – Mac Lain was preparing for what he hopes is a future as a fighter pilot by participating in ROTC Field Training in Alabama with his unit from Clemson.
Mac Lain told TigerNet earlier this week that it was a fun five weeks and informative despite the heat.
"Basically what we did is we transferred on a bus from the Atlanta airport to Maxwell Air Force Base for the first part of our field training," Mac Lain said. "It was an in garrison type of thing - mental, having to march in formation, you've got to eat looking up and can't look at your food and that sort of thing. Halfway through, we took a bus to Camp Shelby, Mississippi. It's about 30 minutes outside of Gulfport, so it's down there where it's nice and humid, and we did a mock deploy environment.
"We lived in a wooden thrown up hut - no windows, wall or air conditioning. We make it act like we are deployed over in the Middle East somewhere. We call it the Shelbystan. You have to have your weapon on you at all times. You have to have your personal protective equipment ready. It's all things that are part of normally being deployed. It was a lot of fun."
Mac Lain said he came back to Clemson in shape and ready for the grind of football season.
"I learned that it's not that hot up here in football pads, because you're not in full uniform," Mac Lain said. "Coach Swinney says it all of the time, but details matter especially out in a deployed environment. It's the little things you really have to pay attention to because it's life or death out there. We woke up every morning about four o'clock to do PT, and that involved a lot of running and more running. When we were in garrison, we did combatives, so we were in full military fatigues wrestling with each other and learning how to fight. That's a workout on its own, and we're going 24/7. I was in pretty good shape when I came back."
Mac Lain's father is Air Force Major Michael Mac Lain – still active duty – and he wants to follow in his dad's footsteps.
"I've always been drawn to the military," he said. "My father is an active duty officer in the Air Force. I've always felt that calling and that drive to serve in the Air Force. Just put me in it."
One of best moments from TigerWalk last season occurred on Military Appreciation Day. Sean is a member of Clemson's Pershing Rifles, something that Sean had kept quiet from his dad until he walked in the middle of TigerWalk in his Pershing Rifle dress blacks. Sean approached Major Mac Lain, threw up a snappy salute and then hugged his father before heading into the stadium to change into his football uniform.
"It was surreal. I've always waited for that moment when I could be in the military and salute my father because I have respect for him not just as an officer but as a father and a great husband," Mac Lain said. "He was a great father to us even though he was gone a lot being deployed and serving our country. He still implanted me and brother both and without him we wouldn't be the men we are. That moment was so surreal and so emotional. It was awesome."
Most college athletes go pro in something other than sports, and Mac Lain knows he has found his calling. In the meantime, he will enjoy the grind of playing college football while he has the chance.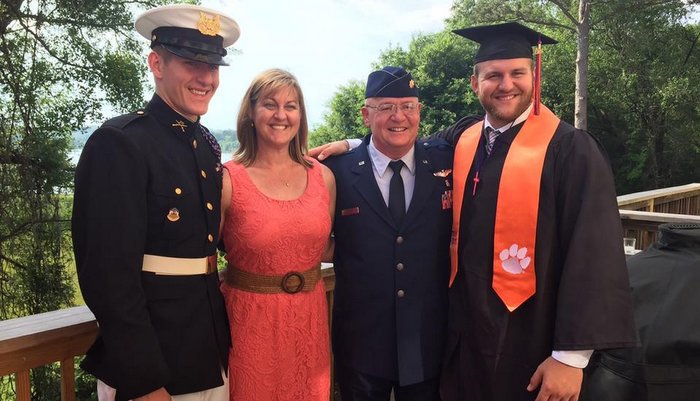 "It's a different kind of job. I love the grind. I love the work," he said. "The more work I can get in, the more it will help me later on because being out here with long days, the hot summer, the physical contact, I'm not going to have that experience anywhere else except for Clemson football. The dedication and the drive that Coach Swinney puts in us, he runs it like it's the military - we're up, pay attention to details, do the little things right.
"It's all about team and family because without each other we're not going to get it done, and that translates over to the military. If anything, this is preparing me to be a leader just like Clemson's ROTC is doing - Detachment 770 has a great program. Me and a lot of the other people who went down there for the training smoked it compared to a lot of the other people. We were really prepared."l
Eric is a senior and this will be the last chance the brothers will get to play together, and Sean said he wants to win more than anybody in the program. For his brother.
"Personally, I want to go all the way, but because this is my brother's last year just makes me want to do as best as we can as a football team, whether that's winning an ACC Championship or winning the national championship or just winning one game," he said. "I just want to make sure that my whole team does the best for him because he's put his best in for the past five years, and we owe it to him and all of the seniors. We owe it to them to give them one show that everyone will remember."