| | |
| --- | --- |
| "A Clemson Man Needs No Introduction" spills over into recruiting | |
---
| | |
| --- | --- |
| Thursday, February 19, 2015 7:01 AM | |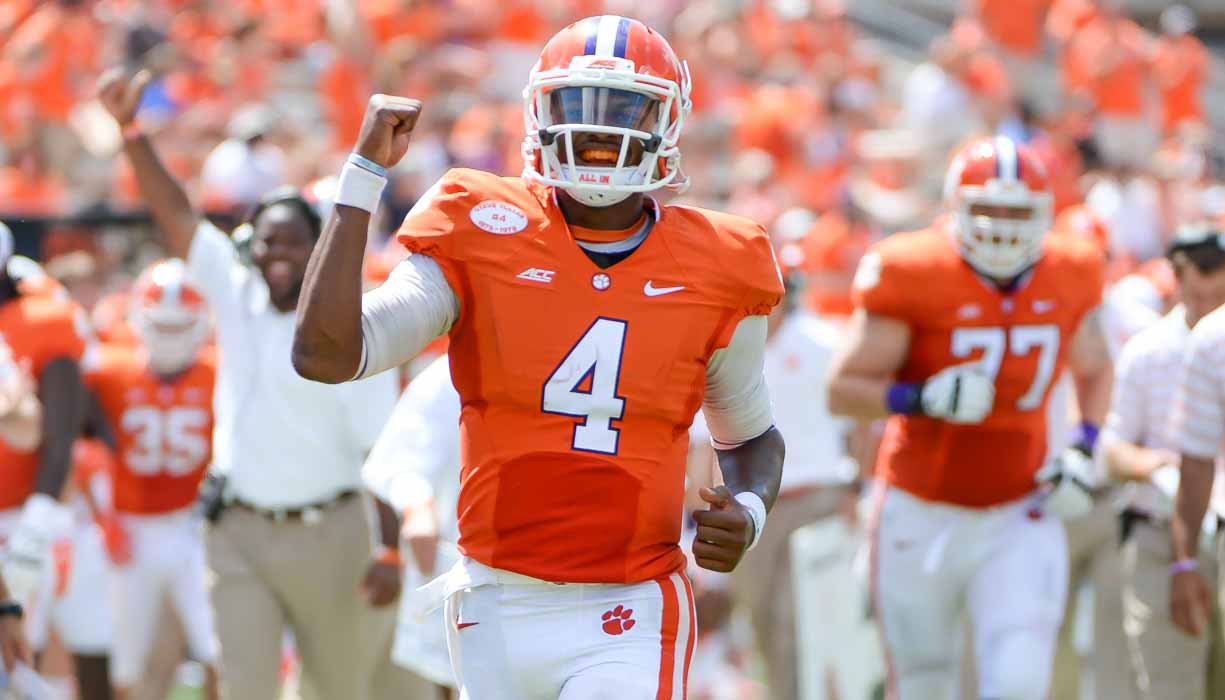 A Clemson man needs no introduction.
That phrase has rambled around Clemson for decades, likely a throwback to The Country Gentleman mascot that roamed the sidelines of Clemson sporting events until the early 1970's. The slogan is alive and well and can be found on shirts and decals anywhere you see the iconic Clemson paw. It now also has seeped into the recruiting culture that head coach Dabo Swinney

Dabo Swinney
Head Coach
View Full Profile has instilled with the Clemson program.
Ever wonder why Clemson and some of its closest rivals aren't heavily recruiting the same players? According to Thad Turnipseed, the director of recruiting & external affairs, Clemson is going after a certain breed of football player and it doesn't all rely on athletic ability – it's also about character.
The paw just makes it easier to look for that certain player.
"It's easy to sell the Paw. The paw is powerful, and nationally the paw is recognized," Turnipseed told the media recently. "Everybody wants to be a part of it. The culture in place here that he (Swinney) has put in place here over the years here recruits itself for the Clemson-type of player that we want. The good kid - academics mean a lot and character means a lot. Those kids come here to see the culture and it recruits itself at this point."
Turnipseed said the evaluation process begins with what he and his staff see on social media – how much does the prospect post? Is he the right kind of person? Is he controversial? It all weighs heavily into recruiting.
"I have seven guys who follow all of these guys on social media, and they can tell me what they are saying and I can tell Jeff Scott

Jeff Scott
Asst. Coach (WR) / Recruiting Coord.
View Full Profile , 'here is what they are saying' and we can tell if they are a Clemson fit," Turnipseed said. "Everybody on that board can play, but how many are Clemson people? That is what we do, we help define through social media and when they are on campus and here on recruiting visits and game day. We gather on Monday and we say, 'hey what is this guy like? Is he talkative? Did he say the right things? Is he somebody that might belong here?'
"So even though on the board I might have him at a "10" athletically I might have him just the opposite oncharacter. And Coach Swinney really puts a lot of emphasis on that Clemson character. That is why we tell our kids to be careful what they put out there. It's all out there forever and the NFL people go back and look at what you said in high school. It plays a large part in determining if someone is a Clemson guy. My role - and one thing we do here is play by the rules better than anybody in the country - it's illegal for my department to evaluate talent. It's not my job to say this guy is a good player. My job is to say, 'Hey coaches, this is who you want.'"