| | |
| --- | --- |
| 5-stars are great, but there's always room for a Hunter Renfrow | |
---
| | |
| --- | --- |
| Tuesday, February 9, 2016 11:02 AM | |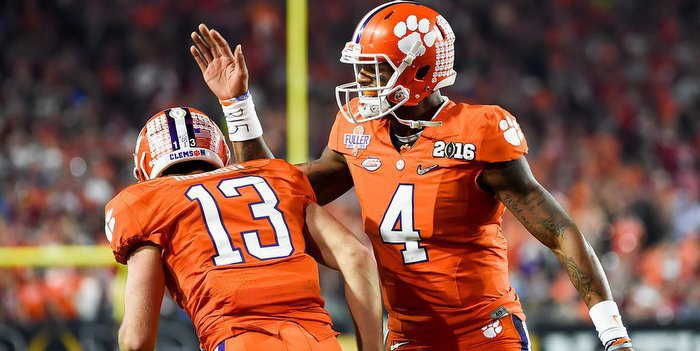 CLEMSON – The stars of every recruiting are the ones who have the most stars by their names, but there will always be room at Clemson for the ones who fly just under the radar.
Look no further than wide receiver Hunter Renfrow and kicker Greg Huegel, two players who shined during the Tigers' recent run in the College Football Playoff. Minkah Fitzpatrick, a 5-star defensive back that plays for Alabama, probably still has nightmares about the bookish-looking Renfrow, a former walk-on who torched Fitzpatrick and the Crimson Tide with seven receptions for 88 yards and two scores.
In the 2016 recruiting class, the Tigers' signed 3-star defensive back K'von Wallace, 2-star safety Nolan Turner and 3-star offensive lineman Cade Stewart. The Tigers also have several preferred walk-ons who will come in and compete for a spot.
Yes, Clemson targets the 4-stars and the 5-stars and have added more than its fair share of high-profile recruits in recent seasons. But there will always be room for K'Von Wallace and Hunter Renfrow.
"Always. Always. Always. There will always be rooms for those guys," head coach Dabo Swinney said earlier this week. "You look at a guy like Hunter Renfrow. We are probably going to bring in four or five preferred walk-on guys. Our program - we are going to play the best guy, not the most highly-recruited guy. We are going to play the best guy. All you have to do is look at Hunter Renfrow in the National Championship game. Here is a freshman walk-on that is doing pretty good. We will always have room for those guys."
Swinney said that colleges are targeting recruits earlier and earlier and that leads to some players getting overlooked, especially those who develop later in their careers. A player like Wallace.
"You look at a young man like K'Von Wallace. To me he is a lot like Marcus Gilchrist," he said. "Very dynamic like that. Here is a kid that this summer had only James Madison and Cincinnati. That is not a negative to those schools. That's great for them for evaluating this kid. But those were really the only offers he had. And I think that's a reflection of what is wrong is recruiting. Because of all that happens so early now. But guys still develop. Guys still go on and have great senior years. And some of the bigger programs miss out on guys like that."
Another prime example? Former Clemson safety T.J. Green.
"I had never heard of T.J. Green until the day before National Signing Day. A week before signing day I had never heard of him," Swinney said. "And now he's going pro early. We beat UAB to get T.J. Green. I think K'von is an example of that. He had a phenomenal senior year and all of a sudden he's got Ohio St., Michigan St. and he has all of these offers he earned on the field his senior year. Before that, he wasn't really on the radar. For us, we had a very small board at defensive back, and as we expanded it, we found this guy. So we are really fortunate to get him - he can run and play corner, both safeties, and nickel. He's physical. There is a lot we are going to be able to do with that guy, just like Marcus. And then a guy like Nolan Turner - here's a guy that we had in our camp and knew all about and because of the expansion of our board with the all the attrition, to get a guy like Nolan Turner who's 6-2, 190 and can run a 4.4. and has all the intangibles to go with those measurables. He will be as good a signee as we have in this class."