| | |
| --- | --- |
| 4-star WR Overton details "different" Clemson visit | |
---
| | |
| --- | --- |
| Tuesday, November 10, 2015 5:49 PM | |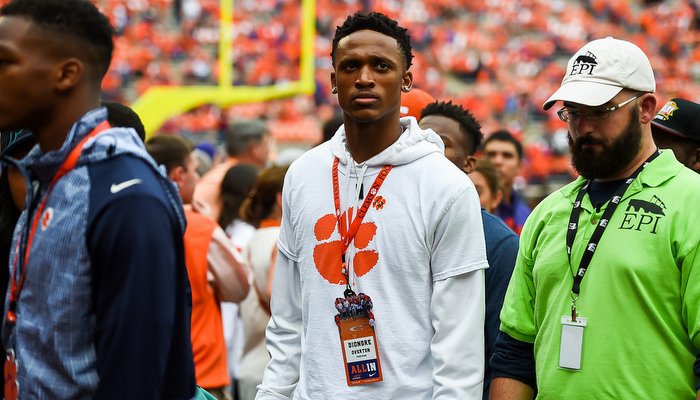 Diondre Overton has been to Clemson on several occasions, but Saturday's win over Florida St. was just different.
The 2016 4-star wide receiver out of Greensboro (NC) Page was on hand for the top-ranked Tigers' 23-13 win over Florida St. Saturday afternoon, and he was a part of the biggest recruiting weekend of the season for the Clemson coaching staff.
Overton told TigerNet that Saturday's visit was "just different."
"It was good. Everything went pretty well. I went down for the Florida St. game," Overton told TigerNet earlier this week. "It was just a different experience somehow. The crowd was more exciting. They were really into it, and I feel like that was the biggest crowd that I've been around. It was just a good game overall. Clemson was down and had to fight through adversity and come back to get the win. It was just a great game to be at and a good one to see."
Overton said he definitely took notice of the high-profile talent walking around in the recruiting area of the WestZone.
"It's exciting to see all of these types of players and all of the talent that's around. There's definitely competition, but it's a great experience," he said.
Overton was part of a group of recruits that were taken to the hill prior to Clemson's iconic entrance, and he got first-hand experience of just how loud Death Valley can be.
"That was different. Nobody has ever had that tradition at their college," Overton said. "Just being there and looking at it, it's just very interesting and unique. That really got my attention to even think about being able to run down that hill during a game. It was beyond loud. I could barely hear my friend sitting right beside me."
He said the Clemson coaching staff didn't pressure him for a commitment, and he still plans on making a few more visits before his early January decision.
"They just wanted me to enjoy myself. They've been trying to get me down there more and more. They just wanted to tell me what I can do for them," Overton said. "Right now, I'm just trying to take more visits just to weigh my options. I'm not sure where I'm going to go next, but I'll announce my decision on January 3rd. I'm not necessarily tied to one team."
Overton said that Mike Williams' status has no bearing on whether he would commit to Clemson – he would play the same outside receiver spot as the injured Clemson junior, and he said he would relish the opportunity to learn behind Williams.
"Not really. That's somebody that I could actually learn from," he said. "I wouldn't look at it as a negative if he stayed. He's a person that I could play behind and learn a lot from."