| | |
| --- | --- |
| 2016 Clemson football schedule released | |
---
| | |
| --- | --- |
| Tuesday, January 26, 2016 3:02 PM | |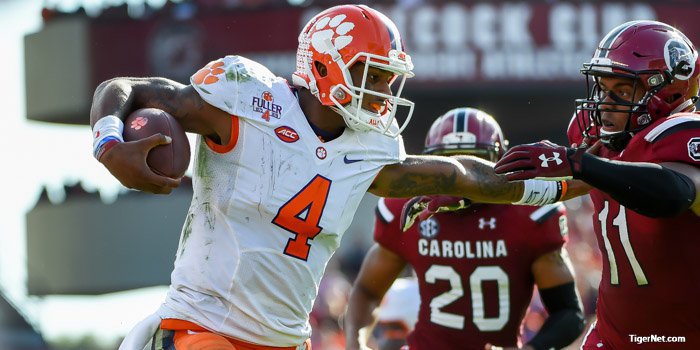 2016 Football Schedule
Sept. 3 at Auburn
Sept. 10 TROY
Sept. 17 SOUTH CAROLINA STATE
Sept. 22 at Georgia Tech, ESPN (Thu.)
Oct. 1 LOUISVILLE
Oct. 7 at Boston College (Fri.)
Oct. 15 NC STATE
Oct. 22 OPEN
Oct. 29 at Florida State
Nov. 5 SYRACUSE
Nov. 12 PITT
Nov. 19 at Wake Forest
Nov. 26 SOUTH CAROLINA
Schedule release from Clemson
Clemson, S.C.—For the fourth time in the last five years defending National Playoff Finalist Clemson will open and close its season against teams from the Southeastern Conference according to the schedule released by the Atlantic Coast Conference on Tuesday. The Tigers open their 12-game slate at Auburn on September 3, and close it with a home game against South Carolina on November 26.
In between, Clemson will play 10 contests, eight against teams from the ACC. The Tigers were 8-0 in the league last season, then won the ACC title for the second time in five years with a league championship win over North Carolina. In 2016, Clemson has ACC road games against Georgia Tech, Boston College, Florida State and Wake Forest and home league games with Louisville, N.C. State, Syracuse and Pittsburgh.
"This schedule follows our formula from a non-conference standpoint with our traditional rivalry game against South Carolina, plus another game from a Power Five Conference," said Head Coach Dabo Swinney. "This year that team is Auburn and they will come to Clemson in 2017. Then we pick up Texas A&M for two years before we play Notre Dame again in 2020.
"It is another challenging schedule overall. We will have to be at our best from the first week as Auburn is a very difficult place to play. We saw that in 2010 when we took a National Championship Auburn team to overtime.
"I like the position of the open date in week eight, closer to the middle of the season than we have had in recent years. It is also just the second time in 24 years we have not had to play consecutive games on the road, which is good for our team and our fans.
"We have four new teams on the schedule, including an outstanding Pittsburgh program, who we have not played in nearly 40 years."
Clemson opens the season at Auburn, the first time the Tigers have been to the Plains since the third week of the 2010 season when the Tigers took Cam Newton and the Auburn Tigers to overtime before dropping a 27-24 contest. Clemson has beaten Auburn twice since that meeting six years ago.
The Tigers have consecutive home games scheduled September 10 and 17, respectively. Troy comes to Clemson for the second time in history on September 10 and South Carolina State follows the next week. Clemson has a 16-game home winning streak entering 2016, the second longest active streak in the nation.
The Tigers go back on the road on September 22, just five days after the South Carolina State game, to face Georgia Tech in Atlanta. Clemson suffered its last regular season loss at Georgia Tech in November of 2014.
Clemson's ACC home opener is against Louisville on October 1. The Tigers have won each of the first two meetings with the Cardinals since they joined the ACC, but both games have been close. Clemson won the meeting at Clemson in 2014 by a 23-17 score, then downed the Cardinals, 20-17, in Louisville last year. That was the second closest game Clemson had during its undefeated regular season in 2015.
Swinney's team then plays at Boston College on Friday night October 7. It will be Clemson's first Friday night regular season game in 60 years, but the Tigers did gain victory in their last Friday night game at any point in the season. That came in the 2014 Orange Bowl when Clemson beat a sixth-ranked Ohio State team in Miami, 40-35.
Clemson opens the second half of its schedule with a home game against an NC State team that has been to a bowl game each of the last two years under Head Coach Dave Doeren.
After an open date. Clemson heads to Tallahassee, Fla. to face Florida State on October 29, a program that has won at least 10 games each of the last four years. The winner of the Clemson vs. Florida State game has won the ACC Atlantic Division every year since 2008, Swinney's first year at Clemson.
Clemson closes the season with home games in three of its last four contests, the first time that has been the case since 2012. Syracuse comes to Clemson on November 5, then Pittsburgh plays at Clemson for the first time on November 12.
Clemson concludes its ACC schedule and its road schedule on November 19 at Wake Forest. South Carolina will be the Senior Day opponent in Death Valley on November 26.
Schedule Notes
•Swinney's Tigers have 10 games on Saturdays, one on a Thursday and one on a Friday. All seven home games are on Saturdays, but the Tigers will play at Georgia Tech on a Thursday and at Boston College on a Friday night. Both of those games will be nationally televised by ESPN.
•It will be Clemson's first regular season game on a Friday since November 16, 1956 when the Tigers lost at Miami (FL), 21-0. Clemson's last regular season win on a Friday actually took place in Boston. The Tigers defeated Boston College at Braves Field, 13-0 on Halloween, 1952.
•As a result of the Thursday and Friday road games in the first half of the schedule, Clemson will not have a road Saturday game between September 4 and October 28.
ACC Release on 2016 Football Schedule
GREENSBORO, NC (theACC.com) – The 2016 Atlantic Coast Conference football schedule released Tuesday by the league again features one of the most difficult non-conference slates among the Power Five Conferences.
ACC teams will play more games than any other Power Five conference:
· Against non-conference teams that are ranked in ESPN's 2016 Too Early Top 25 rankings (12). The league will also play a higher percentage of its non-conference games against teams in the Way-Too-Early Top 25 (21%).
· Against non-conference teams that were ranked in the final Associated Press Top 25 (12). The league will again play a higher percentage (21%) of its non-conference games against these teams.
· Against non-conference teams that were ranked in the final Coaches poll (14) as well as a higher percentage (25%).
· Against more non-conference teams that went to bowl games in 2015 (27).
· Against FBS non-conference teams that won 10 or more games (15) as well as against FBS non-conference teams that won nine or more games (18).
ACC teams are also playing games against opponents which had a higher overall winning percentage (.562) in 2015 than any other Power Five Conference, and its FBS non-conference opponents had the second-highest winning percentage of any league (.559).
"Our programs continue to showcase our football strength with an appealing slate of games scheduled for 2016," said ACC Commissioner John Swofford. "In addition to a number of compelling conference matchups, we again have arguably the toughest non-conference schedule by any measure. With our depth, competitiveness and rivalries, ACC fans can look forward to another season of exciting games every week."
With Boston College facing Georgia Tech in the Aer Lingus College Football Classic in Aviva Stadium in Dublin, Ireland on Sept. 3, an ACC football game will be played in Ireland for the first time. The game will be nationally televised by ESPN2 with a 7:30 a.m. (ET) kickoff. It is only the third ACC game played outside of the United States, with Clemson having faced Wake Forest in Tokyo, Japan, in 1982. The Tigers also played Duke in Tokyo in 1991. The ACC recognizes the Aer Lingus College Football Classic as a part of ACC Worldwide, the conference's effort to further its member institutions internationally through promotion, marketing and athletic competition.
The event is one of five neutral site games for ACC teams, including the league's annual presence on Labor Day Monday Night as Florida State faces Ole Miss in the Orlando Citrus Bowl stadium in the Orlando Kickoff Game on Sept. 5. The game will be nationally televised by ESPN with an 8 p.m. kickoff and will mark the 12th appearance in 13 years by an ACC team on Labor Day Monday Night since the telecasts began in 2004. It will also mark Florida State's seventh appearance on Labor Day, the most recent coming in 2013.
The other neutral site battles include North Carolina facing Georgia on Sept. 3 in the annual Chick-fil-A Kickoff Game in Atlanta's Georgia Dome; Virginia Tech facing Tennessee at the Bristol Motor Speedway in the "Pilot Flying J Battle of Bristol" football game on Sept. 10, which seeks to set a college football single-game attendance record; and Syracuse facing Notre Dame at MetLife Stadium in East Rutherford, N.J. on Oct 1.
In all, the ACC will have four nationally-televised games on ESPN on Thursday nights, beginning with Clemson at Georgia Tech on Sept. 22, followed by Miami at Virginia Tech (Oct. 20); Virginia Tech at Pitt (Oct. 27); and North Carolina at Duke (Nov. 10).
The league will also play five nationally-televised Friday games on ESPN networks, including a special Veterans Day contest with Florida State hosting Boston College on Nov. 11. The other Friday night games include Syracuse hosting Louisville (Sept. 9): Boston College hosting Clemson (Oct. 7); Duke at Louisville (Oct. 14); and NC State at North Carolina on Thanksgiving Friday (Nov. 25).
The schedule also incorporates five games against Notre Dame. In addition to the Syracuse-Irish clash in the Meadowlands, NC State hosts Notre Dame on Oct. 8, while Duke (Sept. 24), Miami (Oct. 29) and Virginia Tech (Nov. 19) will travel to Notre Dame Stadium in South Bend, Ind.
In all, the schedule includes 56 regular-season conference matchups over a span of 13 weeks and is capped off with the 12th Annual Dr Pepper Atlantic Coast Conference Football Championship Game, which returns to Charlotte, N.C. this year and will be played on Saturday, Dec. 3 in Bank of America Stadium. Last year's Championship Game between Clemson and North Carolina drew an ACC Championship Game record crowd of 74,514, bringing its six-year attendance average in Charlotte to 69,641 which includes three sellouts.
The ACC, which has four teams currently ranked in ESPN's Way Too Early Top 25, led by No. 1 Clemson and including No. 6 Florida State, No. 17 North Carolina and No. 24 Louisville, will also play 12 non-conference games against seven teams in the same Way-Too-Early Top 25. Conference teams will play five games against ninth-ranked Notre Dame and two games with 23rd-ranked Georgia (North Carolina and Georgia Tech). Also included are single games with No. 10 Houston (Louisville), No. 11 Tennessee (Virginia Tech), No. 13 Ole Miss (Florida State), No. 18 Oregon (Virginia) and No. 22 Oklahoma State (Pitt).