| | |
| --- | --- |
| 2015 was wild and magical: Let's do it again | |
---
| | |
| --- | --- |
| Friday, January 15, 2016, 7:01 AM | |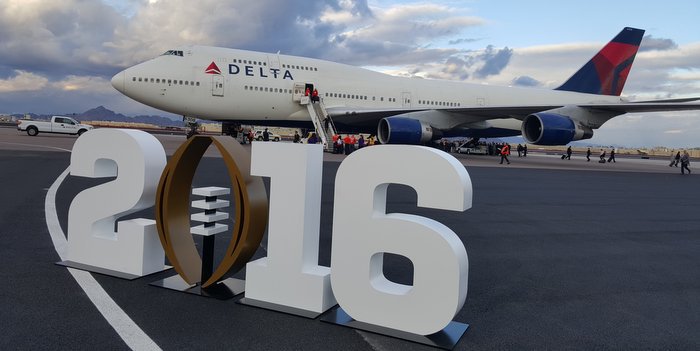 I woke up Thursday morning and wondered, "Where am I? What time zone am I in?"
It turns out I was at home, bleary-eyed and tired, but it was nice to wake up in my own bed for a change. The past seven or so months have been a whirlwind of practices, press conferences, games and a lot of airplanes, rental cars and miles.
It's been fantastic.
Once spring practice ended in 2015, we locked in on the end of Clemson's baseball season and that included a trip to Durham for the ACC Tournament and then a cross-country flight to Los Angeles for the Tigers' NCAA Tournament Regional at Cal-Fullerton. Of course, once we got home we delved into the baseball coaching search, high school camps and Nike combines for recruiting.
We caught our breath for a few weeks in July but then spent time at Pinehurst in North Carolina for the ACC Football Kickoff. Once that was finished it was time for fall camp to start and five days a week of practice throughout August and before we knew it the game started.
That was when the fun really started.
There were home games against Wofford and Appalachian St. before a road trip to Louisville for a warm and wild Thursday night at Papa John's Stadium.
A 16-day layoff meant Nikki and I wound up in Yellowstone and the Grand Tetons – I know it was crazy but we never had a chance at a honeymoon so we wound up out west – and we got home in time to see Clemson knock off Notre Dame on a rain-drenched and soggy night in a sold out Death Valley.
Our press box at Clemson is now open air, and the memory of how the whole place shook with excitement when Notre Dame's two-point conversion failed will stick with me for forever. The water levels in the state were increasing, but nothing could dampen the enthusiasm that was beginning to surround a program. For the first time, we began to wonder "what if."
The Tigers continued the theme of home games with wins over Georgia Tech and Boston College, but that began a stretch of seven of the next nine games somewhere other than Clemson. It started with the beatdown in Miami and continued with another thriller in Raleigh before we came home for a cardiac game against Florida St.
That was followed by another long trip – to Syracuse and the Carrier Dome – which we used as a way to get into New York City for some good food and a Heisman Trophy scouting trip.
The Tigers returned home for one final game – against Wake Forest – before ending the season on the road in a very orange Williams-Brice Stadium in Columbia. The win over the Gamecocks cemented an unbeaten regular season and the possibilities at that point seemed endless.
The next weekend we spent in Charlotte as Clemson defeated North Carolina in yet another cardiac thriller and won the ACC Championship for the second time in the Dabo Swinney era. Oranges once again littered the field as the players and coaches celebrated a thirteenth win. Of course, we couldn't sleep in the next morning despite not leaving the press box until 2 a.m. – we had to be back in Clemson by noon for Dabo Swinney's pizza party.
We drove to Atlanta the following Thursday for the Home Depot College Football Awards Show – I suffered a gash in my leg that needed stitches but who had time for a hospital – and an overeager reporter spilled Coke all over my laptop. It wasn't the best night personally, but we still managed to take pics and write stories before heading to bed for a few hours of sleep before catching a flight to New York City for the Heisman ceremonies.
We spent all day Friday doing interviews and then Saturday was the presentation, and yet another early morning flight back to Atlanta to pick up the car soon followed. The next day began……..bowl practice. While everybody else was out seeing Christmas lights and buying presents we were looking for places on an empty campus to catch a WiFi signal to write stories and post photos from stories, and before we knew it the holiday was on top of us.
Nikki and I left for the Orange Bowl on Christmas Day – the team arrived the next day and we needed to be in Florida and checked into the hotel and waiting at the airport when the team plane landed. What followed was a frantic week of press conferences, smack talk, practices and humidity.
The Orange Bowl presented a lot of fun moments, including me pushing Nikki to buy tickets to Arizona before the game ended. One of the other writers took out a credit card early in the fourth quarter and started perusing flights, and I though Nikki would have a stroke. Several years ago I wrote a lead before a game was over and the Tigers wound up losing in spectacular fashion. Since that time, her superstitions shine through and when I took out my card to book a flight she almost had to be physically restrained from attacking everybody in the press box.
Ben Boulware's interception of Baker Mayfield calmed her down enough for us to book the flight and we wound up being a part of another celebration for the ages.
We got up early on Friday and drove to Orlando so we could cover the Under Armour game and the announcement of linebacker Shaq Smith. Once the game ended we drove home and arrived late in the night – or early in the morning – and placed the suitcases to the side for a few days. Our flight left early Thursday and we arrived in Arizona in time to see the team once again arrive.
Being a part of the title game and the festivities leading up to the game? Amazing. But that's another column. For now, I will just say that it was a once in a lifetime deal and we enjoyed every single second.
We worked late into the night, left Phoenix late the next day and spent part of the night in Phoenix and part of the night in Dallas. We arrived in Greenville around lunchtime Wednesday and I walked off the plane to several text messages and phone calls telling me who was declaring for the draft. We drove home and wrote two stories and then showered so we could get to the Bon Secours Wellness Center in time to see Clemson beat Duke in men's basketball.
For me, however, that game puts 2015 in the books. Basketball season is in mid-stride…..I get it. But we now get into the meat of the ACC season and baseball starts in a few weeks and then we will have spring practice. The 2015 year is officially over for us, and like I said earlier it included a lot of late lights and waiting on practice to end and there were delayed flights and angry cab drivers and a lot of bad food.
But there were unforgettable celebrations and magical moments and games that will go down in history. It was the season of memories for all of us and we had a front row seat for all of it. For now I am going to rest and catch my breath, but…………….
That was quite a ride. Let's do it again.